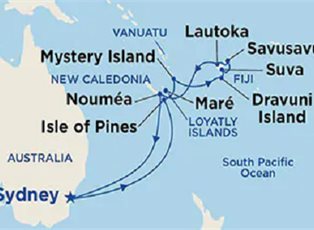 Journey
14 Night Cruise sailing from Sydney roundtrip onboard Sea Princess.
Ship
Sea Princess (More about the ship)
Departure Date
15 Apr 2021
Itinerary

Cruise Itinerary

Day
Date
Port
Arrive
Depart

Day:

Day 1

Date:

15 Apr 21

Arrive:

Depart:

04:00 PM

Day:

Day 4

Date:

18 Apr 21

Arrive:

08:00 AM

Depart:

06:00 PM

Day:

Day 6

Date:

20 Apr 21

Arrive:

08:00 AM

Depart:

06:00 PM

Day:

Day 7

Date:

21 Apr 21

Port:

Dravuni, Fiji

Arrive:

08:00 AM

Depart:

06:00 PM

Day:

Day 8

Date:

22 Apr 21

Port:

Suva Fiji

Arrive:

08:00 AM

Depart:

06:00 PM

Day:

Day 9

Date:

23 Apr 21

Port:

Savusavu Fiji

Arrive:

08:00 AM

Depart:

06:00 PM

Day:

Day 10

Date:

24 Apr 21

Port:

Lautoka, Fiji

Arrive:

08:00 AM

Depart:

06:00 PM

Day:

Day 12

Date:

26 Apr 21

Arrive:

07:00 AM

Depart:

05:00 PM

Day:

Day 15

Date:

29 Apr 21

Arrive:

07:00 AM

Depart:

** Itinerary may vary by sailing date

Your cruise in detail

14 Night Cruise sailing from Sydney roundtrip onboard Sea Princess.

Not long ago, Sea Princess was updated to include The Sanctuary®, a secluded oasis just for adults, rendering this ship a relaxed, rejuvenating retreat at sea. Whether you're cutting into a juicy steak cooked to order in the dining room, or enjoying the luxury of a special breakfast just for booking a suite, you'll be taken care of onboard as you sail to fascinating destinations all over the world with Sea Princess.

Highlights of this cruise:

Sydney
As your ship passes Harbour Heads, you are presented with the shimmering skyline of Sydney - hailed by many seafarers as "the most beautiful harbor in the world." Two prominent landmarks, Harbour Bridge and the sail-like curves of the Sydney Opera House, grace the backdrop of this picturesque harbor. There is a wealth of adventure waiting in Sydney - from its cosmopolitan city center to miles of beautiful beaches and the Blue Mountains.

Australia's oldest and largest city was born in 1788 with the arrival of the "First Fleet" transporting 760 British convicts. Today, Sydney is the largest port in the South Pacific and is often voted the most popular destination in the South Pacific.

Noumea
The capital of New Caledonia, Noumea is a little piece of France in the middle of the Pacific Ocean. Before World War II, New Caledonia was a little known and seldom-visited French possession known for its penal colony and its natural resources. (Nickel smelting still plays a major role in the island economy.) Today, travelers are drawn to New Caledonia for its scenic beauty. The island is famed for its white-sand beaches while its barrier reef is the world's second longest. The offshore waters also offer superb diving and snorkeling.

In 1774, James Cook thought the island's rugged hills resembled those of his native Scotland. Hence he christened the island New Caledonia. The island and its outlying groups became a French colony in 1854 and an overseas department of France in 1956.

Mystery Island, Vanuatu
This tiny, uninhabited inlet, originally named Inyeug, is located at the southernmost end of the Vanuatu archipelago approximately half a mile from the mainland, Aneityum Island. Used during World War II as an airstrip for the allied forces, it was dubbed "Mystery Island" because its location prevented the Japanese from seeing it from the water, making the appearance of allied planes a "mystery." With its white-sand beaches, swaying palm trees and spectacularly clear waters, Mystery Island still holds the allure of a secret oasis. You are greeted upon arrival by live music wafting through the air and a colorful marketplace with rows of stalls selling everything from handicrafts to local treats to hair-braiding services. For the adventurous, aquatic activities, snorkeling, kayaking and stand-up paddleboards beckon, while a glass-bottom boat offers a more sedate and drier way to enjoy the Technicolor marvel of the surrounding coral reef. Round out your visit with a trip to a nearby cultural village to learn more about the traditions and customs of island life.

Dravuni Island
Less than two miles in length from north to south, Dravuni Island lies in the Kadavu Island group of Fiji. Its volcanic peaks give way to a remote village of just 200 or so friendly villagers who live amongst the island's shady palms. These welcoming locals and their children often sing to arriving visitors.

Well-worn trails scattered with coconuts snake around the unspoiled beaches, the soft sands beckoning underwater adventurers towards the crystal-clear waters. Many visitors come to snorkel in the Great Astrolabe Reef, or to hike Dravuni Island's highest peak for magnificent once-in-a-lifetime views of the surrounding islands.

Suva
The Fiji archipelago is at the cross roads of the South Pacific. In the days of sailing ships, it was known as "The Cannibal Isles," where mariners carefully avoided its fierce warriors and perfidious waters. Thankfully, Fiji's pagan days live only in the tales recalled by tour guides - in rituals such as firewalking, Kava Ceremonies and in renditions of tribal drumming, dance and song.

Fiji is an exotic destination, with 333 islands that provide an exciting adventure or peaceful repose. The northwest region, where the sun shines almost every day and a tropical shower ends as quickly as it began, is home to the majority of the resorts. Suva, the political, administrative, educational and commercial center, has a backdrop of lush rainforest maintained by the inevitable "tropical downpour." The people of Fiji are the most multiracial and multicultural of all South Pacific island countries - this being reflected in churches of all denominations, mosques, temples and shrines.

Built around a reef-protected natural harbor, Suva, with its colonial buildings nestled alongside modern commercial venues, shops and local markets, parks and residential sprawl, is home to nearly half of Fiji's urban population.

Lautoka
The second-largest city of Fiji, Lautoka is located in the west, on the island of Viti Levu. It is nicknamed The Sugar City due to its expansive sugarcane plantations producing the island's most important crop. Its soft-sand beaches are fringed with swaying palm and coconut trees reflected in the crystalline turquoise waters. A drive through the city center allows glimpses of tree-lined streets, colonial houses, colorful markets and a vibrant local culture.

Isle of Pines
With radiant turquoise waters hiding a wealth of colorful corals and fish below, Isle of Pines is a wonderful place to dive and explore. Although this breathtaking island has been nicknamed "the closest island to Paradise," it once served as a penal colony to thousands of French deportees.

Pottery found on the island dates back to 1500 B.C., although the discovery of the island is most often attributed to Captain James Cook, who sailed by during a voyage to New Zealand in the 18th century. Cook named the island after its towering native pines, but he never set foot on land, presumably threatened by the sight of smoke rising above the trees.

The great explorer missed out on some of the most fascinating treasures ashore. From the tiniest endemic creatures to the far-reaching views offered by its highest peak, Isle of Pines is a unique island destination with plenty to discover.

Travel dates

Departing
From
Price From

Departing:

15 Apr 21

From:

Sydney, NSW, Australia

Price from:

$2,203
*Terms and Conditions
Information on this website has been obtained from the various Cruise Companies represented, however as the cruise industry is constantly changing and this information should be used as a guide only. We are unable to take responsibility for incorrect information and you must confirm all details the time of booking. Offer subject to availability at time of booking. Prices are per person share twin based on best available cruise fare, inclusive of all discounts unless otherwise stated. Where suite pricing is indicated this will be for lead in suite accommodation only and may in some cases be for a mini suite, which is the lead in suite category. Please ask for clarification at time of enquiry. Prices are subject to currency fluctuations and are based on cash or cheque. Cruise deposit, amendment and cancellation conditions apply. Travel agent service fees may apply. Special conditions apply - please ask for full details at time of enquiry.