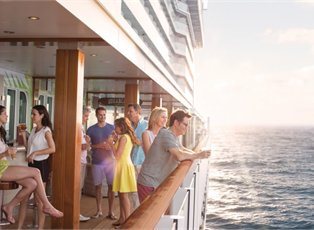 Journey
Free Perks!
Ship
Pride of America (More about the ship)
Departure Date
7 Sep 2019
Special deal
Special is valid from 19 Feb 19 to 15 Mar 19.
- Return Economy Class airfares from Auckland to Honolulu, flying Hawaiian Airlines
- Transfers throughout
- 3 nights pre-cruise accommodation in Waikiki
- 7 night cruise onboard Pride of America
- Main meals & entertainment onboard
- Port charges, government fees & gratuities
FREE AT SEA BONUS:
Pick 1 for Interior or Pick 2 for Oceanview & Balcony: Beverage Package, Internet Package, Specialty Dining Package or a US$50 per port shore excursion credit*
Itinerary

Pre-Cruise Itinerary

Day
Date
Activity
Start
End

Day:

Day 1

Date:

4 Sep 19

Activity:

Fly Auckland to Honolulu

Start:

End:

Day:

Day 1

Date:

4 Sep 19

Activity:

Transfer to hotel & overnight in Waikiki

Start:

End:

Day:

Day 2

Date:

5 Sep 19

Activity:

Overnight in Waikiki

Start:

End:

Day:

Day 3

Date:

6 Sep 19

Activity:

Overnight in Waikiki

Start:

End:

Day:

Day 4

Date:

7 Sep 19

Activity:

Transfer to ship & board Pride of America

Start:

End:

Cruise Itinerary

Day
Date
Port
Arrive
Depart

Day:

Day 7

Date:

10 Sep 19

Port:

Hilo Hawaii

Arrive:

08:00 AM

Depart:

06:00 PM

Day:

Day 9

Date:

12 Sep 19

Arrive:

10:00 AM

Depart:

overnight

Day:

Day 10

Date:

13 Sep 19

Arrive:

Depart:

02:00 PM

Post-Cruise Itinerary

Day
Date
Activity
Start
End

Day:

Day 11

Date:

14 Sep 19

Activity:

Disembark ship & transfer to airport

Start:

End:

Day:

Day 11

Date:

14 Sep 19

Activity:

Fly Honolulu to Auckland

Start:

End:

** Itinerary may vary by sailing date

Your cruise in detail

7 Night Hawaii Cruise departing roundtrip from Honolulu onboard Pride of America.

With our unique 7-day Hawaii cruise itineraries, you get overnights in both Maui and Kauai as well as visits to Oahu and the Big Island of Hawaii. You'll be on island time as you discover cascading waterfalls, active volcanos, black, green and white sand beaches, historic sites and unspoiled nature.yours.


Highlights of this cruise:

Honolulu, Oahu
The big, blue Pacific and stunning Koolau mountains serve as a dramatic setting for Hawaii's largest city. Climb to the top of Diamond Head. Take a romantic sunset stroll on Waikiki Beach. Catch a glimpse of history by visiting Pearl Harbor and the National Memorial Cemetery of the Pacific. Check out our amazing Hawaii itinerary.

Kahului, Maui
A surplus of natural splendor and the genuine hospitality of its people have helped to make Maui Hawaii's second most popular island. Explore the fascinating history of the town of Lahaina. Plant yourself on a pristine beach, or play one of the world's most beautiful golf courses.

Hilo, Hawaii
The entire city of Hilo is like one giant greenhouse with spectacular tropical flowers at every turn. Visit the town's well-preserved historic buildings, which date back to the turn of the century and showcase Hawaii's unique architecture. Just 30 miles away the Hawaii Volcanoes National Park is the home of the active Kilauea Volcano.

Kona, Hawaii
Kona offers the quintessential Hawaii experience. Sunny, warm weather and crystal blue waters entice visitors to partake in a variety of surfside fun. Snorkel amongst a kaleidoscope of tropical marine life. Take a surfing lesson, a kayaking trip or head out to deeper waters for some deep-sea fishing.

Nawiliwili, Kauai
Named after the Wiliwili trees, which once lined its picturesque harbour, this lovely port of Kauai is your gateway to what many believe to be Hawaii's most beautiful island. On "The Garden Island," nature is truly the star, from the dramatic mountains of Kokee to the cool rainforests of Haena. And the tradition of the luau adds lively entertainment unique to Hawaii.

Travel dates

Departing
From
Price From

Departing:

7 Sep 19

From:

Honolulu, Hawaii

Price from:

$4,799

Departing:

2 Nov 19

From:

Honolulu, Hawaii

Price from:

$3,059

Departing:

9 Nov 19

From:

Honolulu, Hawaii

Price from:

$4,639

Departing:

21 Dec 19

From:

Honolulu, Hawaii

Price from:

$3,869

Pricing
Please note: while prices are accurate at time of loading they are subject to change due to currency fluctuations and currency surcharges may apply. Please check price at time of booking.
*Terms and Conditions
*Trade enquiries via GO Holidays. Valid for sales to 15 Mar 2019, unless sold out prior. It is our policy to present the cost of our holidays inclusive of all airport and government charges. Please accept however that these charges are not within our control, therefore we reserve the right to pass on any increase. Travel agent professional service fees where charged, will be additional to the advertised prices. Prices are based on direct flights unless stated otherwise. Prices are per person, twin share in NZD & include return economy class airfares flying Hawaiian Airlines from Auckland to Honolulu. A non-refundable cruise deposit as well as full airfare payment is due within 3 days (by midday) of reservation. The most restrictive ticketing deadline applies. Full cruise payment conditions apply. Main meals are included at selected restaurants only. Choose 1 offer for inside staterooms OR 2 offers for Oceanview/Balcony staterooms. BEVERAGE PACKAGE: Applicable to guests 1 & 2 & must be at least 21 years of age at time of sailing to qualify for the Ultimate Beverage Package. Guests under 21 will receive the soda package. Beverage package is valued at US$99pp, per day & includes a variety of spirits & cocktails, wines by the glass & bottled or draft beer up to US$15. Exclusions apply. SHORE EXCURSION CREDIT: Credit is per stateroom, has no monetary value & is non-refundable. Applicable for each port, including debarkation port, & is not transferable to other ports. Use the credit or lose it. Does not include embarkation ports. Overnight stays count as one port. INTERNET PACKAGE: Receive 250 minutes per stateroom, including activation fee. Internet will be applied to the 1st guest in a stateroom. One login per stateroom. SPECIALTY DINING PACKAGE is on a per meal basis for guests 1 & 2 with a maximum of 3 meals. Exclusions apply. Due to airline availability & schedules additional accommodation may be required at passengers' own expense. Prices are based on payment by cash, cheque or eftpos only. Credit card sales not permitted unless Travel Agent acts as a merchant. Capacity limitations apply and may not be available on all services. Events beyond our control such as currency fluctuations and changes to the price of aviation fuel may result in prices variations. Strict cancellation fees apply. For full terms and conditions and cancellation fees please contact your local travel agent for more information. Trade enquiries via GO Holidays. Prices are based on lead-in stateroom categories, surcharges apply for other categories. Prices are subject to change at any time without notice. Book HA 'G' Class.