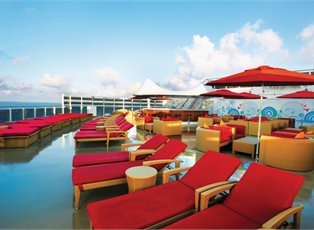 Journey
Free Perks!
Ship
Norwegian Epic (More about the ship)
Departure Date
22 Sep 2019
Special deal
Special is valid from 22 Feb 19 to 22 Mar 19.
- Return Economy Class airfares from Auckland, Wellington or Christchurch to Barcelona (add $140pp ex Christchurch) flying Emirates
- Transfers throughout
- 2 nights pre-cruise accommodation in Barcelona
- Barcelona City Highlights Tour
- 7 night cruise onboard Norwegian Epic
- Main meals & entertainment onboard
- Port charges, government fees & gratuities
FREE AT SEA BONUS:
Pick 1 for Interior or Pick 2 for Oceanview & Balcony: Beverage Package, Internet Package, Specialty Dining Package or a US$50 per port shore excursion credit*
Itinerary

Pre-Cruise Itinerary

Day
Date
Activity
Start
End

Day:

Day 1

Date:

19 Sep 19

Activity:

Fly Auckland to Barcelona

Start:

End:

Day:

Day 2

Date:

20 Sep 19

Activity:

Transfer to hotel & overnight in Barcelona

Start:

End:

Day:

Day 3

Date:

21 Sep 19

Activity:

Overnight in Barcelona

Start:

End:

Day:

Day 4

Date:

22 Sep 19

Activity:

Transfer to port & board Norwegian Epic

Start:

End:

Cruise Itinerary

Day
Date
Port
Arrive
Depart

Day:

Day 6

Date:

24 Sep 19

Port:

Naples, Italy

Arrive:

07:00 AM

Depart:

07:00 PM

Day:

Day 7

Date:

25 Sep 19

Arrive:

06:00 AM

Depart:

07:00 PM

Day:

Day 8

Date:

26 Sep 19

Arrive:

07:00 AM

Depart:

07:00 PM

Day:

Day 9

Date:

27 Sep 19

Port:

Cannes, France

Arrive:

08:00 AM

Depart:

06:00 PM

Post-Cruise Itinerary

Day
Date
Activity
Start
End

Day:

Day 11

Date:

29 Sep 19

Activity:

Disembark ship & transfer to airport, fly Barcelona to Auckland

Start:

End:

** Itinerary may vary by sailing date

Your cruise in detail

7 Night Cruise sailing from Barcelona roundtrip aboard Norwegian Epic.

From the spires of Gaudi's grand cathedral to ancient libraries and colosseums, this part of the world is a treat for the senses. And the best way to explore is aboard the Norwegian Epic. You'll treasure stops in picturesque ports like Cannes and Majorca. And enjoy your time at sea with one-of-a-kind entertainment and dining.

Highlights of this cruise:

Barcelona
The capital of Spain's Catalonia region is a classy, exciting, vibrant city that hosted the 1992 Summer Olympic Games. The old center of town boasts one of the greatest concentrations of Gothic architecture in Europe. But you'll find many marvels of Modernisme abound throughout the rest of the city.

Naples
Naples changes dramatically from neighborhood to neighborhood, from chic to shabby, then back to chic again. But some of Italy's best shopping and dining is always at hand, including the original Neapolitan Pizza. Nearby you'll find Mt. Vesuvius, the Isle of Capri and Pompeii.

Rome (Civitavecchia)
Bask in the glory of the city that once was the capital of the world's most powerful empire. No visit to Rome is complete without a visit to the Colosseum that stands as a reminder of the gladiator days. But be sure to visit St. Peter's Basilica, the Vatican and the Pantheon, too.

Florence/Pisa (Livorno)
How lucky to visit the Tuscan region, Florence & Pisa, resplendent in art and history. What's even more fortunate is that all the main attractions in Florence are centrally located for the perfect walking tour. See Santa Croce, Piazza del Duomo and Michelangelo's David.

Cannes, France
Drive up Suquet Hill for a view of the city, sea and Lerins Island - fabulous dahling! How many rich and famous can you spot, walk the palm-lined promenade de la Croisette and count. The French Riviera at its best...the International Film Festival calls this home.

Palma, Majorca, Spain
On the one hand, this city, founded by the Romans some 2,100 years ago, is replete with (literally) wall-to-wall history and architectural splendor. You can journey back in time and wander the mazes of alleyways and cobblestone paths that surround the Gothic cathedral. On the other hand, Palma is bustling with life, showcasing the island's best restaurants, shops, nightlife and a vibrant art scene.

Travel dates

Departing
From
Price From

Departing:

22 Sep 19

From:

Barcelona, Spain

Price from:

$4,399

Pricing

Accomodation

Please note: while prices are accurate at time of loading they are subject to change due to currency fluctuations and currency surcharges may apply. Please check price at time of booking.
*Terms and Conditions
*Trade enquiries via GO Holidays. Valid for sales to 22 Mar 2019, unless sold out prior. It is our policy to present the cost of our holidays inclusive of all airport and government charges. Please accept however that these charges are not within our control, therefore we reserve the right to pass on any increase. Travel agent professional service fees where charged, will be additional to the advertised prices. Prices are based on direct flights unless stated otherwise. Prices are per person, twin share in NZD & include return economy class airfares flying Emirates from Auckland, Wellington or Christchurch to Barcelona (travel ex CHC add $140pp). A non-refundable cruise deposit as well as full airfare payment is due within 3 days (by midday) of reservation. The most restrictive ticketing deadline applies. Full cruise payment conditions apply. Main meals are included at selected restaurants only. Choose 1 offer for inside staterooms OR 2 offers for Oceanview/Balcony staterooms. BEVERAGE PACKAGE: Applicable to guests 1 & 2 & must be at least 21 years of age at time of sailing to qualify for the Ultimate Beverage Package. Guests under 21 will receive the soda package. Beverage package is valued at US$99pp, per day & includes a variety of spirits & cocktails, wines by the glass & bottled or draft beer up to US$15. Exclusions apply. SHORE EXCURSION CREDIT: Credit is per stateroom, has no monetary value & is non-refundable. Applicable for each port, including debarkation port, & is not transferable to other ports. Use the credit or lose it. Does not include embarkation ports. Overnight stays count as one port. INTERNET PACKAGE: Receive 250 minutes per stateroom, including activation fee. Internet will be applied to the 1st guest in a stateroom. One login per stateroom. SPECIALTY DINING PACKAGE is on a per meal basis for guests 1 & 2 with a maximum of 3 meals. Exclusions apply. Due to airline availability & schedules additional accommodation may be required at passengers' own expense. Prices are based on payment by cash, cheque or eftpos only. Credit card sales not permitted unless Travel Agent acts as a merchant. Capacity limitations apply and may not be available on all services. Events beyond our control such as currency fluctuations and changes to the price of aviation fuel may result in prices variations. Strict cancellation fees apply. For full terms and conditions and cancellation fees please contact your local travel agent for more information. Trade enquiries via GO Holidays. Prices are based on lead-in stateroom categories, surcharges apply for other categories. Prices are subject to change at any time without notice. Airfares: book EK 'T' class