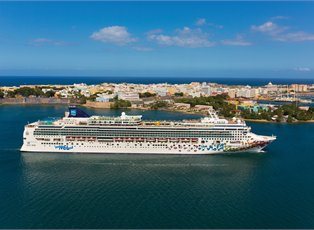 Journey
10 Night Cruise sailing roundtrp from New York aboard Norwegian Gem.
Ship
Norwegian Gem (More about the ship)
Departure Date
22 Nov 2019
Itinerary

Cruise Itinerary

Day
Date
Port
Arrive
Depart

Day:

Day 1

Date:

22 Nov 19

Port:

New York, USA

Arrive:

Depart:

04:00 PM

Day:

Day 4

Date:

25 Nov 19

Arrive:

04:00 PM

Depart:

10:00 PM

Day:

Day 5

Date:

26 Nov 19

Arrive:

11:00 AM

Depart:

06:00 PM

Day:

Day 7

Date:

28 Nov 19

Arrive:

08:00 AM

Depart:

05:00 PM

Day:

Day 8

Date:

29 Nov 19

Arrive:

07:00 AM

Depart:

01:00 PM

Day:

Day 11

Date:

2 Dec 19

Port:

New York, USA

Arrive:

10:00 AM

Depart:

** Itinerary may vary by sailing date

Your cruise in detail

10 Night Cruise sailing roundtrp from New York aboard Norwegian Gem.

It's sunshine all the time in the Caribbean, so grab your flip-flops and enjoy a cruise to remember through the islands. Uncover the secrets of Old San Juan - stroll this historic, walled neighbourhood brimming with 16th- and 17th-century Spanish colonial buildings. In lush St. Lucia, hike at the base of the Piton peaks or take a dip in the deep-blue Caribbean Sea. And keep your camera ready when in St. John's to photograph the only working Georgian dockyard in the Eastern Caribbean as well as the breathtaking views over sailboat-studded English Harbour.

Highlights of this cruise:

New York
Everyone loves New York and there are a million reasons why. Here are but a few: the Statue of Liberty, the Empire State Building, Grand Central Station, the Ellis Island National Monument, the Brooklyn Bridge, the Metropolitan Museum of Art, the Guggenheim Museum, Times Square, Broadway, Greenwich Village, 5th Avenue and Central Park.

San Juan, Puert Rico
Founded in 1521, San Juan's picturesque cobblestone streets, plazas and chapels reflect its Spanish heritage. But the second oldest city in the Americas also boasts fine beaches, lush rainforests, verdant mountainsides, imposing forts and a lovely tropical climate.

Basseterre, St. Kitts
Although founded by the French in 1627, St. Kitts is a very British paradise where cricket and tea are the norm. The dramatic mixed island landscape is rimmed in gold-sand beaches and dotted with well-preserved plantations left over from when the island was covered with sugar cane.

Castries, St. Lucia
A mecca for outdoor enthusiasts with thriving coral reefs and rain forest preserves. Explore the world's only drive-in volcanic crater at Sulfur Springs. Visit the Diamond Botanical Gardens and Falls and the Morne Coubaril Estate.

St. John's, Antigua
Bask in the grand sight of the city's skyline, dominated by the white baroque towers of St. John's Cathedral. Sample local cuisines, visit the Botanical Garden, witness the magnificent Antigua Lighthouse, the historical Fort James and much more as you discover this grand city.

St. Thomas
The town of Charlotte Amalie has one of the most breathtaking harbors in the world. Once home to pirates of long ago, today visitors find treasures of a different kind, for now beautiful beaches and bountiful duty-free shopping are truly its claim to fame.

Travel dates
*Terms and Conditions
Information on this website has been obtained from the various Cruise Companies represented, however as the cruise industry is constantly changing and this information should be used as a guide only. We are unable to take responsibility for incorrect information and you must confirm all details the time of booking. Offer subject to availability at time of booking. Prices are per person share twin based on best available cruise fare, inclusive of all discounts unless otherwise stated. Where suite pricing is indicated this will be for lead in suite accommodation only and may in some cases be for a mini suite, which is the lead in suite category. Please ask for clarification at time of enquiry. Prices are subject to currency fluctuations and are based on cash or cheque. Cruise deposit, amendment and cancellation conditions apply. Travel agent service fees may apply. Special conditions apply - please ask for full details at time of enquiry.