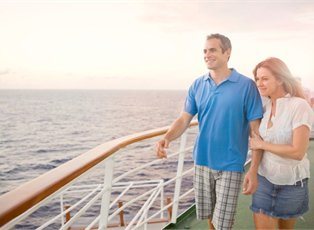 Journey
Onboard Credit + Reduced Deposit
Ship
Pacific Aria (More about the ship)
Departure Date
20 Sep 2019
Special deal
Special is valid from 8 Feb 19 to 26 Feb 19.
- 7 night cruise onboard Pacific Aria
- Main meals & entertainment onboard
- Port charges & government fees
BONUS:
- Reduced deposit of just $1pp + book an Interior or Oceanview cabin & receive AU$150 onboard credit OR book a Balcony cabin & receive AU$250 onboard credit*
- BOOK BY 18 FEB 2019 & receive an additional AU$100 onboard credit for Interior or Oceanview cabins OR an additional AU$200 onboard credit for Balcony cabins!*
Itinerary

Cruise Itinerary

Day
Date
Port
Arrive
Depart

Day:

Day 1

Date:

20 Sep 19

Arrive:

Depart:

02:00 PM

Day:

Day 3

Date:

22 Sep 19

Arrive:

03:00 PM

Depart:

10:00 PM

Day:

Day 4

Date:

23 Sep 19

Arrive:

08:00 AM

Depart:

05:00 PM

Day:

Day 5

Date:

24 Sep 19

Port:

Vila, Vanuatu

Arrive:

08:00 AM

Depart:

05:00 PM

Day:

Day 8

Date:

27 Sep 19

Arrive:

06:00 AM

Depart:

** Itinerary may vary by sailing date

Your cruise in detail

7 Night Cruise sailing from Brisbane roundtrip aboard Pacific Aria.

Thanks to our newest members, Pacific Eden and Pacific Aria, we're now the largest fleet (or should we say family) in Australia. Pacific Eden and Pacific Aria will offer a whole new level of innovation. From gourmet dining to live music venues and a completely redesigned pool deck. It's cruising like you've never seen it before.

Highlights of this cruise:

Brisbane
Brisbane is the capital and most populated city in the state of Queensland, Australia. It is situated at a bend of the Brisbane River, approximately 23 kms from its mouth at Moreton Bay. The city itself is very hilly; the CBD is only 2.2km and is easy to walk on foot.

Popular tourist and recreation areas in Brisbane include the South Bank Parklands, Roma Street Parkland, the City Botanic Gardens, Brisbane Forest Park and Portside Wharf. The Lone Pine Koala Sanctuary opened in 1927 and was the world's first koala sanctuary.

Other attractions in Brisbane include galleries, wildlife parks, museums, markets and adventures. Visitors can relax at beautiful beaches and explore the river, bay, parklands, forests and mountains. There are festivals and events galore too.

Noumea
Nouméa is the capital city of the French territory of New Caledonia. It is situated on a peninsula in the south of New Caledonia's main island, Grande Terre. It is one of the most westernized cities in the Pacific islands, and while the city itself is not attractive, there are some beautiful beaches on its outskirts.

Attractions in Nouméa include a stroll along the Place des Cocotiers, the local produce market and the Tjibaou Cultural Centre, located 20mins from the city. The focal point of the city is Coconut Park with its attractive colonial houses and beautiful hibiscus and bougainvilleas. The marina is worth a visit and there are attractive beaches at Anse Vata, Baie des Citrons and at Pointe Magnin.

Vila
Port Vila is the capital and largest city of Vanuatu, situated on the south coast of the island of Efate. The town is located around a magnificient natural harbour which offers views to nearby Iririki and Ifira islands. It is the only town on Efate and is regarded as Vanuatu's international gateway and its main economic and commercial centre.

Port Vila is a clean and attractive city with friendly locals. The waterfront and hillside area offer some great restaurants with a wide variety of cuisines. There are plenty of shops, cafes, markets, and sightseeing tours to take. Tours to Mele Village, Cascades Waterfall and the Mele Botanical Gardens and Cultural Centre are very popular.

Travel dates

Departing
From
Price From

Departing:

1 Mar 19

From:

Brisbane, QLD, Australia

Price from:

$891

Departing:

23 Aug 19

From:

Brisbane, QLD, Australia

Price from:

$1,319

Departing:

20 Sep 19

From:

Brisbane, QLD, Australia

Price from:

$1,149

Departing:

18 Oct 19

From:

Brisbane, QLD, Australia

Price from:

$986

Departing:

17 Jan 20

From:

Brisbane, QLD, Australia

Price from:

$1,046

Pricing

Accomodation

Please note: while prices are accurate at time of loading they are subject to change due to currency fluctuations and currency surcharges may apply. Please check price at time of booking.
*Terms and Conditions
*Valid for sales 11-26 Feb 2019, unless otherwise specified or sold out prior. Fares are cruise only, per person, twin share in NZD, based on lead-in categories as specified, inclusive of all discounts, charges & taxes (which are subject to change). Subject to availability at time of booking. Supplements apply for other room categories. Valid on P&O's Value and Value Plus fare types. Valid for new bookings only & not combinable with any other offer. DEPOSIT: Pay $1pp deposit upfront (for all passengers) followed by the remainder of the standard adult deposit amount to be paid as follows - for cruises departing between 24 June 2019 & 13 Aug 2019 the additional deposit is due 95 days prior to departure; for cruises departing between 20 Aug & 29 Nov 2019 the additional deposit is due 150 days prior to departure; for cruises departing between 30 Nov 2019 & 25 Jan 2020 the additional deposit is due 180 days prior to departure. Final payment is then due 75 days before departure. Full payment is required at time of booking for sailings booked within 75 days of departure. ONBOARD CREDITS are per cabin in AUD & is applied to the first 2 guests only, is not transferable, not redeemable for cash & cannot be used at the medical centre or casino. Onboard credit expires at the conclusion of your cruise. ADDITIONAL ONBOARD CREDIT is valid for bookings made by 18 Feb 2019 only. Daily gratuities are not included & must be paid onboard at the conclusion of your cruise before disembarkation. Travel agent professional service fees where charged, will be additional to the advertised prices. Prices are correct at time of publication (05 Feb 2019) & are subject to change or may be withdrawn at any time without notice. Trade enquiries via GO Holidays. For full terms, conditions & cancellation fees please contact your local travel agent for more information.