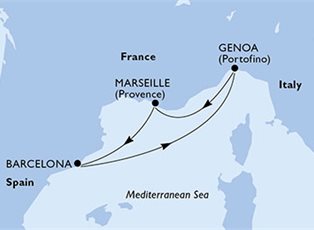 Journey
3 Night Mediterranean Cruise departing roundtrip from Genoa onboard MSC Sinfonia.
Ship
MSC Sinfonia (More about the ship)
Departure Date
27 Apr 2019
Itinerary

Cruise Itinerary

Day
Date
Port
Arrive
Depart

Day:

Day 1

Date:

27 Apr 19

Port:

Genoa, Italy

Arrive:

Depart:

06:00 PM

Day:

Day 4

Date:

30 Apr 19

Port:

Genoa, Italy

Arrive:

10:00 AM

Depart:

** Itinerary may vary by sailing date

Your cruise in detail

3 Night Mediterranean Cruise departing roundtrip from Genoa onboard MSC Sinfonia.

To step aboard MSC Cruises magnificient ship, MSC Sinfonia, is to embark on a voyage back in time as you travel in elegant Italian style to ancient Mediterranean cruise destinations such as Italy, Portugal and Spain or to beautiful Morocco, South Africa, Greece & France.

MSC Sinfonia is a ship distinctive in both design and comfort, marrying the best of continental style with world-class service and attention to detail. The welcoming, professional crew aboard this elegant liner are on hand to offer round-the-clock hospitality and quality service.

MSC Sinfonia is named in homage to the rousing symphonies of Europe's great classical composers: from Beethoven's romantic masterpieces to Mozart's lively works, paired with the contemporary tones of Debussy, Tchaikovsky and Brahms. We are sure your cruise holiday will be one of perfect harmony whether you are a first-time cruise passenger or seasoned ocean traveller!

And for the very first time onboard one of our MSC Cruises liners the MSC Sinfonia ship boasts a state-of-the art Virtual Golf Simulator that allows players, especially beginners, to practice their swing while sailing. Other state-of-the art amenities are found in the video games room and Teen Area. Don't forget to recount your travels to envious friends back home from our well-equipped internet café!

But there's more. Treat yourself in the hair salon, beauty centre or gym. With an array of shows, music, discotheques, casinos, and more, MSC Sinfonia offers a 'symphony' of sumptuous activities to do.

Sun, sea and heaps of fun, a cruise holiday onboard MSC Sinfonia will truly be music to your ears.

Highlights of this cruise:

Genoa, Italy
A beautiful port cradled between land and sea

Cradled between land and sea and with a working port, the Italian vacation destination of Genoa on the west coast of Italy displays its past through her many palaces and the surrounding ancient terraced hills.

Genoa has many different faces; at once a modern metropolis and a rigorous custodian of artistic heritage, as well as an industrious marketplace with centuries-old parks perfect for relaxation.

Genoa hides her riches in an historical centre that looks traditionally seaward yet at the same time exhibits a new beauty achieved by restoring the splendour of ages past.

Barcelona
Barcelona is the second largest city in Spain and the capital of Catalonia. It is located on the shores of the Mediterranean and enjoys a mild climate all year round.Barcelona is one of Europe's largest and most successful ports and one of the world's leading cities in art and architecture.

From the modern cruise terminal at the docks you will need a taxi or tour to see the artistic beauty of this unique destination, credited to the talents of Joan Miro, Pablo Picasso, Antonio Gaudi, Jose Clara and others. Stroll the mosaic-paved Ramblas, the city's social hub, with open-air cafes, street entertainers and flower displays. See its unique Catalonian cultural heritage in the ancient Gothic Quarter, the surrealistic architecture of Antonio Gaudi and some outstanding museums.

Sights of interest include the Columbus Monument, the Cathedral of Santa Eulalia (1298 to 1454), the Maritime Museum, Picasso Gallery, La Sagrada Familia (Gaudi's unfinished cathedral), Palau Guell (Gaudi mansion) and the Olympic stadiums.

Travel dates

Departing
From
Price From

Departing:

27 Apr 19

From:

Genoa, Italy

Price from:

$709

Departing:

30 Apr 19

From:

Genoa, Italy

Price from:

$629

Pricing

Accomodation

Please note: while prices are accurate at time of loading they are subject to change due to currency fluctuations and currency surcharges may apply. Please check price at time of booking.
*Terms and Conditions
Information on this website has been obtained from the various Cruise Companies represented, however as the cruise industry is constantly changing and this information should be used as a guide only. We are unable to take responsibility for incorrect information and you must confirm all details the time of booking. Offer subject to availability at time of booking. Prices are per person share twin based on best available cruise fare, inclusive of all discounts unless otherwise stated. Where suite pricing is indicated this will be for lead in suite accommodation only and may in some cases be for a mini suite, which is the lead in suite category. Please ask for clarification at time of enquiry. Prices are subject to currency fluctuations and are based on cash or cheque. Cruise deposit, amendment and cancellation conditions apply. Travel agent service fees may apply. Special conditions apply - please ask for full details at time of enquiry.