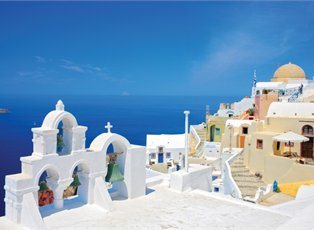 Journey
2nd person saves 50%
Ship
Rhapsody of the Seas (More about the ship)
Departure Date
28 Sep 2019
Special deal
Special is valid from 8 Feb 19 to 28 Feb 19.
- 7 night cruise onboard Rhapsody of the Seas
- Main meals & entertainment onboard
- Port charges, government fees & gratuities
BONUS:
- 2nd person saves up to 50%*
Itinerary

Cruise Itinerary

Day
Date
Port
Arrive
Depart

Day:

Day 1

Date:

28 Sep 19

Port:

Venice, Italy

Arrive:

Depart:

05:00 PM

Day:

Day 3

Date:

30 Sep 19

Port:

Corfu, Greece

Arrive:

09:00 AM

Depart:

03:00 PM

Day:

Day 4

Date:

1 Oct 19

Arrive:

12:00 PM

Depart:

08:30 PM

Day:

Day 5

Date:

2 Oct 19

Port:

Mykonos, Greece

Arrive:

07:00 AM

Depart:

04:00 PM

Day:

Day 8

Date:

5 Oct 19

Port:

Venice, Italy

Arrive:

06:45 AM

Depart:

** Itinerary may vary by sailing date

Your cruise in detail

7 Night Cruise sailing from Venice roundtrip aboard Rhapsody of the Seas.

From the snow-capped mountain coasts of Alaska to the skyline views of Sydney, Australia, Rhapsody of the Seas® delivers an unforgettable cruise holiday. Make reservations at Royal Caribbean's signature steakhouse, Chops Grille, and treat your palate to an incredible dining experience. Let the little ones explore safely at sea with the newly added Royal Babies and Tots Nursery®. Relax in the VIP Diamond Club or Concierge Club* exclusively for Crown & Anchor® Society members.

No matter which hemisphere Rhapsody of the Seas takes you to, there's always more to love on the world's most innovative cruise line – from the VitalitySM Spa to the rock climbing wall.

Highlights of this cruise:

Venice, Italy
Composed of 117 islands in the Venetian Lagoon and held together by a series of canals, Venice is like no other city in the world. Established more than 1,000 years ago by seafarers and Roman refugees, this magnificent city continues to be the heart of Italian culture as well as a mecca for hopeless romantics.

Kotor, Montenegro
One of the oldest and most famous Montenegrin towns is Kotor. The coastal town is located in the most secluded part of the Gulf of Kotor, at the foot of mountain Lovcen. Kotor is a typical Mediterranean travel destination with old narrow streets, romantic bars and restaurants, small shops, antique monuments, churches and picturesque buildings. Famous poets and writers have used the beauty of the Bay of Kotor as inspiration for their works. Listed as a UNESCO World Natural and Historical Heritage Site, Kotor has become a famous yachting and sailing destination for skippers around the globe.

Corfu, Greece
Known as the 'Emerald Island' because of its lush greenery and breathtaking beauty, Corfu is one of the hidden treasures of the Mediterranean. The second largest of the seven Ionian Islands, Corfu is just 593 square kilometres (368.253 square miles). Possessing an intense culture and unparalleled coastline, the island has provided endless inspiration for many artists and literary figures.

Piraeus (Athens), Greece
Piraeus is the main port of Athens, the biggest in Greece, and one of the most important in the Mediterranean Sea. Piraeus is within walking distance of Kastella, a hill strewn with beautiful houses that offers a majestic view of the Saronic Gulf. Other points of interest include an archaeological museum, Mikrolimano, where you can enjoy an ouzo accompanied by seafood mezedes.

Mykonos, Greece
In the deep blue waters of the Mediterranean lies one of the most inviting places in all of Greece – Mykonos. Its countless bays and beaches and its quaint cobblestone streets are bound to delight any visitor. According to Greek mythology, it was here that Hercules slew the Giants, and the large rocks that are scattered about the island are said to be their petrified corpses. True or not, you'll have to judge for yourself.

Argostoli, Greece
Situated on the largest of the Ionion Islands on Kefalonia, Argostoli is perfect for nature and history lovers. Tour the ruins of St. George Castle, see loggerhead turtles feeding and take in sweeping views atop its cliffs.

Travel dates

Departing
From
Price From

Departing:

25 May 19

From:

Venice, Italy

Price from:

$1,598

Departing:

8 Jun 19

From:

Venice, Italy

Price from:

$1,938

Departing:

22 Jun 19

From:

Venice, Italy

Price from:

$1,839

Departing:

3 Aug 19

From:

Venice, Italy

Price from:

$1,900

Departing:

17 Aug 19

From:

Venice, Italy

Price from:

$1,857

Departing:

31 Aug 19

From:

Venice, Italy

Price from:

$1,358

Departing:

14 Sep 19

From:

Venice, Italy

Price from:

$1,496

Departing:

28 Sep 19

From:

Venice, Italy

Price from:

$2,149

Departing:

12 Oct 19

From:

Venice, Italy

Price from:

$1,489

Pricing

Accomodation

Inside Cabin for 2 people (second passenger only $1,050)

$3,199*

Please note: while prices are accurate at time of loading they are subject to change due to currency fluctuations and currency surcharges may apply. Please check price at time of booking.
*Terms and Conditions
*Conditions apply: Valid for sales until 28 Feb 2019, unless sold out prior. Prices based on 1st person paying full price & 2nd person up to 50% off on cruise fare, twin share, in NZD, includes government fees, port charges & gratuities which are subject to change without notice. Non-refundable deposit of $400pp is due within 3 days of booking. Final cruise payment is due 70 days prior to sailing (90 days for Christmas/New Year sailings). Eligible bookings will receive a discount of up to 50% off the total fare of the second passenger who is booked in the same stateroom as a first passenger at full fare. Onboard credit is in USD per stateroom. Credit is non-refundable, non-transferable, non-redeemable & cannot be used in the medical centre or casino & will expire if not used by 10pm on the last night of cruise. Any eligible booking that is cancelled & reinstated or modified after the offer has ended will no longer be eligible for the promotion. Events beyond our control such as currency fluctuations may result in prices variations. Prices correct at time of print (05 Feb 2019) & subject to change without prior notice. Further terms & conditions apply, please ask your travel agent for details.