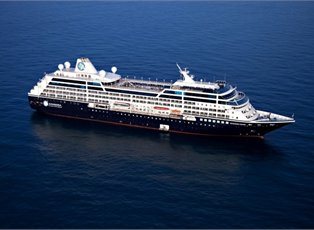 Journey
SAVE up to 50%*
Ship
Azamara Quest (More about the ship)
Departure Date
4 Jun 2019
Special deal
Special is valid from 5 Apr 19 to 30 Apr 19.
- 10 night cruise onboard Azamara Quest
- All main meals and entertainment onboard
- All beverages onboard including selected beer, wine and spirits
- One AzAmazing Evening event in a selected port
- Port charges, government fees and gratuities
BONUS:
- SAVE up to 50%*
- FREE US$300 Onboard Credit per stateroom*
Itinerary

Cruise Itinerary

Day
Date
Port
Arrive
Depart

Day:

Day 1

Date:

4 Jun 19

Arrive:

Depart:

06:00 PM

Day:

Day 2

Date:

5 Jun 19

Arrive:

08:00 AM

Depart:

overnight

Day:

Day 3

Date:

6 Jun 19

Arrive:

Depart:

02:00 PM

Day:

Day 6

Date:

9 Jun 19

Port:

Juneau, Alaska

Arrive:

09:30 AM

Depart:

11:00 PM

Day:

Day 7

Date:

10 Jun 19

Port:

Skagway, Alaska

Arrive:

08:00 AM

Depart:

05:00 PM

Day:

Day 8

Date:

11 Jun 19

Port:

Sitka, Alaska

Arrive:

09:00 AM

Depart:

05:00 PM

Day:

Day 11

Date:

14 Jun 19

Arrive:

07:00 AM

Depart:

** Itinerary may vary by sailing date

Your cruise in detail

10 Night Cruise sailing from Vancouver roundtrip aboard Azamara Quest.

Join Azamara's maiden voyages to Alaska, America's 49th state and one of its most scenic frontiers. See stunning fjords, calving glaciers, and wildlife including whales, eagles and bears. Dine on snow-white halibut, salmon and king crab, and sip wines from acclaimed vineyards of the Pacific Northwest. You'll love Azamara's immersive approach to travel, with small-group opportunities to meet local people, learn native traditions, and experience the region's history as a rough and rugged explorers' outpost. We're offering three itineraries (two 10-day and one 8-day) between the peak sailing season of late May to early September. Pick one, or better yet, join back-to-back voyages for an eye-opening, mind-expanding adventure. See you in Alaska!

Alaska Showcase

This convenient Vancouver roundtrip pairs Pacific Northwest city life with Alaska's spectacular scenery. Before or after voyage, visit beautiful Stanley Park, Granville Market, or nearby Butchart Gardens. You've got two days in port to experience buzzing, beautiful Seattle, home to major tech companies including Amazon and Microsoft. Eat, shop and soak up the local vibe at Pike Place Market, Pioneer Square and Seattle's famous music clubs (including Dimitriou's Jazz Alley for those not into grunge rock). Take a ferry to Vashon Island, tour the Boeing factory, or visit spectacular Mt. Rainier. Then the pace slows as we sail to Alaska's Inside Passage with gorgeous views of glaciers, peaceful fjords and wildlife including eagles and whales. Visit four Alaskan port cities, each with big stories to tell, most of them true. Sitka was home to the native Tlingit tribe before the Russians arrived, and here you'll find an onion-domed Cathedral and authentic 18th-century architecture set in stunning natural beauty. In Ketchikan, take a walking tour of the historic old town, learn about totem poles, go salmon fishing or visit Tongass National Forest and beautiful Misty Fjords. You'll have a late stay in Juneau, Alaska's capital, with many options for town touring and hiking, dog sledding, or a canoe trip to Mendenhall Glacier. Skagway is all about the Alaskan gold rush; don't miss a ride up steep grades and around hair-raising turns on the historic White Pass narrow-gauge railway. Most cruise ships don't stop at Nanaimo on Vancouver Island, but we do. Discover a quaint town with a spectacular waterfront park and welcoming pubs, or take an inland excursion to explore more of Vancouver Island.

Travel dates

Departing
From
Price From

Departing:

4 Jun 19

From:

Vancouver, BC. Canada

Price from:

$2,749

Pricing

Accomodation

Please note: while prices are accurate at time of loading they are subject to change due to currency fluctuations and currency surcharges may apply. Please check price at time of booking.
*Terms and Conditions
*Valid for sales until 30 Apr 2019, unless sold out prior. Prices are per person, twin share in New Zealand dollars for the lowest available staterooms, inclusive of savings, taxes, fees & onboard gratuities (which are subject to change). Up to 50% savings is based on the total fare variance of Book Pay Save against standard pricing in the indicated category; savings amounts vary by sailing and category. Valid for new individual bookings only. Guests will receive a stateroom in their elected category class (Interior, Oceanview, Veranda or Suite) at a discounted rate. Bookings created in a Z category guarantee at BPS GTY fares are entitled to a Club Interior accommodations of category 12 or higher. Bookings created in a Y category guarantee at BPS GTY fares are entitled to a Club Oceanview accommodations of category 08 or higher, Bookings created in an X category guarantee at BPS GTY fares are entitled to a Club Verandah accommodations of category V3 or higher. Bookings created in a W category guarantee at BPS GTY fares are entitled to a Club Continent, Spa, Ocean or World Owner's Suite accommodations of category N2 or higher. Offer is capacity Controlled. A limited number of staterooms have been set aside at this pricing, once that number is reached the offer may be removed or the pricing increased. Stateroom requests cannot be taken for guarantee bookings. Stateroom will be assigned at the discretion of Azamara Club Cruises. The brand reserves the right to make stateroom assignment changes up to 48 hours prior to departure. Onboard credit is in US Dollars and is per stateroom, non-refundable, non-transferable and cannot be redeemed for cash, used in the medical centre or casino. Offer is not combinable with any other booking incentive, offer, or promotion. Bookings must be paid in full at the time of creation. Offer is not combinable with any other offer. Applies to select Alaska sailings only All offers are subject to change, & may be withdrawn at any time without notice. Any changes made to the booking after deposit payment may result in the removal of the offers. Azamara reserves the right to correct any errors, inaccuracies or omissions and to change or update fares, fees and surcharges at any time without prior notice. Further terms & conditions apply, check at time of booking.