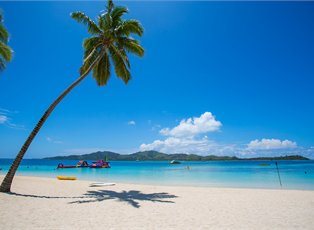 Journey
8 Night Cruise sailing from Auckland roundtrip aboard Pacific Aria.
Ship
Pacific Aria (More about the ship)
Departure Date
16 Jul 2019
Itinerary

Cruise Itinerary

Day
Date
Port
Arrive
Depart

Day:

Day 1

Date:

16 Jul 19

Arrive:

Depart:

04:00 PM

Day:

Day 4

Date:

19 Jul 19

Port:

Suva Fiji

Arrive:

08:00 AM

Depart:

06:00 PM

Day:

Day 5

Date:

20 Jul 19

Arrive:

08:00 AM

Depart:

06:30 PM

Day:

Day 6

Date:

21 Jul 19

Port:

Dravuni, Fiji

Arrive:

07:00 AM

Depart:

03:00 PM

Day:

Day 9

Date:

24 Jul 19

Arrive:

07:00 AM

Depart:

** Itinerary may vary by sailing date

Your cruise in detail

8 Night Cruise sailing from Auckland roundtrip aboard Pacific Aria.

You never know what treasures you'll discover in this corner of paradise. In Suva, explore Municipal Market, overflowing with spices and brightly-coloured Indian sweets.

Or join a village Chief in the customary preparation of kava on a Sawani Village Shore Tour. Free from cars and home to less than 200 inhabitants, enjoy a castaway moment on Dravuni Island. For ultimate rejuvenation, Port Denarau has everything from magic-fingered local masseurs to natural thermal mud pools. Or challenge the locals to a friendly volleyball game. It's their favourite game, so brush up on your skills before you leave home!

Highlights of this cruise:

Auckland
Auckland's waterside location has fostered the locals' love affair with the sea, and has earned itself the nickname "the City of Sails". With more boats per capita than any other country in the world, it truly is a water lover's paradise.

Suva
Suva is a hot and steamy place city full of colour and diverse cultures. Suva sits on the southeast shores of mountainous Viti Levu ("Great Fiji"), largest of the over 800 islands which comprise the Republic of Fiji. It has a multi-racial population mix comprising mainly Fijians, Indians, Europeans, Chinese and South Pacific Islanders. Local folk traditions remain strong, like fire walks and welcoming ceremonies, wood-carving and the fabrication of tree-bark cloth.

There are many churches, temples, mosques, bush-walks and gardens, including Thurston gardens at the eastern end of town. This is also where the Fiji Museum is located showing the island's proud history with its impressive collection of war canoes. Next to this is the home of the President of the Republic of Fiji.

Dravuni
Dravuni island is a volcanic island, located in the Kadavu group of islands in Fiji. It is the most northern of several inhabited islands within the Great Astrolabe Reef, with a population of approximately 200 native Fijians, who live in the small central village. It is a beautiful location, with perfect weather and a main beach lined with tall palms, crystal clear blue water and spectacular white sand.

Guests to the island have the opportunity to learn about island living from its villagers. For the more energetic, a trek up the slopes of Dravuni's highest peak gives fabulous views of the surrounding islands.

Dravuni is home to a research facility which is currently being used by Coral Cay Conservation (CCC) as the main base for conducting surveys on the reefs.

Travel dates

Pricing

Accomodation

Please note: while prices are accurate at time of loading they are subject to change due to currency fluctuations and currency surcharges may apply. Please check price at time of booking.
*Terms and Conditions
Information on this website has been obtained from the various Cruise Companies represented, however as the cruise industry is constantly changing and this information should be used as a guide only. We are unable to take responsibility for incorrect information and you must confirm all details the time of booking. Offer subject to availability at time of booking. Prices are per person share twin based on best available cruise fare, inclusive of all discounts unless otherwise stated. Where suite pricing is indicated this will be for lead in suite accommodation only and may in some cases be for a mini suite, which is the lead in suite category. Please ask for clarification at time of enquiry. Prices are subject to currency fluctuations and are based on cash or cheque. Cruise deposit, amendment and cancellation conditions apply. Travel agent service fees may apply. Special conditions apply - please ask for full details at time of enquiry.