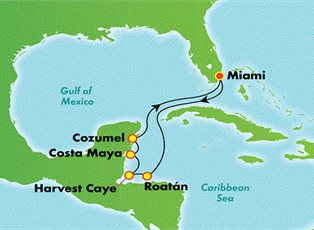 Journey
Choose your bonus
Ship
Norwegian Breakaway (More about the ship)
Departure Date
10 Nov 2019
Special deal
Special is valid from 16 May 19 to 31 May 19.
- 7 night cruise onboard Norwegian Breakaway
- Main meals & entertainment onboard
- Port charges, taxes & gratuities
BONUS:
- Choose either a FREE Beverage package, US$50 Shore Excursion credit per port, an Internet package, a Specialty Dining package or 3rd & 4th guest cruise FREE*
- Book an Oceanview stateroom & select 2 offers or book a Balcony stateroom & receive all 5 offers*
Itinerary

Cruise Itinerary

Day
Date
Port
Arrive
Depart

Day:

Day 1

Date:

10 Nov 19

Port:

Miami

Arrive:

Depart:

04:00 PM

Day:

Day 6

Date:

15 Nov 19

Port:

Cozumel, Mexico

Arrive:

08:00 AM

Depart:

05:00 PM

Day:

Day 8

Date:

17 Nov 19

Port:

Miami

Arrive:

07:00 AM

Depart:

** Itinerary may vary by sailing date

Your cruise in detail

7 Night Cruise sailing roundtrip from Miami onboard Norwegian Breakaway.

This unforgettable weeklong vacation begins the moment you board in The Magic City. Amp up your adrenaline on ziplines and ropes courses at The Caribbean's premier, resort-style destination of Harvest Caye, before quenching your thirst at the swim-up bar of the 15,000 square-foot pool. Take some time to unwind as you gaze at the stunning turquoise waters and lush green jungle of Costa Maya, Mexico. Then go back in time when you visit a sprawling, ancient Mayan temple in Cozumel.

Highlights of this cruise:

Miami, Florida
Miami's amazing medley of cultures and flashy urban settings makes it a scene to be seen. Visit the trendy Art Deco district of South Beach, Calle Ocho in Little Havana, the super-upscale neighbourhoods of Coconut Grove and Coral Gables and the unique ecosystem of the Everglades

Roatan, Bay Islands, Honduras
Beautiful and unspoiled, Roatan is a peaceful, eco-tourist's dream, just 30 miles off the coast of Honduras. Teeming with marine life and home to some of the best pillar coral in the Caribbean, the pristine Honduran Reef is a diver's paradise. And the beauty of Tabyana Beach is always a sight to see.

Harvest Caye, Belize
Belize is ideal for eco-tourism. With diverse ecology consisting of jungles, rainforests, swamps, coral reefs and so on, you will find solace and adventure in Harvest Caye's stunning landscape.

Costa Maya, Mexico
This coastal paradise in the Yucatan features stunning beaches with soft sand and blue skies. Travel to see ancient Mayan ruins in this region rich with archaeological sites. View Shopping Guide (Current shopping maps available onboard.)

Cozumel, Mexico
The island of Cozumel off the tip of the Yucatan Peninsula continues to be known for its fantastic fishing, snorkelling and diving opportunities. And despite the growth of tourism in recent years, the island and its only town, San Miguel, retain much of their original warmth and charm.

Travel dates

Departing
From
Price From

Departing:

10 Nov 19

From:

Miami

Price from:

$1,679

Pricing
Please note: while prices are accurate at time of loading they are subject to change due to currency fluctuations and currency surcharges may apply. Please check price at time of booking.
*Terms and Conditions
*Sale ends 31 May 2019, unless sold out prior. Subject to availability. Offer is capacity controlled and can be withdrawn at anytime. Prices are per person twin share in NZD based on best available fare, inclusive of all discounts unless otherwise stated. Prices are based on cash or cheque. Cruise deposit, amendment and cancellation conditions apply. Travel agent service fees may apply. Special conditions apply - please ask for full details at time of enquiry. Guests booking interior staterooms may choose one offer, guests booking oceanview staterooms may choose two offers and guests booking balcony staterooms receive all 5 offers.BEVERAGE PACKAGE: Applicable to guests 1 & 2 & must be at least 21 years of age at time of sailing to qualify for the Premium Beverage Package. Guests under 21 will receive the soda package. Beverage package is valued at US$99pp, per day & includes a variety of spirits & cocktails, wines by the glass & bottled or draft beer up to US$15. Exclusions apply. SHORE EXCURSION CREDIT: Credit is per stateroom, has no monetary value & is non-refundable. Applicable for each port, including debarkation port, & is not transferable to other ports. Use the credit or lose it. Does not include embarkation ports. Overnight stays count as one port. INTERNET PACKAGE: Receive 250 minutes per stateroom, including activation fee. Internet will be applied to the 1st guest in a stateroom. One login per stateroom. SPECIAL DINING PACKAGE: Package is on a per meal basis for guests 1 & 2 with a maximum of 3 meals for cruises 7-8 nights, a maximum of 4 meals for cruises 9-10 nights and a maximum of 5 meals for cruises 11 nights or more. 3rd & 4th GUEST FREE: Offer valid for guests 3-4 sharing a stateroom with guests 1-2 paying full fare. Valid on select sailings only and dates are subject to change at any time without notice. Further conditions apply, check at time of booking. Prices/offers are subject to change or may be withdrawn without prior notice.