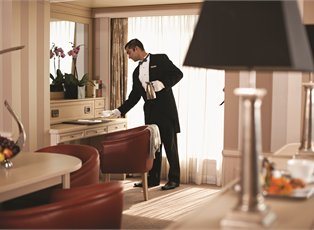 Journey
Save $2800 per person plus receive an onboard credit*
Ship
Silver Spirit (More about the ship)
Departure Date
15 Feb 2020
Special deal
Special is valid from 6 Jun 19 to 28 Jun 19.
- 14 night cruise onboard Silver Spirit
- Complimentary beverages in-suite & throughout the ship
- Open-seating dining
- A choice of specialty restaurants
- Butler service for all suites
- Gratuities always included
- Unlimited complimentary WiFi for every guest
- Transportation into town available from most ports
BONUS:
- Receive a US$250 shipboard credit per suite*
- Save $2800 per person*
- Plus includes Early Payment Saving of 10%*
Itinerary

Cruise Itinerary

Day
Date
Port
Arrive
Depart

Day:

Day 1

Date:

15 Feb 20

Port:

Hong Kong

Arrive:

Depart:

overnight

Day:

Day 2

Date:

16 Feb 20

Port:

Hong Kong

Arrive:

Depart:

06:00 PM

Day:

Day 5

Date:

19 Feb 20

Arrive:

08:00 AM

Depart:

07:00 PM

Day:

Day 7

Date:

21 Feb 20

Arrive:

08:00 AM

Depart:

overnight

Day:

Day 8

Date:

22 Feb 20

Arrive:

Depart:

overnight

Day:

Day 9

Date:

23 Feb 20

Arrive:

Depart:

01:00 PM

Day:

Day 11

Date:

25 Feb 20

Arrive:

08:00 AM

Depart:

overnight

Day:

Day 12

Date:

26 Feb 20

Arrive:

Depart:

07:00 PM

** Itinerary may vary by sailing date

Your cruise in detail

14 Night Cruise sailing from Hong Kong to Singapore aboard Silver Spirit.

Vietnam has captured the hearts and mind of travellers since time immemorial. Get to know both the land and its culture on this voyage – a journey in more than one sense. Feel the excitement of Ho Chi Minh City and drift along the emerald waters of Halong Bay, named after a dragon that plunged to the sea defending the country. An overnight in Bangkok's bubbling energy will leave you thirsty for more.

Highlights of this cruise:

Hong Kong
The Hong Kong Island skyline, with its ever-growing number of skyscrapers, speaks to ambition and money. Paris, London, even New York were centuries in the making, while Hong Kong's towers, bright lights, and glitzy shopping emporia weren't yet part of the urban scene when many of the young investment bankers who fuel one of the world's leading financial centers were born. Commerce is concentrated in the glittering high-rises of Central, tucked between Victoria Harbor and forested peaks on Hong Kong Island's north shore.

Chan May
Hue (pronounced hway), bisected by the Perfume River and 13 km (8 mi) inland from the South China Sea, in the foothills of the Annamite Mountains (Truong Son Mountains), stands as a reminder of Vietnam's imperial past. The seat of 13 Nguyen-dynasty emperors between 1802 and 1945, Hue was once Vietnam's splendid Imperial City. Although it was devastated by the French in the 19th century and again by fighting between the Vietnamese Communists and the Americans in the 20th, the monument-speckled former capital has a war-ravaged beauty.

Ho Chi Minh
Romantically referred to by the French as the Pearl of the Orient, Ho Chi Minh City today is a super-charged city of sensory overload. Motorbikes zoom day and night along the wide boulevards, through the narrow back alleys and past vendors pushing handcarts hawking goods of all descriptions.

Bangkok
There are two Bangkoks, the ancient soul of Thailand with its long and fascinating history and the frantic, modern metropolis that embraces the latest trends both Eastern and Western. The two blend together remarkably well—even the most jarring juxtapositions of old and new somehow make sense. Bangkok is not only the biggest city in Thailand, but also the most mesmerizing, with some of the country's most beautiful temples and shrines.

Singapore
The main island of Singapore is shaped like a flattened diamond, 42 km (26 miles) east to west and 23 km (14 miles) north to south. Near the northern peak is the causeway leading to West Malaysia—Kuala Lumpur is less than four hours away by car. It is at the southern foot where you will find most of the city-state's action, with its gleaming office towers, working docks, and futuristic "supertrees," which are solar-powered and serve as vertical gardens.

Travel dates

Departing
From
Price From

Departing:

15 Feb 20

From:

Hong Kong

Price from:

$11,699

Pricing

Accomodation

Please note: while prices are accurate at time of loading they are subject to change due to currency fluctuations and currency surcharges may apply. Please check price at time of booking.
*Terms and Conditions
*Valid for sales until 28 Jun 2019, unless sold out prior. Fares are per person twin share in NZD & includes all savings. Surcharge applies to other suite categories. Offer applies to new bookings only, are capacity controlled & subject to change at any time without notice. Confirmation of booking must be secured by a non-refundable deposit of 25% which is due within 6 days (by midday) of booking. Final payment is due by 28 Jun 2019 (if not taking 10% discount, full payment is due 120 days prior to departure. Please enquire for updated pricing). SHIPBOARD CREDIT: Credit is per suite in USD & is non-refundable, non-transferable & cannot be redeemed for cash. GENERAL: Cancel & re-books do not qualify. Other restrictions may apply. Other restrictions may apply. Offers are subject to availability at time of booking. Travel agent service fees may apply. Prices & Save amount has been converted from AUD so may fluctuate due to currency exchange. Prices & offers are correct as at 06 Jun 2019 & subject to change or may be withdrawn at any time without notice. Prices based on payment made by cash or cheque only. Further terms & conditions apply, please ask your travel agent for details.