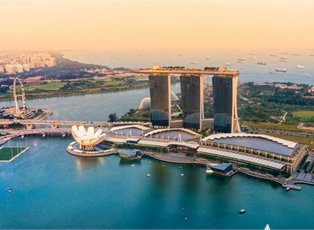 Journey
11 Night Cruise sailing from Singapore roundtrip aboard Sapphire Princess.
Ship
Sapphire Princess (More about the ship)
Departure Date
7 Jan 2020
Itinerary

Cruise Itinerary

Day
Date
Port
Arrive
Depart

Day:

Day 3

Date:

9 Jan 20

Arrive:

12:00 PM

Depart:

08:00 PM

Day:

Day 6

Date:

12 Jan 20

Arrive:

07:00 AM

Depart:

06:00 PM

Day:

Day 8

Date:

14 Jan 20

Arrive:

07:00 AM

Depart:

04:00 PM

Day:

Day 9

Date:

15 Jan 20

Arrive:

07:00 AM

Depart:

07:00 PM

** Itinerary may vary by sailing date

Your cruise in detail

11 Night Cruise sailing from Singapore roundtrip aboard Sapphire Princess.

As you set your sights on the wonders of the world, let Sapphire Princess indulge your every whim. Over 700 balconies, world-class gourmet dining and dazzling entertainment options are just the beginning of your sea-going adventure. Dance the night away, enjoy casino gaming or relax and rejuvenate body and mind at the Lotus Spa®.

Cruise Itinerary:

Singapore
Singapore - the very name summons visions of the mysterious East. The commercial center of Southeast Asia, this island city-state of four million people is a metropolis of modern high-rise buildings, Chinese shop-houses with red-tiled roofs, sturdy Victorian buildings, Buddhist temples and Arab bazaars. Founded in 1819 by Sir Stamford Raffles of the fabled East India Company, the city is a melting pot of people and cultures. Malay, Chinese, English and Tamil are official languages. Buddhism, Taoism, Islam, Hinduism and Christianity are the major faiths. Singapore is an ever-fascinating island boasting colorful traditions, luxurious hotels and some of the finest duty-free shopping in the world.

Lying just 85 miles north of the Equator at the tip of the Malay Peninsula, the island was a haven for Malay pirates and Chinese and Arab traders.

Nha Trang
One of Vietnam's most popular seaside resorts, Nha Trang offers white-sand beaches, azure waters and palm trees swaying in the breeze. Gaily painted fishing boats line the harbors. Small farm villages nestle in the countryside's lush valleys. Yet this relaxed city of some 300,000 souls boasts a long and storied past.

Nha Trang was the capital of the Champa Kingdom, which dominated this corner of Southeast Asia for 13 centuries. North of the city, the great Cham Tower complex overlooks the Cai River and offers mute testimony to the kingdom's glory. Today, the towers attract locals and visitors alike, many of whom come to meditate while contemplating superb views of the river and the bay.

Nha Trang's tourist district consists of a scattering of colonial-era beachfront hotels and sidewalk cafes. The city was a popular spot for U.S. servicemen during the Vietnam War.

Bangkok
Laem Chabang is your gateway to Bangkok. This enchanting city on the Chao Phraya River is a magical place where graceful dancers perform in shimmering silk gowns, temples with gold-leaf spires harbor priceless Buddhas and riverboats cruise a maze of canals. The only nation in Southeast Asia to escape colonial rule, Thailand offers a rich and ancient culture that flowered unhindered by Western influence. Proud and strongly nationalistic, the Thai people call their nation Muang Thai - "Land of the Free."

Founded in 1782 by King Rama I, Bangkok is home to more than eight million people. The capital's proper name is Krung Thep - the "City of Angels."

Travel dates

Departing
From
Price From

Departing:

7 Jan 20

From:

Singapore, Singapore

Price from:

$1,819

Departing:

2 Feb 20

From:

Singapore, Singapore

Price from:

$1,819

Departing:

1 Mar 20

From:

Singapore, Singapore

Price from:

$1,718

Departing:

22 Mar 20

From:

Singapore, Singapore

Price from:

$1,718

Pricing

Accomodation

Please note: while prices are accurate at time of loading they are subject to change due to currency fluctuations and currency surcharges may apply. Please check price at time of booking.
*Terms and Conditions
Information on this website has been obtained from the various Cruise Companies represented, however as the cruise industry is constantly changing and this information should be used as a guide only. We are unable to take responsibility for incorrect information and you must confirm all details the time of booking. Offer subject to availability at time of booking. Prices are per person share twin based on best available cruise fare, inclusive of all discounts unless otherwise stated. Where suite pricing is indicated this will be for lead in suite accommodation only and may in some cases be for a mini suite, which is the lead in suite category. Please ask for clarification at time of enquiry. Prices are subject to currency fluctuations and are based on cash or cheque. Cruise deposit, amendment and cancellation conditions apply. Travel agent service fees may apply. Special conditions apply - please ask for full details at time of enquiry.