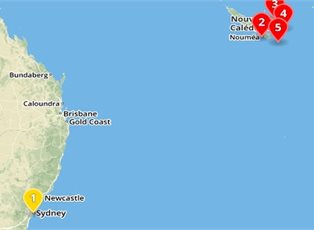 Journey
Save up to $315 per person
Ship
Carnival Splendor (More about the ship)
Departure Date
11 Jul 2020
Special deal
Special is valid from 3 May 19 to 27 Jun 19.
- 9 night cruise onboard Carnival Splendor
- Main meals & entertainment onboard
- Port charges & government fees
BONUS:
- Save up to $315 per person PLUS pay a reduced deposit of $49 per person*
Itinerary

Cruise Itinerary

Day
Date
Port
Arrive
Depart

Day:

Day 1

Date:

11 Jul 20

Arrive:

Depart:

05:30 PM

Day:

Day 4

Date:

14 Jul 20

Arrive:

08:00 AM

Depart:

05:00 PM

Day:

Day 5

Date:

15 Jul 20

Arrive:

08:00 AM

Depart:

05:00 PM

Day:

Day 6

Date:

16 Jul 20

Arrive:

08:00 AM

Depart:

05:00 PM

Day:

Day 7

Date:

17 Jul 20

Arrive:

08:00 AM

Depart:

05:00 PM

Day:

Day 10

Date:

20 Jul 20

Arrive:

06:30 AM

Depart:

** Itinerary may vary by sailing date

Your cruise in detail

9 Night Cruise sailing from Sydney roundtrip aboard Carnival Splendor.

We're excited to announce that Carnival's free-spirited, family-friendly and fun cruises, will be welcoming a new ship to the Australian family in 2019 with Carnival Splendor repositioning Down Under. She will be the newest and largest ship home-ported year-round in Australia. With a capacity of 3,900 guests, Carnival Splendor will sail through the heads for the first time in December 2019, and sail year-round from then on.

Before her arrival, Carnival Splendor will receive a significant top to tail upgrade before she sails into her new home, including a range of new dining experiences tailored to local Australian tastes and a brand-new waterpark. The upgrade will see her receive some of the features Australian passengers have come to love the most on our Carnival ships.

Highlights of this cruise:

Sydney
Sydney is located on the south-east coast of Australia. It is the largest and most populated city in Australia and the state capital of New South Wales. The city is built on hills surrounding Sydney Harbour where the Sydney Harbour bridge and the Sydney Opera House are located. The region features many bays, rivers, inlets and beaches including the famous Bondi Beach. Within the city are many picturesque parks including Hyde Park and the Royal Botanical Gardens.

The most well-known attractions include the Sydney Opera House and the Sydney Harbour Bridge. Other attractions include Royal Botanical Gardens, Luna Park, some 40 beaches and Sydney Tower. The Rocks precinct includes the first colonial village of Sydney and some great shops, cafes and galleries are located here. Sydney also has several popular museums, such as the Australian Museum (natural history and anthropology), the Powerhouse Museum (science, technology and design), the Art Gallery of New South Wales, the Museum of Contemporary Art and the Australian National Maritime Museum.

Noumea
Nouméa is the capital city of the French territory of New Caledonia. It is situated on a peninsula in the south of New Caledonia's main island, Grande Terre. It is one of the most westernized cities in the Pacific islands, and while the city itself is not attractive, there are some beautiful beaches on its outskirts.

Attractions in Nouméa include a stroll along the Place des Cocotiers, the local produce market and the Tjibaou Cultural Centre, located 20mins from the city. The focal point of the city is Coconut Park with its attractive colonial houses and beautiful hibiscus and bougainvilleas. The marina is worth a visit and there are attractive beaches at Anse Vata, Baie des Citrons and at Pointe Magnin.

Lifou
Lifou is a commune in the Loyalty Islands Province of New Caledonia, an overseas territory of France in the Pacific Ocean. The commune of Lifou is made up of Lifou Island, the largest and most heavily populated of the Loyalty Islands, its smaller neighbour Tiga Island, and several uninhabited islets in between these two. All these islands lie among the Loyalty Islands, 190 km to the northeast of New Caledonia's mainland. The town of Wé
on Lifou Island, is the administrative centre of the commune of Lifou as well as the provincial seat of the Islands Province.

Lifou is known for its limestone caves, white sands and rich coral reefs. Inland, it is covered in dense tropical forest, while the east and west coast are banked by steep cliffs, with limestone caves and fine sandy beaches.

Attractions on Lifou include the caves on the south coast of Lifou, as well as a marine turtle park at the Bay of Wanda. In the north, the cliffs of Joking are a popular attraction. Good swimming beaches include Chateaubriand, Santal and Sandalwood, and there is excellent diving and game fishing in the waters around Lifou.

Isle of Pines
The Isle of Pines is part of New Caledonia and is situated 50km south east of the mainland and 80 km's south-east of the capital Noumea. The island is characterized by tall narrow pine trees, perfect white sandy beaches and turquoise lagoons. This island was once a convict settlement for political prisoners from Paris and later became an ordinary prison.

The islands landscape consists of spectacular natural colours of white sand, green, blue water and lush green vegetation. The island is also beautiful under water as there are spectacular colourful corals and fish.

Vao on the islands southern most tip is the only real village. The islands sole church dominates the village centre.

Travel dates

Departing
From
Price From

Departing:

11 Jul 20

From:

Sydney, NSW, Australia

Price from:

$1,159

Pricing
Please note: while prices are accurate at time of loading they are subject to change due to currency fluctuations and currency surcharges may apply. Please check price at time of booking.
*Terms and Conditions
*Valid for sales until 27 Jun 2019 unless sold out prior. Fares are cruise only, per person, in NZD, in complete twin cabin as specified, in lead categories available at publication date, inclusive of all discounts, taxes and charges (which are subject to change). Supplements apply for other categories. Once rooms are sold, fares may revert to a higher fare but also may be further discounted. Subject to limited availability. Valid for new bookings only and not combinable with any other offer. Some balcony cabins have obstructed views. Savings included in advertised prices, based on balcony. Savings amount varies by room category.Pay $49 per person deposit, which represents a reduction of $101 per person on 2-6 day sailing, a reduction of $201 per person on 7-16 day sailings and a reduction of $351 per person on 17+ day sailings, off the standard required deposit amount. Pay the balance on final payment of the booking. Whilst all information is correct at time of publication, offers are subject to change or withdrawal.