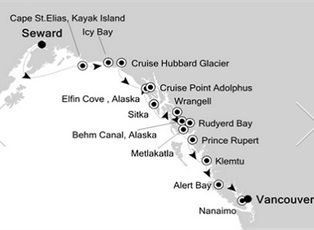 Journey
Save $4330 per suite
Ship
Silver Cloud Expedition (More about the ship)
Departure Date
26 Sep 2020
Special deal
Special is valid from 15 Apr 19 to 31 May 19.
- 12 night expedition cruise onboard Silver Cloud
- Fine dining onboard & complimentary insuite dining
- Champagnes, beers, wines, spirits, specialty coffees & soft drinks included
- Personalised butler service for every suite
- Complimentary use of selected expedition gear & equipment
- Zodiac® cruising, shore tours & onboard enrichment lectures lead by expert expedition leaders
BONUS:
- SAVE $4330 per suite*
Itinerary

Cruise Itinerary

Day
Date
Port
Arrive
Depart

Day:

Day 3

Date:

28 Sep 20

Arrive:

09:00 AM

Depart:

02:00 PM

Day:

Day 5

Date:

30 Sep 20

Port:

Sitka, Alaska

Arrive:

06:00 AM

Depart:

04:00 PM

Day:

Day 9

Date:

4 Oct 20

Arrive:

06:30 AM

Depart:

12:30 PM

Day:

Day 11

Date:

6 Oct 20

Arrive:

07:15 AM

Depart:

12:00 PM

Day:

Day 13

Date:

8 Oct 20

Arrive:

06:30 AM

Depart:

** Itinerary may vary by sailing date

Your cruise in detail

12 Night Cruise sailing from Seward to Vancouver aboard Silver Cloud Expedition.

Shaped by the staggering force of massive glaciers millions of years ago, Alaska's Inside Passage boasts wildlife-filled fjords and lush island scenery — prime habitat for bald eagles, sea lions, porpoises and whales. Join us and the ranks of the truly well-travelled and visit historic fishing villages, legendary Misty Fiord and meet, among others, the Tsimshian - the indigenous people of Metlakatla.

Highlights of this cruise:

Seward
It is hard to believe that a place as beautiful as Seward exists. Surrounded on all sides by Kenai Fjords National Park, Chugach National Forest, and Resurrection Bay, Seward offers all the quaint realities of a small railroad town with the bonus of jaw-dropping scenery. This little town of about 2,750 citizens was founded in 1903, when survey crews arrived at the ice-free port and began planning a railroad to the Interior. Since its inception, Seward has relied heavily on tourism and commercial fishing.

Sitka
It's hard not to like Sitka, with its eclectic blend of Alaska Native, Russian, and American history and its dramatic and beautiful open-ocean setting. This is one of the best Inside Passage towns to explore on foot, with such sights as St. Michael's Cathedral, Sheldon Jackson Museum, Castle Hill, Sitka National Historical Park, and the Alaska Raptor Center topping the town's must-see list.

Metlakatla
Since the late 19th century, Metlakatla has been the major settlement of the Metlakatla Indian Community of the federally recognized Annette Islands Reserve, the only remaining reservation in Alaska. It is located on Annette Island, and in 2010 had 1,405 residents. Membership in the community is primarily by lineage and is comprised primarily of Tsimshian people. Metlakatla comes from a Tsimshian word meaning "Salt Water Passage.

Alert Bay
Alert Bay is a small village on Cormorant Island, with approximately 1,300 residents. More than half are First Nations people. The settlement was named in 1860 in honour of the Royal Navy ship HMS Alert, which conducted survey operations in the area. The traditional Kwakwaka'wakw people of Alert Bay have endured a difficult history of devastating foreign diseases and failed government policies of assimilation. Today there is a revival of their traditions.

Vancouver
Vancouver is a delicious juxtaposition of urban sophistication and on-your-doorstep wilderness adventure. The mountains and seascape make the city an outdoor playground for hiking, skiing, kayaking, cycling, and sailing—and so much more—while the cuisine and arts scenes are equally diverse, reflecting the makeup of Vancouver's ethnic (predominantly Asian) mosaic. Vancouver is consistently ranked as one of the world's most livable cities, and it's easy for visitors to see why. It's beautiful, it's outdoorsy, and there's a laidback West Coast vibe.

Travel dates

Departing
From
Price From

Departing:

26 Sep 20

From:

Seward, Alaska

Price from:

$11,069

Pricing
Please note: while prices are accurate at time of loading they are subject to change due to currency fluctuations and currency surcharges may apply. Please check price at time of booking.
*Terms and Conditions
*Valid for sales until 31 May 2019, unless sold out prior. Fares are cruise only, per person, twin share in NZD based on the best available suites at time of publication, inclusive of taxes, charges (which are subject to change) and savings. Other suite categories may be available at a surcharge. Subject to availability at time of reservation. Applies to new bookings only. SAVINGS: Must book by 31 May 2019 to qualify. Applicable on select itineraries only & save amount shown is based on twin share & varies by sailing. Please enquire for single occupancy savings & pricing. Savings have been discounted from prices shown. Cancellation and amendment fees may apply. Credit cards are not accepted unless agent acts as merchant. Travel Agent Professional Fees may apply. Payment: A non-refundable deposit of 25% of total booking is required within 6 days (by midday) of reservation. Final payment is due 120 days prior to sailing. Prices are based on the exchange rate as at 08 May 2019 and are subject to currency fluctuation. Fares are capacity controlled and subject to change or may be withdrawn at any time without prior notice. Further conditions apply, please contact your travel agent.