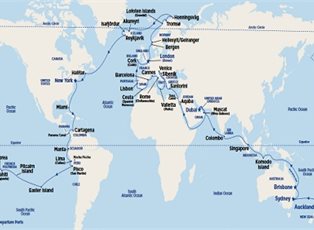 Journey
29 Night World Cruise Sector sailing from Dubai to Dover aboard Sea Princess.
Ship
Sea Princess (More about the ship)
Departure Date
3 Jun 2020
Itinerary

Cruise Itinerary

Day
Date
Port
Arrive
Depart

Day:

Day 1

Date:

3 Jun 20

Arrive:

Depart:

Day:

Day 9

Date:

11 Jun 20

Port:

Suez Canal

Arrive:

Depart:

Day:

Day 10

Date:

12 Jun 20

Port:

Suez Canal

Arrive:

Depart:

Day:

Day 20

Date:

22 Jun 20

Arrive:

Depart:

** Itinerary may vary by sailing date

Your cruise in detail

29 Night World Cruise Sector sailing from Dubai to Dover aboard Sea Princess.

Step aboard Sea Princess and prepare for a vacation that will dazzle your senses. From the four-story Atrium to tantalizing dining options, a Vegas-style casino and a variety of incredible entertainment choices, including Movies Under the Stars®, you'll find a relaxing retreat that's as captivating as the places you'll visit on this grand vessel.

Highlights of this cruise:

Dubai
Singapore - the very name summons visions of the mysterious East. The commercial center of Southeast Asia, this island city-state of four million people is a metropolis of modern high-rise buildings, Chinese shop-houses with red-tiled roofs, sturdy Victorian buildings, Buddhist temples and Arab bazaars. Founded in 1819 by Sir Stamford Raffles of the fabled East India Company, the city is a melting pot of people and cultures. Malay, Chinese, English and Tamil are official languages. Buddhism, Taoism, Islam, Hinduism and Christianity are the major faiths. Singapore is an ever-fascinating island boasting colorful traditions, luxurious hotels and some of the finest duty-free shopping in the world.

Lying just 85 miles north of the Equator at the tip of the Malay Peninsula, the island was a haven for Malay pirates and Chinese and Arab traders.

Venice
Rising from the waters of the Laguna Veneta, Venice has long - and rightly - been regarded as one of the world's most beautiful cities. Napoleon, who had an eye for acquisitions, once described St. Mark's Square as the finest drawing room in Europe. Certainly, no other site can quite match its superb campanile, Doge's Palace and recumbent lions. Just over two miles in length, the Grand Canal is lined with stunning buildings that reflect the city's unique heritage. Cruise through its winding canals on a gondola or watch the bronze Moors on the clock tower strike the passing hours as they have for 500 years - Venice is an unparalleled experience.

The city began life as a refuge from barbarian invasions. By the Crusades, Venice's dominion extended throughout the Adriatic and Mediterranean. The winged lion - symbol of St. Mark - flew over palaces and fortresses from Gibraltar to the Black Sea.

Rome
Your gateway to the Eternal City, Civitavecchia has served as Rome's seaport since the 13th century. The port has a long and venerable history. The emperor Trajan built a pleasure villa near the modern city, while Bernini and Michelangelo designed the harbor fortifications.

Yet the Eternal City eternally beckons. The ancient capital of the Western World and the center of Christianity for nearly 2,000 years, Rome provides an inexhaustible feast. Visit the ruins of the Forum, view the splendors of the Sistine Chapel, or climb the Spanish Steps, once the heart of Rome's Bohemian Quarter.

Rome has been a magnet luring the world's greatest artists, architects, and philosophers since the days of the Caesars.

Dover
Visible for miles from sea, the White Cliffs of Dover are an instantly recognizable symbol of England. Modern highways make Dover the doorstep to London - Britain's ever-fascinating capital. Visitors to this great city have a wealth of pleasures to choose from. Explore the notorious Tower of London and view the Crown Jewels. Visit Windsor Castle or see Westminster Abbey. The choices are fascinating and endless. Dover is also your gateway to Kent's green countryside, dotted with old medieval towns and castles.

Dover has played a major role in world history since the days of the Norman invasion. Today 13th century Dover Castle dominates a harbour filled with cross-channel ferries and merchant and passenger shipping.

Travel dates

Departing
From
Price From

Departing:

3 Jun 20

From:

Dubai, United Arab Emirates

Price from:

Ask
*Terms and Conditions
Information on this website has been obtained from the various Cruise Companies represented, however as the cruise industry is constantly changing and this information should be used as a guide only. We are unable to take responsibility for incorrect information and you must confirm all details the time of booking. Offer subject to availability at time of booking. Prices are per person share twin based on best available cruise fare, inclusive of all discounts unless otherwise stated. Where suite pricing is indicated this will be for lead in suite accommodation only and may in some cases be for a mini suite, which is the lead in suite category. Please ask for clarification at time of enquiry. Prices are subject to currency fluctuations and are based on cash or cheque. Cruise deposit, amendment and cancellation conditions apply. Travel agent service fees may apply. Special conditions apply - please ask for full details at time of enquiry.