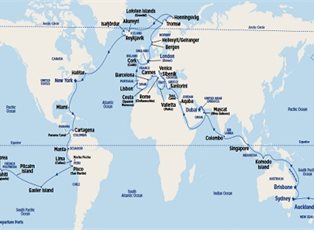 Journey
19 Night World Cruise Sector sailing from Dover to Sydney aboard Sea Princess.
Ship
Sea Princess (More about the ship)
Departure Date
2 Jul 2020
Itinerary

Cruise Itinerary

Day
Date
Port
Arrive
Depart

Day:

Day 18

Date:

19 Jul 20

Arrive:

Depart:

** Itinerary may vary by sailing date

Your cruise in detail

19 Night World Cruise Sector sailing from Dover to Sydney aboard Sea Princess.

Step aboard Sea Princess and prepare for a vacation that will dazzle your senses. From the four-story Atrium to tantalizing dining options, a Vegas-style casino and a variety of incredible entertainment choices, including Movies Under the Stars®, you'll find a relaxing retreat that's as captivating as the places you'll visit on this grand vessel.

Highlights of this cruise:

Dover
Visible for miles from sea, the White Cliffs of Dover are an instantly recognizable symbol of England. Modern highways make Dover the doorstep to London - Britain's ever-fascinating capital. Visitors to this great city have a wealth of pleasures to choose from. Explore the notorious Tower of London and view the Crown Jewels. Visit Windsor Castle or see Westminster Abbey. The choices are fascinating and endless. Dover is also your gateway to Kent's green countryside, dotted with old medieval towns and castles.

Dover has played a major role in world history since the days of the Norman invasion. Today 13th century Dover Castle dominates a harbour filled with cross-channel ferries and merchant and passenger shipping.

Tromso
Lying north of the Arctic Circle, Tromsø has been a departure point for Arctic explorers and hunters since the 18th century. Today, this town of some 50,000 individuals is home to the northernmost university in the world, which gives Tromsø a lively cultural and street scene, highlighted by the annual Midnight Sun Marathon.

Ride the cable car to the summit of Mt. Storsteinen for dramatic views of Tromsø city and Troms Island. Enjoy refreshments at the panoramic restaurant.

Reyjkavik
Iceland is a land of volcanoes and glaciers, lava fields and green pastures, boiling thermal springs and ice-cold rivers teeming with salmon. This unspoiled demi-paradise is also home to a very old and sophisticated culture. The northernmost capital in the world, Reykjavik was founded in 874 when Ingolfur Arnarson threw wood pillars into the sea, vowing to settle where the pillars washed ashore. Today, Iceland is an international center of commerce and home to one of the most technologically sophisticated societies in the world.

Reykjavik is the gateway to Iceland's natural wonders, which range from ice fields to thermal pools. The island is in a continual process of transformation much like its society, which blends Nordic tradition with sophisticated technology.

New York
A leading global city, New York exerts a powerful influence over worldwide commerce, finance, culture and fashion, and entertainment. The city consists of five boroughs and an intricate patchwork of neighborhoods. Some of these include Lower Manhattan and the New York Stock Exchange, Battery Park and South Street Seaport, Chinatown, trendy SoHo and Greenwich Village, along with Little Italy, the flat Iron District and Gramercy Park. Famous Central Park covers 843 acres of paths, ponds, lakes and green space within the asphalt jungle. Many districts and landmarks have become well-known to outsiders. Nearly 170 languages are spoken in the city and over 35% of its population was born outside the United States.

Travel dates

Departing
From
Price From

Departing:

2 Jul 20

From:

Dover, England

Price from:

Ask
*Terms and Conditions
Information on this website has been obtained from the various Cruise Companies represented, however as the cruise industry is constantly changing and this information should be used as a guide only. We are unable to take responsibility for incorrect information and you must confirm all details the time of booking. Offer subject to availability at time of booking. Prices are per person share twin based on best available cruise fare, inclusive of all discounts unless otherwise stated. Where suite pricing is indicated this will be for lead in suite accommodation only and may in some cases be for a mini suite, which is the lead in suite category. Please ask for clarification at time of enquiry. Prices are subject to currency fluctuations and are based on cash or cheque. Cruise deposit, amendment and cancellation conditions apply. Travel agent service fees may apply. Special conditions apply - please ask for full details at time of enquiry.