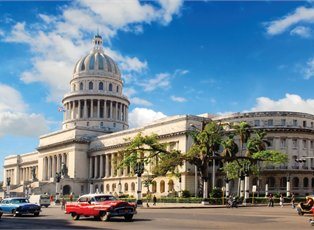 Journey
Second person SAVES up to 50%*
Ship
Azamara Journey (More about the ship)
Departure Date
25 Nov 2019
Special deal
Special is valid from 10 Dec 18 to 31 Mar 19.
- 11 night cruise onboard Azamara Journey
- All main meals and entertainment onboard
- All beverages onboard including selected beer, wine and spirits
- One AzAmazing Evening event in a selected port
- Port charges, government fees and gratuities
BONUS:
- Second person SAVES up to 50% + receive FREE WiFi*
Itinerary

Cruise Itinerary

Day
Date
Port
Arrive
Depart

Day:

Day 1

Date:

25 Nov 19

Port:

Miami

Arrive:

Depart:

05:00 PM

Day:

Day 3

Date:

27 Nov 19

Port:

Santiago, Cuba

Arrive:

09:00 AM

Depart:

overnight

Day:

Day 7

Date:

1 Dec 19

Port:

Havana, Cuba

Arrive:

08:00 AM

Depart:

overnight

Day:

Day 8

Date:

2 Dec 19

Port:

Havana, Cuba

Arrive:

Depart:

overnight

Day:

Day 9

Date:

3 Dec 19

Port:

Havana, Cuba

Arrive:

Depart:

02:00 AM

Day:

Day 10

Date:

4 Dec 19

Port:

Cozumel, Mexico

Arrive:

08:00 AM

Depart:

05:00 PM

Day:

Day 12

Date:

6 Dec 19

Port:

Miami

Arrive:

07:00 AM

Depart:

** Itinerary may vary by sailing date

Your cruise in detail

11 Night Cruise sailing from Miami roundtrip aboard Azamara Journey.

This 11-night journey through the Caribbean Sea departs from Miami, Florida for a day aboard your boutique hotel at sea before arriving in Santiago de Cuba for two spirited nights. Alive with an unmistakable Caribbean spirit and rich with colonial heritage, Santiago de Cuba leaves a lasting impression.

Then, we set sail for Cienfuegos. The Paris of Cuba, Cienfuegos is full of French charms mixed with Caribbean flavor. While you're here, pay a visit to the Arco de Triunfo. This brilliant structure—the only one of its kind in the nation—is dedicated to Cuban independence. This is an overnight stay, so you'll have plenty of time to sample Cuban cuisine and—if it strikes your fancy—a few rum-based drinks.

From here, it's off to legendary Havana for three days and two unforgettable nights! Classic cars line Havana's cobblestone streets, sweet sounds spill out of its Salsa clubs, and the entire city feels forever enveloped in a wonderful golden glow. Stroll the Malecón at sunset, explore historic Habana Vieja (Old Havana), and visit the Havana Club Museum of Rum for a tour and a taste.

Your voyage then takes you to the warm blue waters of Cozumel, Mexico—one of the most renowned scuba destinations in the Western hemisphere. This is followed by another day of pampering and relaxation at sea before returning to cosmopolitan Miami, where the party is always just getting started.

Highlights of this cruise:

Miami
Propelled by Latin rhythms, with a bold style all its own, Miami is a spicy melting pot of cultures.

Immerse yourself in the colorful Art Deco district, vibrant nightlife, and beaches for sun-worshipers and water sport enthusiasts alike. Put some money on the horses at Hialeah Park, one of racings oldest and most prominent tracks, right next to a lake full of pink flamingos. Go adventuring in the Everglades, looking for 'gators and manatees, canoeing through mangrove tunnels, or paddling a sea kayak through the "10,000 islands".

Flashy and full of life, it's a great place to play.

Havana
Welcome to Havana, a study in contrasts. Old and modern, calm and vibrant, deeply complicated and completely inviting. Cuba is on the cusp of change, and Havana, the crux of the transformation. Catch a special glimpse between a troubled past and an exciting future. Rich in culture, history, sunny skies, and sandy shores, Havana is full of artists, designers, and other creatives, where every art form comes alive. It's a vibrant place full of life, colorful buildings, urban plazas, and eclectic architecture. It's a place where warm breezes wash over you and music spills out from every corner. Its cobbled streets are lined with classic cars, Salsa clubs, and maybe an intense game of dominoes. At first glance, Havana seems neglected. But the tattered facades of this magnificent city only add to its charm.

A stroll down the Prado, through the historic neighborhood of Vieja Habana (Old Havana), provides a glimpse into the city's 16th-century heritage. Wander past the pastel hues of Havana's beloved oceanside boulevard, the Malecón, a quintessentially Cuban experience, and hear thundering waves crash over the wall. Enjoy an authentic Cuban lunch at a local paladar and do a little shopping at the Almacenes San José Artisans' Market, meeting business owners, workers, and other locals along the way. Visit the Havana Club Museum of Rum for a tour (and of course, a tasting!) and explore a local organic farm. Follow in Ernest Hemingway's footsteps with a visit to his residence, Finca Vigía, then venturing off to one of his favorite retreats, the nearby fishing village of Cojimar, the setting for The Old Man and the Sea. Havana seems to bask in a golden glow from sunrise to sunset. It's a snapshot in time, as though time once stood still. Yet keeps moving.

Cienfuegos
French charm and stunning architecture meet fiery Caribbean spirit on the palm-lined streets and sandy shores of Cienfuegos. At the same time lively and laid-back, warm Caribbean breezes swirl around neoclassical, art nouveau and art deco buildings, and sweeping botanical gardens are bursting with tropical beauty.

Santiago
Enjoy breathtaking views from Castillo de San Pedro de la Roca del Morro, a legendary 16th-century fort known as "El Morro", or visit Parque Nacional Alejandro de Humboldt in the Nipe-Sagua-Baracoa Mountains. Stroll around and take it all in: the rich colonial heritage and sights like the imposing Basílica de la Caridad del Cobre. Whatever your pace, the streets definitely have a pulse of their own.

Travel dates

Departing
From
Price From

Departing:

25 Nov 19

From:

Miami

Price from:

$7,979

Pricing

Accomodation

Outside Cabin for 2 people (second passenger only $4,179)

$12,158*

Please note: while prices are accurate at time of loading they are subject to change due to currency fluctuations and currency surcharges may apply. Please check price at time of booking.
*Terms and Conditions
*Valid for sales to 31 Mar 2019, unless sold out prior. Prices are based on first person, twin share & second person cruises for up to 50% off. Offer is applicable in select stateroom categories on select departures between 06 Apr 2019 & 28 May 2020. Receive a discount of up to 50% off the cruise fare of the second guest booked in the same stateroom as first guest who books the full fare. Blackout dates apply as follows: Journey; 10 Apr-2019, 21 Apr-2019, 19 Oct-2019. Quest; 14 Apr 2019, 27 Apr-2019. A limited number of staterooms have been set aside under this offer & once sold the promo may no longer be available. Qualifying bookings made in Oceanview staterooms & above will also receive free unlimited internet for use on one device. Internet connectivity and speed is subject to location of ship, availability of satellite signal, and is not guaranteed 100% of the time. Offers are subject to availability and may be withdrawn at any time without notice. Not combinable with any other offer or promotion. Further conditions apply. Prices/offers are subject to change or may be withdrawn without prior notice. Prices shown are based on per person costs in New Zealand Dollars, for payment by cash, cheque or eftpos only. Credit card sales not permitted unless Travel Agent acts as a merchant. Travel agent professional service fees where charged, will be additional to the advertised prices.Strict cancellation fees apply. For full terms and conditions and cancellation fees please contact your local travel agent for more information. Trade enquiries via GO Holidays. Prices are based on lead-in stateroom categories, surcharges apply for other categories. Prices are subject to change at any time without notice.