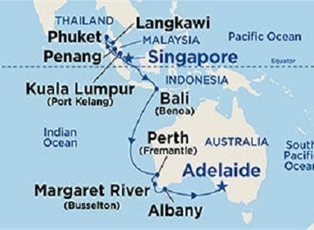 Journey
17 Night Cruise sailing from Singapore to Adelaide aboard Sea Princess.
Ship
Sea Princess (More about the ship)
Departure Date
23 Oct 2020
Itinerary

Cruise Itinerary

Day
Date
Port
Arrive
Depart

Day:

Day 6

Date:

28 Oct 20

Arrive:

07:00 AM

Depart:

05:00 PM

Day:

Day 9

Date:

31 Oct 20

Arrive:

09:00 AM

Depart:

06:00 PM

Day:

Day 13

Date:

4 Nov 20

Arrive:

06:00 AM

Depart:

05:00 PM

Day:

Day 14

Date:

5 Nov 20

Arrive:

07:00 AM

Depart:

04:00 PM

Day:

Day 15

Date:

6 Nov 20

Arrive:

09:00 AM

Depart:

06:00 PM

Day:

Day 18

Date:

9 Nov 20

Arrive:

07:00 AM

Depart:

** Itinerary may vary by sailing date

Your cruise in detail

17 Night Cruise sailing from Singapore to Adelaide aboard Sea Princess.

Step aboard Sea Princess and prepare for a vacation that will dazzle your senses. From the four-story Atrium to tantalizing dining options, a Vegas-style casino and a variety of incredible entertainment choices, including Movies Under the Stars®, you'll find a relaxing retreat that's as captivating as the places you'll visit on this grand vessel.

Highlights of this cruise:

Singapore
Singapore - the very name summons visions of the mysterious East. The commercial center of Southeast Asia, this island city-state of four million people is a metropolis of modern high-rise buildings, Chinese shop-houses with red-tiled roofs, sturdy Victorian buildings, Buddhist temples and Arab bazaars. Founded in 1819 by Sir Stamford Raffles of the fabled East India Company, the city is a melting pot of people and cultures. Malay, Chinese, English and Tamil are official languages. Buddhism, Taoism, Islam, Hinduism and Christianity are the major faiths. Singapore is an ever-fascinating island boasting colorful traditions, luxurious hotels and some of the finest duty-free shopping in the world.

Lying just 85 miles north of the Equator at the tip of the Malay Peninsula, the island was a haven for Malay pirates and Chinese and Arab traders.

Langkawi
Langkawi comprises a group of 99 tropical islands lying off the northwestern coast of Peninsular Malaysia. The main island is known as Pulau Langkawi. The islands are shrouded with an intriguing heritage of myths and legends that feature ogres and gigantic birds, warriors and fairy princesses, battles and romance. Langkawi has been accorded the Geopark status by UNESCO, for its beautiful geological heritage of stunning landscapes, karsts, caves, sea-arches, stacks, glacial dropstones and fossils. With a geological history dating back 500 million years, the islands contain unique rock formations that stir the imagination and baffle the mind.

Port Klang
From a lawless huddle of kampongs in the trackless jungle, Kuala Lumpur, the capital city has grown into a fascinating metropolis. Steel and glass towers stand side by side with graceful stone colonial buildings and mosques adorned with slender minarets. The commercial, financial, economic and cultural heart of Malaysia, Kuala Lumpur (better known as KL), is a melting pot. Its population of 1.6 million is comprised of Malays, Chinese, Indians, and a mix of different cultures including Eurasians and others.

Kuala Lumpur is located at the confluence of the Klang and Gombak Rivers. The city was founded in the 1850s as a tin mining outpost.

Perth
Lying at the mouth of the Swan River, historic Fremantle - founded in 1829 - is your gateway to Perth, the capital of Western Australia. Situated on the banks of the Swan River some 15 miles upriver from Fremantle, Perth is a bustling city where soaring high-rises co-exist with elegant sandstone buildings from the colonial era. Life here moves at a slower pace, so during your visit, relax and savor the bounties of Western Australia, from the wonders of the bush to the wineries of the Swan Valley, from excellent shopping to a leisurely cruise on the Swan River.

Perth's explosive growth in recent decades has engulfed the old historic port of Fremantle - some 70 percent of Western Australia's population live in and around Perth.

Albany
On December 26, 1826 - Boxing Day - Major Edmund Lockyer and his party of convicts and soldiers landed at Princess Royal Harbor to establish a penal colony. Originally named Frederickstown in honor of the Duke of York and Albany, the first European settlement in Western Australia was renamed Albany in 1832. Thanks to its superb harbor, the town quickly became a busy port. Albany served as a coaling station for steam ships, as a commercial outlet for the rich farms of the interior, and as a base for the highly profitable whaling industry. The whaling station at Frenchman Bay was the last whaling station in all Australia, closing in 1978. Today it is home to Whale World, one of the world's largest whaling museums.

This small city of some 25,000 souls is off the beaten track. Which makes exploring all the more fun, whether visiting Whale World Museum or touring one of the area's excellent wineries.

Adelaide
Founded in 1836, this graceful city lies nestled on the coastal plain between Gulf St. Vincent and the Adelaide Hills. Adelaide was the vision of Colonel William Light, Australia's Surveyor General, who created a one-mile-square grid for the city's center and surrounded it with a belt of stunning parkland. Today, Adelaide is a metropolis of over one million people, boasting wide, tree-lined boulevards, superb Victorian and Edwardian architecture, tranquil parks, world-class shopping, and the highest number of restaurants per capita of any city in Australia.

Beyond the city and the rugged Adelaide Hills lie the Barossa and Eden Valleys. Here Australian vintners are winning international acclaim for their Cabernet Sauvignon, Riesling, Sauvignon Blanc and Shiraz.

Travel dates

Departing
From
Price From

Departing:

23 Oct 20

From:

Singapore, Singapore

Price from:

$2,980
*Terms and Conditions
Information on this website has been obtained from the various Cruise Companies represented, however as the cruise industry is constantly changing and this information should be used as a guide only. We are unable to take responsibility for incorrect information and you must confirm all details the time of booking. Offer subject to availability at time of booking. Prices are per person share twin based on best available cruise fare, inclusive of all discounts unless otherwise stated. Where suite pricing is indicated this will be for lead in suite accommodation only and may in some cases be for a mini suite, which is the lead in suite category. Please ask for clarification at time of enquiry. Prices are subject to currency fluctuations and are based on cash or cheque. Cruise deposit, amendment and cancellation conditions apply. Travel agent service fees may apply. Special conditions apply - please ask for full details at time of enquiry.