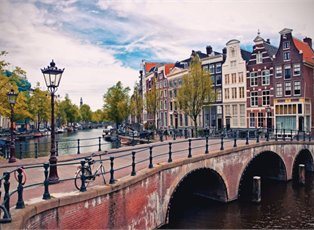 Journey
Book a Tulip Time river cruise & get up to $1,300 Air Credit per couple!*
Ship
Avalon Vista (More about the ship)
Departure Date
4 Apr 2020
Special deal
Special is valid from 9 May 19 to 30 May 19.
• 7-night luxury river cruise from Amsterdam return on one of Avalon's signature Suite Ships
• Cruise from Amsterdam to Rotterdam, Keukenhof Gardens, Willemstad, Veere, Middelburg, Ghent and Antwerp, ending in Amsterdam
• Gourmet cuisine with regional wine & beer
• Choice of included excursions including Classic, Active & Discovery options
• Avalon's renowned onboard service and relaxed luxury
• Options to customise your cruise experience
• Complimentary bicycles
Itinerary

Cruise Itinerary

Day
Date
Port
Arrive
Depart

Day:

Day 5

Date:

8 Apr 20

Arrive:

Depart:

Day:

Day 6

Date:

9 Apr 20

Arrive:

Depart:

** Itinerary may vary by sailing date

Your cruise in detail

7 Night Cruise sailing from Amsterdam roundtrip aboard Avalon Vista.

Your European river cruise explores breathtaking springtime scenery, as well as the amazing diversity of original beer styles in Belgium and the booming beer scene in Holland. This Tulip Time river cruise for beer enthusiasts begins in Amsterdam. This 700-year-old city offers an abundance of classic architecture, cafés, and restaurants to explore. You'll sail through Rotterdam's harbor, said to be the world's busiest port, visit the incredible Keukenhof garden—known as the "Garden of Europe." If available, you may also choose an excursion to the city of Gouda, famous for its cheese and other specialities.

Next, sail to Antwerp, Belgium's second-largest city, combining ancient buildings and monuments with mod-ern architecture. Later, get to know the famous Belgian beer in a local brewery. In Ghent, Belgium take a canal boat tour which will take you to a local brewery to learn how the local beer is produced.

You'll visit Middelburg, Holland—a historically important trading city—and see its gothic Town Hall, Abbey Tower, and bustling Market Square. No trip to Holland is complete without a visit to the technical miracle that is the 6-mile-long Delta Works barrier, constructed after the floods of 1953.

This beautiful and historic springtime Holland river cruise holiday concludes with more time to explore Am-sterdam, including a canal cruise along the elegant grachten lined with homes from Amsterdam's "Golden Age." You'll have the opportunity to taste delicious Dutch beers, and a knowledgeable Beer Expert will cruise with you to provide lectures, beer-tasting, and food and beer pairings for a memorable Holland and Belgium River cruise experience.

Highlights of this cruise:

Amsterdam
Amsterdam, the capital of The Netherlands is built around a concentric network of canals spanned by over 1000 bridges making canal cruises one of the most attractive ways of viewing the city. Many of the houses date back to the 17th century. These narrow-fronted merchants' houses are characterised by the traditionally Dutch ornamented gables.

The oldest part of the city is Nieuwmarkt, located near the first canals - Herengracht, Prinsengracht and Keizersgracht - built to protect the city against invasion in the 17th century. Today, Amsterdam's famous liberalism has survived in the city's 'coffee shops and thriving sex industry.

The city has also long been a centre of diamond cutting and it is still possible to see diamond cutters at work. Amsterdam has a booming cultural life, boasting 53 museums, 61 art galleries, 12 concert halls and 20 theatre. A special canal boat (the 'museum boat') links 16 of the major museums. In the local countryside it is still possible to see working windmills. There are annual events such as the Amsterdam Arts Week and the Holland Festival.

Ghent
Ghent is a city and a municipality located in the Flemish region of Belgium. It is the capital and biggest city of the East Flanders province. The city started as a settlement at the confluence of the Rivers Scheldt and Lys and in the Middle Ages became one of the largest and richest cities of northern Europe. Today it is a busy city with a port and a university. Although many of Belgium's visitors overlook Ghent, its beauty is often compared to the more well-known Bruges.

Ghent boasts many historic buildings, including three abbeys. Attractions include St Bavo's Cathedral, place of Charles V's baptism and home to The Adoration of the Mystical Lamb, the Van Eyck brothers' masterpiece; the Town Hall, where the Treaty of Ghent was signed in 1576; the Castle of the Counts, a medieval castle surrounded by the Lieve canal; the 15th-century Cloth Hall; the medieval town centre with its old guild houses; the Museum of Fine Arts, and the newly renovated Museum of Industrial Archaeology. The Sunday morning Flower Market is worth a visit.

Willemstad
Willemstad is a city in North Brabant, a province int he southern part of the Netherlands. It is an historical town with well preserved sixteenth century fortification architecture, which has been placed under the care of the Dutch service for building preservation.

Willemstad is lcoated close to where the Hollandsdiep divides into two arms, between which lies the island of Goeree-Overflakkee. William the Silent gave the order in 1583 for the building of a star-shaped fortress here with seven bastions, two gates and regular street layout.

Travel dates

Departing
From
Price From

Departing:

4 Apr 20

From:

Amsterdam, Rivers

Price from:

$4,279

Pricing
Please note: while prices are accurate at time of loading they are subject to change due to currency fluctuations and currency surcharges may apply. Please check price at time of booking.
*Terms and Conditions
*Terms & conditions: All care is taken to promote correct pricing at time of printing (10/05/19), is dependent upon availability and will be confirmed at time of reservation. Advertised special launch pricing only valid until 30/05/19. Prices are per person (pp), twin share based on Cat E. or Cat. D Deluxe Staterooms. Book a 2020 Europe river cruise and receive an Air Credit to use towards an airfare of your choice. Air Credit value is dependent on the cruise and departure booked. Select dates are not eligible for promotion. Availability will be confirmed at time of enquiry. Air Credit offer is valid for new 2020 Europe bookings made from 10/05/19 - 30/05/19 (or until sold out). Offer not applicable to pre-existing bookings. To secure reservation and Air Credit a non-refundable, non-transferable deposit of $500per person/per cruise is required within 7 days of booking (or by 30/05/19; whichever comes first). Air Credit will be processed as a discount off the booking invoice at time of reservation. Should you cancel or change your cruise, Air Credit becomes null and void and the full cost of any airfare purchased, or any associated change fees will be your responsibility. All airline payment and cancellation terms are independent of Avalon. Avalon is not responsible for any booking element of the airfare which you have utilised the credit for, even if SafetyNet Protection has been purchased. Cancellation penalties apply as per standard terms and conditions. Air Credit is 100% non-refundable and non-transferable under all circumstances and is handled as a discount off the cruise portion. Air Credit valid for Singles (single supplement applies). Offer not combinable with any other promotion and can be withdrawn or amended at any time without notice. Additional restrictions may apply – visit avalonwaterways.co.nz.