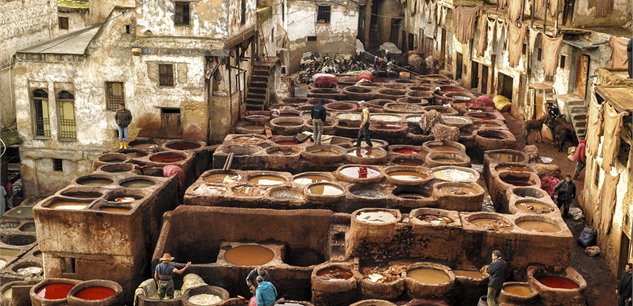 Ornate architectural wonders, the scent of spice markets and warm Mediterranean sun are yours to explore.

Wander down Madrid's Gran Via, visit the exquisite Alhambra Palace and learn the art of haggling in the labyrinthine Medina. Travel to the seafaring city of Lisbon, Fatima, the site of religious miracles, and cross in to Spain to admire the rare beauty of Salamanca.
Tour Operator:
Trafalgar Tours
What's Included

15 hot buffet breakfasts
1 lunch (Be My Guest)
6 dinners

Pricing

Start Date

End Date

28 Oct 17

12 Nov 17

$3,650

4 Nov 17

19 Nov 17

$3,575

11 Nov 17

26 Nov 17

$3,575

18 Nov 17

3 Dec 17

$3,575

25 Nov 17

10 Dec 17

$3,575

2 Dec 17

17 Dec 17

$3,575

11 Dec 17

26 Dec 17

$3,625

17 Dec 17

1 Jan 18

$3,775

21 Dec 17

5 Jan 18

$3,850

29 Dec 17

13 Jan 18

$3,925

6 Jan 18

21 Jan 18

$3,575

20 Jan 18

4 Feb 18

$3,575

3 Feb 18

18 Feb 18

$3,575

24 Feb 18

11 Mar 18

$3,625

3 Mar 18

18 Mar 18

$3,625

10 Mar 18

25 Mar 18

$3,625

17 Mar 18

1 Apr 18

$3,650

24 Mar 18

8 Apr 18

$3,650

31 Mar 18

15 Apr 18

$3,650

7 Apr 18

22 Apr 18

$3,450

14 Apr 18

29 Apr 18

$3,450

Please note: while prices are accurate at time of loading they are subject to change due to currency fluctuations and currency surcharges may apply.Please check price at time of booking

Itinerary

Day 1 - Arrive Madrid (2 Nights)

Welcome to Spain's capital, Madrid. Spend some time exploring this vibrant city before meeting up with your fellow travellers and Travel Director. Enjoy an evening drive to take in some of the city's sights followed by a Welcome Reception.Welcome Reception

Day 2 - Madrid Sightseeing

Your Local Specialist shows you the sights of Madrid including the Cibeles fountain, the Gran Via, Paseo de la Castellana and Puerta del Sol. At Plaza de España admire the monument to Cervantes. Why not take an Optional Experience to the medieval UNESCO World Heritage city of Segovia. This evening you might be tempted by Madrid's nightlife, where the locals dine late and enjoy the open-air cafés and vibrant atmosphere until the early hours.Buffet Breakfast

Day 3 - Madrid – Toledo – Granada

Your Local Specialist takes you on a walking tour of Toledo. Visit the Church of Santo Tomé, home to one of El Greco's most famous paintings - The Burial of the Count of Orgaz. Visit the synagogue during your guided walk through the narrow streets. Visit a traditional steel factory for a Cultural Insight and see local craftsmen at work. Admire the breathtaking landscape during your drive south, through the heart of La Mancha to Granada in Andalucia. Dine tonight at your hotel.Buffet Breakfast, Dinner with wine

Day 4 - Granada – Costa del Sol

This morning your Local Specialist takes you on a visit to the incredible Alhambra Palace, built in the 14th century and a magnificent example of Moorish architecture. Admire the ancient stucco work, quiet courtyards and colossal walls. In the afternoon arrive on the famous Costa del Sol.Buffet Breakfast

Day 5 - Costa del Sol – Fez (2 Nights)

Travel along the Mediterranean coast and cross to North Africa by ferry. A memorable drive past the Rif Mountains brings you to the Imperial city of Fez, Morocco's second-largest city.Buffet Breakfast, Dinner

Day 6 - Fez Sightseeing

Visit the fascinating Medina of Fez with your Local Specialist. View the fortifications and Royal Palace during your morning sightseeing tour. Admire traditional Moroccan handiwork during a visit to a carpet showroom. This afternoon see the sights of your choice or consider a visit to the Imperial city of Meknes. Soak up the unique atmosphere of this exotic city with its high defensive walls and monumental gates.Buffet Breakfast

Day 7 - Fez – Casablanca - Marrakesh (2 Nights)

Travelling through the foothills of the Atlas Mountains to Marrakesh is spectacular. A favourite holiday spot of Winston Churchill, the city is one of North Africa's most popular tourist destinations. Later this evening you might like to consider an evening to enjoy an authentic Moroccan show.Buffet Breakfast

Day 8 - Marrakesh Sightseeing

Visit the Bahia Palace during your walking tour with a Local Specialist See Djemaa el Fna Square in the old quarter with its palm-readers, acrobats and snake charmers. Visit a traditional Moroccan pharmacy for a Cultural Insight into the blending of creams and cosmetics from regional ingredients. The rest of the day is yours to explore. Don't miss the chance to shop for bargains in the souks and bazaars or maybe visit a local Berber village. Dine tonight at your hotel.Buffet Breakfast, Dinner

Day 9 - Marrakesh – Casablanca - Rabat – Tangier

Today continue on to Casablanca, scene of Humphrey Bogart's most magical moments. On arrival your orientation includes a panoramic drive of the corniche, plus views of the Hassan II mosque with the world's tallest minaret. Then continue to the capital city, Rabat, where you view the mausoleum and Royal Palace. Arrive later in Tangier where you dine tonight at your hotel.Buffet Breakfast, Dinner

Day 10 - Tangier – Seville (2 Nights)

Board the ferry for the return journey back across the Straits of Gibraltar to the Spanish mainland. Continue your journey through the Jerez vineyards, home of sherry. Next continue to Andalucia's most beautiful city, Seville, for a two-night stay. This evening why not experience the fire and passion of a Spanish flamenco show.Buffet Breakfast

Day 11 - Seville Sightseeing

See the Giralda Tower during your sightseeing tour with a Local Specialist. Admire the tiled fountains and pavilions in the Maria Luisa Park and visit the imposing Plaza de España. See Christopher Columbus' ornate tomb in the Cathedral and enjoy a walk through the former Jewish Quarter.Buffet Breakfast

Day 12 - Seville – Lisbon (2 Nights)

Your panoramic journey continues through the province of Huelva, famous for Jabugo ham and the Rio Tinto mines, and past the castle at Aracena. Cross the border into Portugal. See the Alentejo region, renowned for its cork oaks. Experience a memorable Be My Guest lunch at a stud farm where Lusitano horses are reared. Later arrive in Lisbon.Buffet Breakfast, Be My Guest Dining

Day 13 - Lisbon Sightseeing

See Lisbon's landmarks including the Monument to the Discoveries, the suspension bridge spanning the River Tagus, the Belém Tower and the quaint Alfama district. Visit the UNESCO World Heritage site of the Hieronymite Monastery during your sightseeing tour with your Local Specialist. Later in your free time perhaps join an Optional Experience to discover Portugal's Golden Triangle of Sintra, Cascais and Estori.Buffet Breakfast

Day 14 - Lisbon – Fátima – Salamanca

Drive north through the magnificent Serra d'Aire Mountains to the shrine at Fátima, site of celebrated religious miracles. Cross the border back into Spain and arrive later in Salamanca where you visit Plaza Mayor during your orientation tour.Buffet Breakfast

Day 15 - Salamanca – Madrid

Your journey continues through the Sierra de Guadarrama Mountains to Madrid, Europe's highest capital city. This afternoon explore the city at your own pace and later join your companions and Travel Director for a Farewell Dinner with wine.Buffet Breakfast, Farewell Dinner

Day 16 - Depart Madrid

This morning it is time to bid farewell to your Travel Director and newfound friends as your memorable holiday comes to an end. Transfers are available. Conditions apply.Buffet Breakfast
*Terms and Conditions
Offer subject to availability at time of booking. Prices are per person share twin based on best available tour price, inclusive of all discounts unless otherwise stated. Prices are subject to currency fluctuations and are based on cash or cheque. Tour deposit, amendment and cancellation conditions may apply. Travel agent service fees may apply. Special conditions apply - please ask for full details at time of enquiry.
HLO Ref# 5856