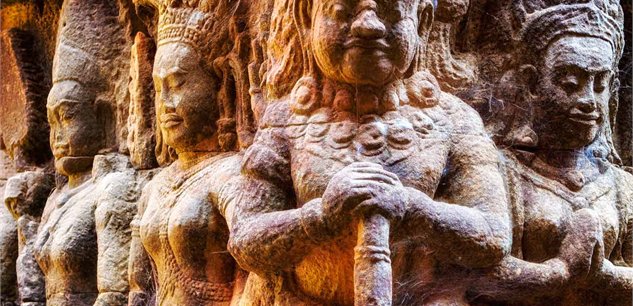 Discover Vietnam's famous highlights on this fascinating trip, which also reveals Cambodia's ancient Khmer culture and mystical Angkor Wat.

It's Insider moments like… witnessing the wild beauty of Angkor Wat and the Ta Prohm temple as you explore with a passionate expert, and receiving a personal blessing from monks at the Buddhist monastery of Wat Damnak.
Tour Operator:
Trafalgar Tours
What's Included

14 buffet breakfasts.
6 dinners.
7 lunches (including Be My Guest).

Pricing

Start Date

End Date

6 May 17

20 May 17

$5,295

20 May 17

3 Jun 17

$5,295

17 Jun 17

1 Jul 17

$5,295

16 Sep 17

30 Sep 17

$5,395

30 Sep 17

14 Oct 17

$5,495

14 Oct 17

28 Oct 17

$5,425

18 Nov 17

2 Dec 17

$5,425

9 Dec 17

23 Dec 17

$5,425

16 Dec 17

30 Dec 17

$5,575

Please note: while prices are accurate at time of loading they are subject to change due to currency fluctuations and currency surcharges may apply.Please check price at time of booking

Itinerary

Day 1 - Arrive Hanoi (2 Nights)

Welcome to Vietnam. Upon arrival, transfer to your hotel before meeting your Travel Director and fellow travellers for a Welcome Reception with drinks and local appetisers.Welcome Reception

Day 2 - Hanoi Sightseeing

Start the day with a visit to the historic Ho Chi Minh Mausoleum, an imposing monument where the preserved body of 'Uncle Ho' resides. A short walk from here is Ho Chi Minh's house on stilts, a Cultural Insight, where he lived intermittently between 1958 and 1969. Continue to the Temple of Literature, the first university for the sons of Mandarins, for an overview of Hanoian culture. After lunch enjoy a walking tour through the Old Quarter to embrace the bustling local life. In the evening, see a traditional water puppet performance, a Cultural Insight. This northern Vietnamese art form beautifully illustrates scenes of rural life and natural history.Buffet Breakfast, Lunch

Day 3 - Hanoi – Halong Bay Cruise

This morning, drive through green rice paddy fields to Halong Bay to board your Authentic Accommodation, a traditional Vietnamese Junk sailing boat. Cruise among the hundreds of islets of Halong Bay, a remarkable UNESCO World Heritage listed site. Mid afternoon visit Vung Vieng fishing village by rowing, boat to get a closer look into the lives of the local fishermen. Drop anchor later in the evening for a Regional Meal and a peaceful overnight stay.Buffet Breakfast, Lunch, Regional Meal

Day 4 - Halong Bay – Hanoi – Hue (2 Nights)

Begin your day as the locals do during a morning T'ai Chi class with a Local Specialist, on the deck of the traditional Junk boat. Then explore Sung Sot grotto where stalactites hanging from the high ceiling take on numerous shapes and forms. Return to the boat to indulge in a delectable brunch as you continue cruising amongst the islands. Disembark and drive back to Hanoi, stopping at the Dong Trieu Ceramic factory, a Cultural Insight. Later enjoy early dinner; a delicious Regional Meal at Thanh Chuong Palace, an architectural gem. Continue to Hanoi Airport for your evening flight to Hue, and transfer to your hotel upon arrival.Buffet Breakfast, Regional Meal

Day 5 - Hue Sightseeing

Start from your hotel with a cyclo ride to the Imperial Citadel, a UNESCO World Heritage designated site. From here drive to Thien Mu Pagoda, Hue's best-preserved religious monument. Standing on the riverbank with its seven-storey tower, it is an amazing sight. Then take a local dragon boat trip along the Perfume River to the house of the former Princess Ngoc Son for a Be My Guest lunch. It is one of the great remaining garden houses of Hue and although no longer owned by royalty the current owners have maintained it largely in its original form. Chat with a family member to get a glimpse of their life in this historic house and enjoy lunch prepared by the family. This afternoon enjoy some free time or take part in an Optional Experience.Buffet Breakfast, Be My Guest Dining

Day 6 - Hue – Danang – Hoi An (3 Nights)

This morning depart Hue and drive over the scenic Hai Van Pass stopping en-route at Red Beach where American Marines first landed in Vietnam during the war before continuing to Danang. On arrival visit the Cham museum, a Cultural Insight, to learn about the ancient Champa civilisation. Continue to the ancient town of Hoi An and your resort hotel. This afternoon join a Vietnamese cooking class including a boat trip to the schools location on the banks of the An Hoa River and learn about the traditional ways of preparing and cooking Vietnamese food. After the class take the opportunity to savour the dishes you have prepared for your own Regional Meal. The rest of the evening is yours to wander the peaceful lantern lit streets of this picturesque town.Buffet Breakfast, Regional Meal

Day 7 - Hoi An Sightseeing

This morning enjoy a walking tour around the ancient town of Hoi An. Today this ancient UNESCO World Heritage designated town boasts well-preserved buildings, pedestrianised streets, narrow lanes and a colourful market, a Cultural Insight. See the old merchants houses and the 400 year old Japanese Covered Bridge. Later visit Tra Que Organic Village for a Cultural Insight. Spend some time helping local farmers and learning about their daily working routines, before indulging in a relaxing foot massage. After lunch return to Hoi An for the rest of the day and evening at leisure.Buffet Breakfast, Regional Meal

Day 8 - Hoi An Free Time

This morning enjoy some free time to relax at the hotel or explore Hoi An further. In the afternoon your choice of activities gives you two Cultural Insight opportunities: to join a Lantern Making Workshop or a Fishing Life Tour (subject to weather conditions) to learn about the lives of the local fishermen and have a go at casting your own fishing net.Buffet Breakfast

Day 9 - Hoi An – Danang – Ho Chi Minh City (3 Nights)

This morning, fly to Vietnam's largest metropolis, Ho Chi Minh City, formerly known as Saigon. Upon arrival enjoy some free time to stroll around the city before lunch at KOTO restaurant; a non profit social enterprise that provides training to disadvantaged young people in the hospitality industry. Meet a senior staff member who will explain more about the work of KOTO and enjoy a meal served by some of the senior trainees who are on their internship within the training programme. Next transfer to Dong Khoi Street for the start of a walking tour. See the Opera House and the former Hotel de Ville. Wander up to the Notre Dame Cathedral, and the Central Post Office, designed by the French architect, Gustave Eiffel. Continue to visit the War Remnants Museum for a vivid glimpse of the war through the eyes of the locals. Conclude the day at Ben Thanh market before arriving at your centrally located riverside hotel this evening.Buffet Breakfast, Lunch

Day 10 - Mekong Delta

Today take a day trip to My Tho situated in the Delta of the Mekong River. Transfer to a small sampan boat and discover the maze of small canals before stopping for a Regional Meal of delicious Mekong Delta specialities. Take a short walk along village roads to visit the house of a former soldier, a Local Specialist who survived fighting the Khmer Rouge. Now he and his wife live on making rice paper and have some fascinating stories to tell. Later return to Ho Chi Minh City for an evening at leisure.Buffet Breakfast, Regional Meal

Day 11 - Ho Chi Minh City Free time

Today is a free day to enjoy Ho Chi Minh City at your own pace or to join an Optional Experience to visit the famous Cu Chi tunnels. This evening join your fellow travellers for a visit to the home of the former American Ambassador to South Vietnam in the 1960s, Mr. Henry Cabot Lodge, a Cultural Insight followed by your Farewell Dinner. Buffet Breakfast, Farewell Dinner

Day 12 - Ho Chi Minh City – Siem Reap (3 Nights)

Transfer to the airport for the short international flight to Siem Reap, Cambodia. Have some free time this afternoon to relax and enjoy the hotel's facilities.Buffet Breakfast

Day 13 - Angkor Wat and Siem Reap Sightseeing

This morning, visit Angkor Wat, a UNESCO World Heritage site and one of the most important religious monuments in the world, with a renowned Khmer Scholar Local Specialist. Take a stroll through the elaborate carved hallways of Angkor Wat, as the Khmer Empire is brought to life through the scholar's explanations, of the various stories contained in each of the bas reliefs and murals. Next head to Banteay Srei temple which is one of Angkor's most significant structures. Made of red sand-stone, its walls are decorated with elaborate carvings and it is in an amazing state of preservation. Make a stop for lunch at a local Khmer restaurant, before taking a guided walk around the fascinating corners of the Old Town of Siem Reap. Visit Artisans d'Angkor, for a Cultural Insight into the training school and shop which creates job opportunities for young people living in rural areas, while at the same time reviving traditional Khmer craftsmanship. Cross picturesque Siem Reap River to Wat Damnak, a living temple, and receive a special blessing from one of the monks, which includes the tying of a blessed string around the wrist. Walk back across the Pedestrian Bridge to the Old Market and be lead through the maze of undercover stalls selling fruits, vegetables, meat, fish and household goods as well, as an array of local handicrafts and souvenirs. In the evening perhaps take an Optional Experience sunset cruise on Tonle Sap Lake to see Siem Reap's famous floating village and to observe the lifestyle of the people living on the lake.Buffet Breakfast, Lunch

Day 14 - Angkor Sightseeing and Free Time

Start the day with a visit to two other UNESCO listed sites - Angkor Thom the ancient royal city of the Khmer Empire and its centrepiece, the Bayon Temple. Continue to the Terrace of the Elephants, which served as a platform from where the King could welcome back his victorious army. Next head to the picturesque temple of Ta Prohm which was used as the location for the film 'Tomb Raider'. The magnificent tree roots have merged with the temple remains over the years, giving the feeling of a forgotten city. Return to Siem Reap and enjoy the rest of the day at leisure. This evening complete your trip in style with a Farewell Dinner accompanied by traditional Apsara Dancing.Buffet Breakfast, Farewell Dinner

Day 15 - Depart Siem Reap

After breakfast, transfer to Siem Reap International Airport for your onward flight.Buffet Breakfast
*Terms and Conditions
Offer subject to availability at time of booking. Prices are per person share twin based on best available tour price, inclusive of all discounts unless otherwise stated. Prices are subject to currency fluctuations and are based on cash or cheque. Tour deposit, amendment and cancellation conditions may apply. Travel agent service fees may apply. Special conditions apply - please ask for full details at time of enquiry.
HLO Ref# 5977