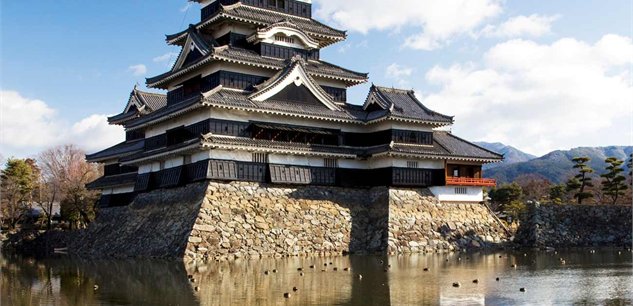 Japan reveals its many sides, as you experience buzzing Tokyo, tradition in Kyoto, the beauty of Mt. Fuji and historic Hiroshima.

You'll enjoy Insider moments like… marvelling at Japan's inland sea stretched out before you, as you cross the longest suspension bridge in the world. And relaxing in the heat of an onsen bath, during your stay at a traditional ryokan on Mt. Kompira.
Tour Operator:
Trafalgar Tours
What's Included

12 buffet breakfasts.
6 dinners.
4 lunches (including Be My Guest)

Pricing

Start Date

End Date

26 Mar 17

7 Apr 17

$9,725

29 Mar 17

10 Apr 17

$9,725

2 Apr 17

14 Apr 17

$9,725

5 Apr 17

17 Apr 17

$9,725

9 Apr 17

21 Apr 17

$9,725

12 Apr 17

24 Apr 17

$9,575

16 Apr 17

28 Apr 17

$9,575

23 Apr 17

5 May 17

$9,575

7 May 17

19 May 17

$9,575

10 May 17

22 May 17

$9,575

14 May 17

26 May 17

$9,575

21 May 17

2 Jun 17

$9,575

4 Jun 17

16 Jun 17

$9,295

11 Jun 17

23 Jun 17

$9,295

18 Jun 17

30 Jun 17

$9,295

2 Jul 17

14 Jul 17

$9,295

20 Aug 17

1 Sep 17

$9,295

3 Sep 17

15 Sep 17

$9,575

10 Sep 17

22 Sep 17

$9,575

17 Sep 17

29 Sep 17

$9,575

1 Oct 17

13 Oct 17

$9,725

4 Oct 17

16 Oct 17

$9,575

8 Oct 17

20 Oct 17

$9,575

15 Oct 17

27 Oct 17

$9,725

29 Oct 17

10 Nov 17

$9,725

5 Nov 17

17 Nov 17

$9,725

12 Nov 17

24 Nov 17

$9,725

10 Dec 17

22 Dec 17

$9,295

Please note: while prices are accurate at time of loading they are subject to change due to currency fluctuations and currency surcharges may apply.Please check price at time of booking

Itinerary

Day 1 - Arrive Tokyo (3 Nights)

Welcome to Japan. Upon arrival at Tokyo Narita or Haneda International Airport, transfer by airport shuttle service to your centrally located hotel. This evening join your Travel Director and fellow travellers for a Welcome Reception drink and local appetisers. Welcome Reception

Day 2 - Tokyo Sightseeing

This morning your City Tour begins with an orientation drive. See the Tokyo Skytree, the world's highest free-standing broadcasting tower. Continue to Asakusa and visit the Sensoji Buddhist temple. It is one of Tokyo's most colourful and popular temples and has been rebuilt countless times since it was founded in 628, making it Tokyo's oldest temple site. Visit Nakamise, a shopping street over 200 metres long that stretches from the outer gate to the temple's second interior gate. Next head to the famous Ginza district for a hands-on cooking class. Learn how to make sushi with a Local Specialist and then enjoy your sushi creations for lunch. Later choose to either return to the hotel, remain in Ginza at leisure or take part in an Optional Experience. Buffet Breakfast, Lunch

Day 3 - Tokyo Sightseeing

Today continue your City Tour with a visit to the Edo-Tokyo Museum. This fascinating museum displays artifacts and architecture that tell a tale of Tokyo's history and culture during the Edo period. Next drive to Akihabara which began its evolution into 'Electric Town' post WWII when the area became a black market for radio parts. It now houses numerous electronics shops selling a wide range of computer goods and video games. Enjoy some free time here before heading to the Imperial Palace Plaza, a large park area in the centre of Tokyo from where the two bridges that form the entrance to the inner grounds of the Imperial Palace can be viewed. It is the primary residence of the Emperor of Japan and built on the former site of Edo Castle. Take a stroll around the Imperial Palace East Gardens before returning to your hotel.Buffet Breakfast

Day 4 - Tokyo – Mt. Fuji - Matsumoto – Nagano

After breakfast depart Tokyo for the Five Lakes District, dominated by majestic UNESCO listed Mt. Fuji. At 3,776 metres it is Japan's highest mountain and most recognisable icon. Ascend by road to 2,300 metres at the 5th Station before taking a ride on the Kachikachiyama Ropeway, (both weather permitting) a cable car ride offering spectacular views on a clear day of Mt. Fuji and Lake Kawaguchi. Later drive north to visit Matsumoto Castle, one of the most beautiful and complete original Japanese castles with its unique timber and stone structure. It is also a great Cherry Blossom viewing spot in the springtime. Continue to Nagano for your overnight stay with dinner at the hotel.Buffet Breakfast, Dinner

Day 5 - Nagano - Takayama - Gokayama - Kanazawa (2 Nights)

This morning travel through the breath-taking Japanese Alps to the beautiful hillside town of Takayama. Located in the Hida Region, the town has retained a traditional touch like few other Japanese cities, especially in its beautifully preserved old town. Begin your walking tour of Takayama, known as 'Little Kyoto', and discover its Edo style streets filled with amazing attractions. Explore the Old Town, stopping en route to sample Japanese sake, a Cultural Insight. Lunch today is a Regional Meal of Japanese Hida beef at a local restaurant. Hida beef (Hida-gyu) is the specific name given to beef from a black-haired Japanese cattle breed, it is known as one of the finest quality varieties of beef. This afternoon take a step back in time during a visit to the peaceful mountain village and UNESCO designated site of Gokayama. See the unique Gassho-zukuri wooden houses; the steeply sloped thatched roofs resemble two hands together in prayer. Visit one of the houses and meet the family. Later observe local artisans making washi paper and try your hand at making your own, a Cultural Insight before continuing on to the historic castle town of Kanazawa.Buffet Breakfast, Regional Meal

Day 6 - Kanazawa Sightseeing

This morning discover the secrets of gold leaf painting during a visit with a Local Specialist. The production of gold leaf started in Kanazawa at the end of the 16th century and now 99% of Japan's high quality gold leaf is produced in the area. Next visit the gardens of Kenrokuen, rated as one of the top three most beautiful gardens in Japan and a great place to see Cherry Blossom in the springtime. Take your time to relax and explore the ornate landscapes, temples and ponds. Afterwards take a short walk through the Omicho market to see the local fish catch and enjoy an insiders view of everyday life in a busy coastal town. Later visit the Nagamachi District with its old and beautifully preserved samurai houses. Visit the Nomura house, an elegant samurai mansion with beautiful small gardens belonging to a high-ranked samurai family. Buffet Breakfast

Day 7 - Kanazawa - Kyoto (2 Nights)

This morning leave Kanazawa for Kyoto by Express train. On arrival enjoy a special Be My Guest lunch at a traditional ryokan nestled in the peace and quiet of Mt. Yoshida. The ryokan was built in 1932 by master craftsmen to serve as the second residence of the uncle of the current Japanese Emperor, Akihito. Learn more about local Japanese customs as your hosts welcome you into their beautiful home. Enjoy the pleasures of a truly flavourful and unique dining experience of Kaiseki cuisine, crafted from the very freshest of seasonal delicacies. After lunch visit Kinkakuji Temple, a UNESCO World Heritage site famous for its Golden Pavilion. The Kinkakuji history dates back to 1397, when the villa was purchased by Shogun Ashikaga Yoshimitsu. When Yoshimitsu died, the building was converted into a Zen temple by his son. Later check in to your hotel for a relaxing evening. Buffet Breakfast, Be My Guest Dining

Day 8 - Kyoto Sightseeing

This morning visit the Fushimi Inari Shrine and see the tunnel of thousands of bright orange torii gates that snake through the forest up into the mountains. Then head to the Sanjusangen-do Hall, a temple famous for its 1001 statues of Kannon, the goddess of mercy and afterwards enjoy a walking tour of the Gion area. Choose to remain in Gion to explore further or return to the hotel. This evening join your Travel Director and fellow guests for a Farewell Dinner at the Ninja Kyoto restaurant. Venture into the mysterious labyrinth and secret fortress of the Ninjas, the traditional Japanese heroes and enjoy the creative Ninja-style food, a perfect ending to your holiday in Japan.Buffet Breakfast, Farewell Dinner

Day 9 - Kyoto - Kotohira

This morning leave Japan's main island Honshu behind as you cross the Akashi Kaikyo Bridge, the world's longest suspension bridge, over the Seto Inland Sea to Awaji Island. Visit the Water Temple, designed by the Japanese architect Tadao Ando to be a sensory experience. The mountains, sky, rice paddies and bamboo groves are reflected in the stillness of the water, which has a meditative effect as you descend the steps to the Buddhist Temple below the water. Later have some free time for lunch and take a walk around Yumeburai, a complex of buildings built on the side of the mountain. One of the most striking features in the complex is the '100 Stepped Garden' - a group of 100 flower beds in small square gardens on an incline and arranged in grids spread over several levels. Continue to the small mountain hot springs village of Kotohira for your overnight stay in your Authentic Accommodation, a Japanese ryokan. Before dinner, if you wish, climb the steps adjacent to the hotel to visit Kotohira-gu Shrine and be rewarded with breathtaking views of the surrounding countryside. This evening perhaps have a relaxing soak in the hot spring (onsen) bath at the hotel.Buffet Breakfast, Dinner

Day 10 - Kotohira - Hiroshima (2 Nights)

This morning visit the Zentsuji Temple, birthplace of one of the most revered figures of Japanese Buddhism, the high priest Kobo Daishi. It is the 75th temple on the 88 temple Shikoku Pilgrimage, which covers approximately 1,200 kilometres and was traditionally done on foot taking up to 60 days to complete. It is still done by many people today although modern pilgrims use cars, taxis, buses, bicycles or motorcycles. Continue to Omishima Island and make a stop at a local restaurant for lunch. Drive to Hiroshima via the Setouchi Shimanami Kaido Expressway, a 60-kilometre highway that links the islands of the Seto Inland Sea with nine individual bridges. Check into your hotel for a relaxing evening. Buffet Breakfast, Lunch

Day 11 - Hiroshima Sightseeing

This morning catch a ferry over to Miyajima Island, otherwise known as Itsukushima, or Divine Island. On arrival visit the Itsukushima Shrine and admire the elaborate torii gate rising majestically out of the sea. Have some free time for lunch, strolling around and browsing in the small shops of this peaceful island. This afternoon return to Hiroshima and visit the Peace Memorial Park and Museum. See the UNESCO listed Peace Memorial, the only structure left standing in the area when the first atomic bomb exploded in 1945. Through the efforts of many people, including those of the city of Hiroshima, this ruin has been preserved in the same state as immediately after the bombing as an expression of hope for world peace. This evening experience the famous Hiroshima style okonomiyaki, a Cultural Insight. Okonamiyaki is similar to a savoury pancake and is made with egg, cabbage, soba noodles, and meat, seafood or cheese and grilled in layers on a hot plate in front of you.Buffet Breakfast, Regional Meal

Day 12 - Hiroshima - Osaka

Take the high speed bullet train to Osaka. On arrival have some free time for lunch and shopping in the Dotonbori Street area. Continue with a brief city orientation tour before checking-in to your hotel. This evening enjoy a Farewell Dinner at a local restaurant. Buffet Breakfast, Farewell Dinner

Day 13 - Depart Osaka

Transfer by airport shuttle service to Kansai International Airport, or Osaka Itami Airport for your onward flight.Buffet Breakfast
*Terms and Conditions
Offer subject to availability at time of booking. Prices are per person share twin based on best available tour price, inclusive of all discounts unless otherwise stated. Prices are subject to currency fluctuations and are based on cash or cheque. Tour deposit, amendment and cancellation conditions may apply. Travel agent service fees may apply. Special conditions apply - please ask for full details at time of enquiry.
HLO Ref# 5979