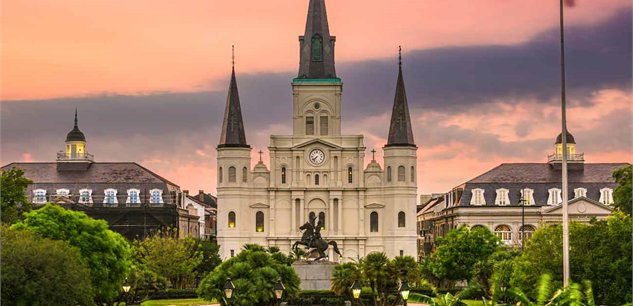 This trip gives you time to enjoy the South's music and food-from Elvis's Graceland to Creole cooking in New Orleans and grand antebellum hospitality in Natchez.You'll enjoy Insider moments like... experiencing Southern hospitality at two period homes in one amazing evening. Joe Stone plays the piano for you as you sip a beverage, while Esther Carpenter - once listed among America's top 20 female chefs - invites you to dinner. It's getting to know the home of Rock n' Roll with our passionate Memphis expert, and learning about the city's role in the civil rights movement. And it's learning about 'white gold' and the stark contrasts between life on a modern and pre-Civil War cotton plantation.
Tour Operator:
Trafalgar Tours
What's Included

9 full breakfasts.
4 dinners (including Be My Guest).

Pricing

Start Date

End Date

6 Feb 18

15 Feb 18

$4,675

Please note: while prices are accurate at time of loading they are subject to change due to currency fluctuations and currency surcharges may apply.Please check price at time of booking

Itinerary

Day 1 - Arrive Nashville (3 Nights)

Welcome to Music City. Get settled at your hotel and enjoy some time on your own this afternoon to explore. At 6 p.m., gather at the hotel with your Travel Director and fellow travelling companions for a Welcome Reception.Welcome Reception

Day 2 - Nashville Sightseeing

This morning, visit RCA's Studio B, one of the world's most successful recording studios where musicians such as Elvis Presley recorded their iconic sounds. Then, get a unique look into the life and music of Johnny Cash during a private performance and discussion with Johnny and June's son, John Carter Cash, a Cultural Insight. John (or a member of his family) entertains with his own original music, as well as a few numbers made famous by his legendary family. Spend some time exploring the Country Music Hall of Fame and Museum to see memorabilia from stars such as Hank Williams, Loretta Lynn and Garth Brooks. Later your choice of sightseeing offers a visit to the Johnny Cash Museum or, if you prefer, choose a tour of the Ryman Auditorium, awash in musical history, where country music's biggest stars play to cheering audiences today.Full Breakfast

Day 3 - Nashville At Leisure and Sightseeing

The day is yours to discover Nashville. Perhaps enjoy some live music at a honky tonk on Broadway street. This evening, head to the Grand Ole Opry, home to America's longest-running live radio program. Dinner is on your own to venture out and sample delicious Southern cuisine.Full Breakfast

Day 4 - Nashville – Memphis (2 Nights)

This morning, hit the highway to Memphis along the Mississippi Delta. Upon arrival in Memphis, meet a Beale Street musician, and Local Specialist, to learn about the rich musical heritage of the area. Visit the National Civil Rights Museum and see the hotel where Martin Luther King, Jr. was tragically assassinated before catching a glimpse of the late afternoon light on the Big Muddy. Enjoy the evening at leisure to explore or embark on a culinary adventure and cherish a meal at one of Memphis' many restaurants.Full Breakfast

Day 5 - Graceland Excursion

Graceland is as much an object of pilgrimage as a museum dedicated to the late, great Elvis Presley. From the flowers and painted signs outside the gates, to the tear-streaked cheeks of fans inside, see the effect that Elvis and his music had on popular American culture. Marvel at Graceland's Jungle Room, walls full of gold and platinum records. Stroll the grounds and you just might find yourself humming "Blue Suede Shoes." Visit Sun Studios where the first rock 'n roll single was recorded in 1951. This evening, embark on a your choice dining experience where you choose from a selection of local eateries for the evening's meal.Full Breakfast, Your Choice

Day 6 - Memphis – Natchez

This morning, get an in-depth look at the rich music history of Memphis with a tour of the legendary Rock 'n' Soul Museum before departing for Natchez. Founded by the French in 1716, Natchez was home to a flowering antebellum culture. Take in more of the nation's Southern history here and see the gracious homes overlooking the river. Tonight, enjoy an incredible evening highlighting Southern hospitality at a Be My Guest dinner. Explore the private residence of Joe Stone, whose home, built in the 1850s, contains a gallery collection of rare maps, a quaint billiards hall, and exquisite ornamental glasswork. Joe performs on his 1903 Steinway grand piano and delves into the meaning and inspiration behind each piece of music before you are treated to a glass of wine and are free to tour the expansive collection. Later, head over to the residence of Esther Carpenter, built in 1804 to explore the historic estate. Esther, a former Four Seasons chef, once named one of the Top 20 female chefs in America by USA Today, hosts a four-course dinner with wine featuring a true taste of the Deep South.Full Breakfast, Be My Guest Dining

Day 7 - Natchez – Oak Alley – New Orleans (3 Nights)

After breakfast, stop at Frogmore Plantation and Gins to learn about the white gold of the Mississippi Delta. With your costumed hosts, Local Specialists, on a visit to a reconstructed 19th century cotton plantation, witness the modern-day operation that produces more than 900 bales each day. From there, travel to the countryside to marvel at Oak Alley Plantation. This classic antebellum home sits on the Mississippi River and amazes visitors with its quarter mile canopy of 300-year-old live oak trees. In this grand dame of Southern mansions, learn about the lives of the plantation owners. In the evening, visit the New Orleans School of Cooking to discover the flair of Creole cuisine watching a fun cooking demonstration before enjoying culinary creations during a Regional Meal.Full Breakfast, Regional Meal

Day 8 - New Orleans Sightseeing and At Leisure

This morning, join a Local Specialist who shares extensive knowledge of New Orleans' history as you travel throughout the city stopping at City Park and one of the famous above-ground cemeteries. This afternoon, enjoy some time on your own; grab a po' boy or some fresh beignets, stroll down Bourbon Street or hit the lively waterfront area.Full Breakfast

Day 9 - New Orleans At Leisure

Enjoy a leisurely day to explore this vibrant city. If you're feeling adventurous, head out to the bayou for an optional guided tour deep into the swamps. Look out for alligators or opt to stay downtown and stroll Magazine Street, visit Marie Laveau's Historic Voodoo Museum or catch a little jazz piano while cooling off and watching the world go by. This evening, join your Travel Director and travelling companions for a Farewell Dinner at the famed Court of Two Sisters.Full Breakfast, Farewell Dinner

Day 10 - Depart New Orleans

Extend your stay in New Orleans at the Astor Crowne Plaza or say 'Au Revoir' to the Big Easy this morning with a transfer provided to New Orleans International Airport.Full Breakfast
*Terms and Conditions
Offer subject to availability at time of booking. Prices are per person share twin based on best available tour price, inclusive of all discounts unless otherwise stated. Prices are subject to currency fluctuations and are based on cash or cheque. Tour deposit, amendment and cancellation conditions may apply. Travel agent service fees may apply. Special conditions apply - please ask for full details at time of enquiry.
HLO Ref# 6049