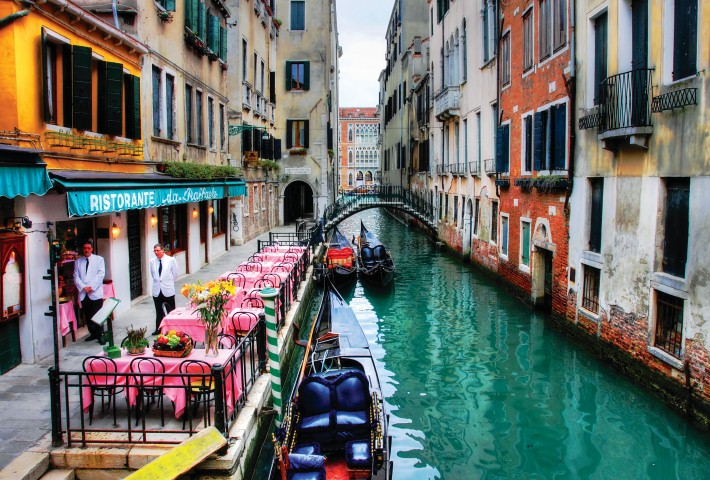 This tour immerses you in Italy's historic cities, idyllic fishing villages, islands, lakes, and canals, heritage buildings, inspiring art, fabulous food and breathtaking scenery.
Tour Operator:
Insight Vacations
What's Included

An expert Insight Tour Director, at the pinnacle of their career, will guide you on your journey. Serving as your 'travelling concierge', this skilled guide will act as consummate organiser and be your 'friend in a foreign land'.
Enjoy the unique comfort of Insight's luxury air-conditioned 40 seat coach with extended leg room and on-board restroom. It's business class comfort.
A personal radio headset gives you the freedom to wander during visits to famous highlights, without missing any of your Local Expert's fascinating insights and commentaries.
Baggage handling everywhere, with seamless and prompt delivery to your door at every hotel.
Hotel and restaurant tips included - you'll never have to worry about how much to give, nor search for foreign currency. Plus we include all taxes and porterage charges at hotels.
Stay connected with friends and family with our complimentary coach and hotel Wi-Fi.
Insight Flourishes - from time to time, your Tour Director will enchant you with local tidbits, each representing authentic food or beverages unique to the destination.
Included airport transfers at scheduled times on arrival and departure days.

Pricing

Start Date

End Date

1 May 17

11 May 17

$4,925

6 May 17

16 May 17

$4,925

8 May 17

18 May 17

$4,925

13 May 17

23 May 17

$4,925

15 May 17

25 May 17

$4,925

22 May 17

1 Jun 17

$4,925

27 May 17

6 Jun 17

$4,925

29 May 17

8 Jun 17

$4,925

5 Jun 17

15 Jun 17

$4,925

12 Jun 17

22 Jun 17

$4,925

17 Jun 17

27 Jun 17

$4,925

19 Jun 17

29 Jun 17

$4,925

26 Jun 17

6 Jul 17

$4,895

3 Jul 17

13 Jul 17

$4,895

10 Jul 17

20 Jul 17

$4,895

17 Jul 17

27 Jul 17

$4,825

24 Jul 17

3 Aug 17

$4,825

29 Jul 17

8 Aug 17

$4,825

31 Jul 17

10 Aug 17

$4,825

5 Aug 17

15 Aug 17

$4,825

7 Aug 17

17 Aug 17

$4,825

12 Aug 17

22 Aug 17

$4,825

14 Aug 17

24 Aug 17

$4,825

19 Aug 17

29 Aug 17

$4,825

21 Aug 17

31 Aug 17

$4,825

26 Aug 17

5 Sep 17

$4,825

28 Aug 17

7 Sep 17

$4,825

2 Sep 17

12 Sep 17

$5,095

4 Sep 17

14 Sep 17

$5,095

9 Sep 17

19 Sep 17

$5,095

11 Sep 17

21 Sep 17

$5,095

16 Sep 17

26 Sep 17

$5,095

18 Sep 17

28 Sep 17

$5,095

23 Sep 17

3 Oct 17

$5,095

25 Sep 17

5 Oct 17

$5,025

2 Oct 17

12 Oct 17

$5,025

9 Oct 17

19 Oct 17

$4,895

Please note: while prices are accurate at time of loading they are subject to change due to currency fluctuations and currency surcharges may apply.Please check price at time of booking

Itinerary

Day 1 - Welcome to the Eternal City of Rome

Rome is the former religious, political and commercial heart of a vast empire. You will be met on arrival at Rome's Fiumicino Leonardo da Vinci Airport. At 09:30, 12:30 & 15:30 your transfer departs for your hotel. Later, join your Tour Director for a Welcome Reception and the opportunity to mingle and get to know each other over a pleasant evening of dinner and wine.(WD)

Day 2 - VIP Vatican and Rome with a Local

In the morning, you will be joined by a Local Expert to lead you through the priceless art collection of the Vatican Museums culminating beneath Michelangelo's famous ceiling in the Sistine Chapel. Your VIP visit includes fast-track entry and a behind-the-scenes look at the Bramante Staircase, a part of the Vatican closed to the general public. More of Michelangelo's genius is on display next door in St. Peter's Basilica. There's free time to do as the Romans do, or perhaps join a tour inside the Colosseum. Rome is about art, antiquity, piazzas and pizzazz, and our included walking tour this afternoon has it in abundance. Toss a coin into the spectacular Trevi Fountain, see the Pantheon, the best preserved monument from the Roman period, and enjoy free time for dinner in Piazza Navona. Saturday departures will visit the Vatican and St Peters Basilica on Day 3.(BB)

Day 3 - Ancient Pompeii and the Isle of Capri

Journey to the ill-fated town of Pompeii, frozen in time when it was engulfed by an eruption of Vesuvius in 79AD. Walk with a Local Expert through the cobbled streets to learn about Roman life in the first century before enjoying a refreshing lemon granita. Then continue to the Bay of Naples and board your hydrofoil to the Isle of Capri. In brilliant sunshine, enjoy a scenic drive by open-top taxi past orange and lemon groves to your hotel, then appreciate the glorious vistas over the rugged coastline and sparkling sea. Saturday departures will visit Pompeii on Day 5. <(BB)

Day 4 - The 'Isle of Dreams'

(Relaxed Start) Wake up refreshed on this delightful island. Visit Capri town, with its whitewashed houses, winding alleyways and small cafes. A Local Expert escorts you to the luxuriant Caesar Augustus Gardens for views of the Faraglioni rocks. The afternoon is yours to devote to Capri's fashionable boutiques, craft shops and artisans studios. As the glow of twilight descends and the day-trippers have gone home, the island is yours to saunter along scenic paths, gather with the locals in the piazzetta or relax with a glass of wine at an al-fresco restaurant.(BB)

Day 5 - The 'Autostrada del Sole' to Florence

Descend to the port by open-top taxi and take the hydrofoil across the bay to Naples. Follow the 'Motorway of the Sun', north past Rome, through the Province of Umbria. Continue through idyllic Tuscan landscapes to Florence, centre of art and culture, and heart of the Italian Renaissance.(BB / DW)

Day 6 - Florence, Birthplace of the Renaissance

Join a Local Expert to see Giotto's bell tower and the 'Gates of Paradise' which adorn the baptistery. Visit the Piazza della Signoria - an open-air museum and still the political heart of Florence. Stroll on to Piazza Santa Croce, famous for its basilica and leather goods. The joys of Florence are varied so the afternoon will be free for your own personal exploration.(BB)

Day 7 - The Cinque Terre and Portofino to Santa Margherita

The famous Italian Riviera and the Cinque Terre - a highlight of your journey as a UNESCO World Heritage site and one of Italy's most beautiful landscapes. With a Local Expert, appreciate the views as you approach one of the picturesque fishing villages by boat. Spend some time exploring the old medieval quarter or the popular sandy beach before continuing along to the elegant seaside village of Portofino, epitome of La Dolce Vita. Admire the colourful houses, browse the boutiques or stay a while in the cafe bars on the piazzetta and watch the yachts moored in the harbour. Weather permitting, return along the rugged Ligurian coast by boat to the resort of Santa Margherita.(BB / DW)

Day 8 - Lake Maggiore

In the morning, head north to the beautiful Italian Lake District, a favourite retreat of the rich and famous where alpine scenery combines with luxuriant subtropical vegetation. Relax and enjoy an afternoon at leisure at this popular resort and beautiful lake or perhaps take a cruise out to the lovely Borromean Islands? For your dining pleasure, you are invited to choose from a selection of local restaurants.(BB / DA)

Day 9 - Venice with Wine and Verona along the way

Follow the southern fringes of the European Alps to the vineyards, close to the shores of Lake Iseo. Winemaking traditions run deep here and you will get to taste the delicious vintages produced with a master vintner at a family-owned estate. Continue to Verona, the setting for one of history's most romantic love stories. Walk with your Tour Director to Juliet's balcony in the inner courtyard of the Capulet home and see the well-preserved Roman Arena, still used for open-air opera performances. Head on to the unique city of Venice - a complete step back in time to the 16th century. In the evening, celebrate your tour finalé with good food, good wine and good company in a magical setting.(BB / CD)

Day 10 - Venice and the Magic of 'La Serenissima'

(Relaxed Start) Cruise to a traditional arts centre on the island of Giudecca to admire the art of glassblowing. Visit St. Mark's Square where the city's former wealth and power is evidenced by the riches of St. Mark's Basilica. Also admire the Doge's Palace and its adjoining Bridge of Sighs. Take your seat in a traditional gondola for a serenade through the myriad of beautiful canals. Relax and enjoy the atmosphere, music and songs as you drift along in romantic awe.(BB)

Day 11 - Arrivederci Venice

Alas, you must bid farewell to this enchanting city. Your departure transfer arrives at Venice Airport at 08:00 and 09:30.(BB)
*Terms and Conditions
Offer subject to availability at time of booking. Prices are per person share twin based on best available tour price, inclusive of all discounts unless otherwise stated. Prices are subject to currency fluctuations and are based on cash or cheque. Tour deposit, amendment and cancellation conditions may apply. Travel agent service fees may apply. Special conditions apply - please ask for full details at time of enquiry.
HLO Ref# 6156