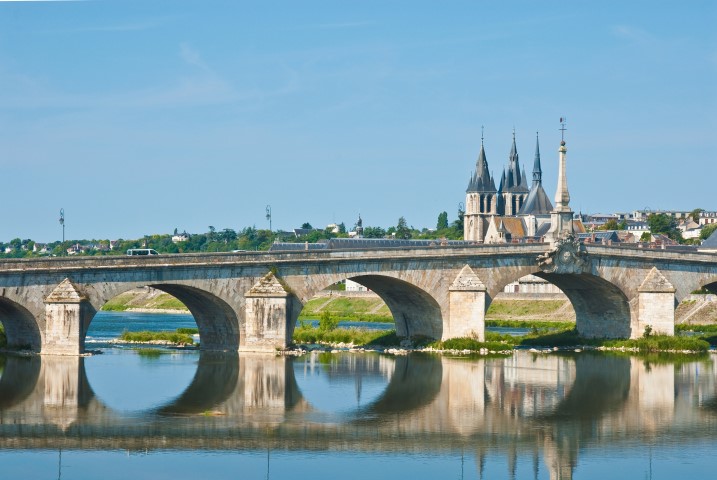 Investigate Normandy's role in the 1066 and 1944 invasions that changed the course of history.

Explore the beautiful city of St-Malo, the châteaux of the Loire and gleaming Paris. This tour combines with Country Roads of France to form French Heritage
Tour Operator:
Insight Vacations
What's Included

An expert Insight Tour Director, at the pinnacles of their careers, will smooth your way throughout your journey. They are your 'travelling concierges', expert guides, consummate organisers and friends in a foreign land.
Enjoy the unique comfort of Insight's luxury air-conditioned 40 seat coach with extended leg room and on-board restroom. It's business class comfort.
Personal radio headsets, gives you the freedom to wander during visits to famous highlights without missing any of your local expert's fascinating insights and commentaries.
Baggage handling everywhere, with seamless and prompt delivery to your door at every hotel. Hotel and restaurant tips included - you'll never have to worry about how much to give, nor search for foreign currency. Plus we include all taxes and porterage charges at hotels.
Stay connected with friends and family with our complimentary coach and hotel WiFi.
Insight Flourishes - from time to time, your Tour Director will enchant you with local tidbits, each representing authentic food or beverages unique to the destination.
Included airport transfers at scheduled times on arrival and departure days.

Pricing

Start Date

End Date

29 Apr 17

6 May 17

$3,425

Book by 27 Apr 2017 and receive early payment discount. Pay only $3,254 for this departure

13 May 17

20 May 17

$3,575

Book by 27 Apr 2017 and receive early payment discount. Pay only $3,396 for this departure

20 May 17

27 May 17

$3,625

10 Jun 17

17 Jun 17

$3,625

17 Jun 17

24 Jun 17

$3,625

Book by 27 Apr 2017 and receive early payment discount. Pay only $3,444 for this departure

8 Jul 17

15 Jul 17

$3,495

Book by 27 Apr 2017 and receive early payment discount. Pay only $3,320 for this departure

22 Jul 17

29 Jul 17

$3,450

5 Aug 17

12 Aug 17

$3,375

Book by 27 Apr 2017 and receive early payment discount. Pay only $3,206 for this departure

26 Aug 17

2 Sep 17

$3,450

9 Sep 17

16 Sep 17

$3,650

Book by 27 Apr 2017 and receive early payment discount. Pay only $3,468 for this departure

16 Sep 17

23 Sep 17

$3,650

Book by 27 Apr 2017 and receive early payment discount. Pay only $3,468 for this departure

23 Sep 17

30 Sep 17

$3,650

Book by 27 Apr 2017 and receive early payment discount. Pay only $3,468 for this departure

30 Sep 17

7 Oct 17

$3,525

7 Oct 17

14 Oct 17

$3,525

14 Oct 17

21 Oct 17

$3,525

Book by 27 Apr 2017 and receive early payment discount. Pay only $3,349 for this departure

Please note: while prices are accurate at time of loading they are subject to change due to currency fluctuations and currency surcharges may apply.Please check price at time of booking

Itinerary

Day 1 - Welcome to Paris

On arrival at Charles de Gaulle Airport, your airport transfers leave for the hotel at 08:30, 11:00 & 13:30. After checking-in, the capital's grand boulevards and world-famous landmarks are yours to explore. Later, join your Tour Director for a warm Welcome Reception and the opportunity to mingle and get to know each other over a pleasant evening of dinner and wine.(WD)

Day 2 - Rouen, Honfleur and the Normandy Beaches

Follow the River Seine to Rouen, capital of Normandy, to admire its ancient cathedral - a masterpiece of the Gothic style and the subject of a series of paintings by Claude Monet - then wander through the narrow streets beneath the Great Clock to the old market square. Here, a superb modern church commemorates the burning of Joan of Arc on this very spot in 1431. Your route continues into the rich dairy lands of Normandy and stops in the charming fishing town of Honfleur, which has somehow escaped the ravages of time. Then drive past Juno and Gold beaches, both played a part in the 1944 Normandy landings, and continue to your hotel perched on the historic coast where the D-Day landings took place.(BB / DW)

Day 3 - Bayeux and D-Day Landings

There are poignant reminders of WWII as you drive along some of the beaches of the D-Day landings. Visit the D-Day Museum and see the remnants of the artificial port in the bay of Arromanches. Travel back in time as you visit the Bayeux Tapestry Museum which chronicles the Norman invasion of Britain in 1066. Then with a Local Expert, spend a few reflective moments at the American Military Cemetery of St. Laurent near Omaha Beach before following the route of the Rangers and visit the bunkers and the Rangers Memorial at Pointe du Hoc.(BB)

Day 4 - Mont-St-Michel, St-Malo and the Normandy Beaches

Journey through 'Bocage country' for a visit with a Local Expert of the hilltop abbey of Mont-St-Michel. The abbey stands on an island and is reached by a causeway across the shining sands. Behind the outer ring of defences huddles the small town - its one street containing shops, cafés and hotels. Continue along the Emerald Coast to stunning St-Malo, situated on the Rance Estuary and one of the most charming places in France. At your leisure, you can walk around the ramparts of the thick city walls, offering fantastic views over the old town and the bay. By night, the town's medieval maze of winding streets are abuzz with quaint bars and restaurants.(BB)

Day 5 - Scenic drive along the Loire Valley to the Château de Rochecotte

Head south to follow the valley of the Loire, passing the moated castle at Angers. Cross the Loire to Saumur, where a local vintner will guide you through tastings of the region's delicious wines. Journey to the fairytale Château d'Ussé. After a fascinating tour of the castle that inspired Charles Perrault to write 'Sleeping Beauty', continue on to your château hotel, where you can relax like royalty in sumptuous surroundings.(BB)

Day 6 - Villandry Experience

Head to Château de Villandry, the 'Jewel of the Loire', and visit the glorious gardens. Ensure you don't miss the water garden, ornamental garden and kitchen garden – a stunning sea of fragrant green herbs, silvery cabbages, and purple basil. From here, return to your own superb château for relaxation and free time. At night, your Celebration evening starts with a glass of local sparkling wine and continues with excellent service and delicious dishes in the most wholesome setting, ensuring the memory of your meal will linger long after you've returned home.(BB / CD)

Day 7 - La Beauce and Chartres to Paris, City of Light

Driving through the vast wheat fields of La Beauce, Chartres Cathedral looms large on the horizon. Auguste Rodin called it the 'Acropolis of France', and once inside you can marvel at the beautiful stained-glass rose window which floods the cathedral with colour and light. From here, return to the French capital, where your Tour Director introduces you to all the fabulous sights including Notre Dame Cathedral and the immense façades of the Louvre. Behold the vast Place de la Concorde, where the guillotine once stood, then drive down the Champs Elysées to Napoleon's Arc de Triomphe. After dark, the City of Light really lives up to its name when the monuments, buildings and bridges are lit up in all their glory. For that special touch of excitement and glamour don't miss the chance to experience one of the world-famous cabaret shows.(BB)

Day 8 - Au revoir Paris

Departure transfers arrive at Charles de Gaulle Airport at 08:00 & 11:00(BB)
*Terms and Conditions
Offer subject to availability at time of booking. Prices are per person share twin based on best available tour price, inclusive of all discounts unless otherwise stated. Prices are subject to currency fluctuations and are based on cash or cheque. Tour deposit, amendment and cancellation conditions may apply. Travel agent service fees may apply. Special conditions apply - please ask for full details at time of enquiry.
HLO Ref# 6157