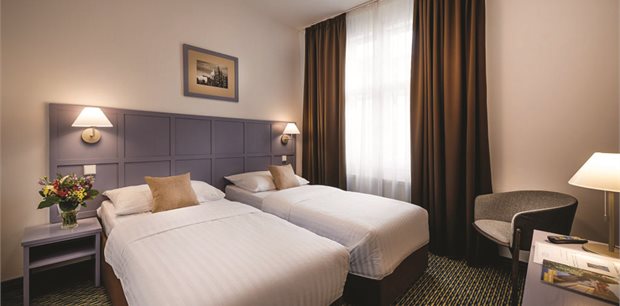 Central Hotel Prague is an excellent accommodation option in a great location within Prague – just a few steps to Prague's Jewish quarter, Josefov and the Old Town Square. Boasting 50 comfortable rooms which face a quiet street, the hotel features a lovely restaurant and a bar servicing local Czech beers.
Property Features: Restaurant, Bar, Room service.
Room Features: Fan, Cable TV, Ironing facilities, Hair dryer, Safe.
Includes: Full breakfast daily.
Children: 0 to 11 years – adult prices apply.
Max Capacity: Standard – 2, Superior – 3.
Distances: Old Town Square 400m.
From price based on 1 night in a Standard Room and may fluctuate. City tax may apply payable direct. Please note prices are based on the lowest available price at the time of publishing and are a guide only.
*Terms and Conditions
Prices are based on the lowest available price at the time of publishing and are a guide only. Closeout periods may apply. All prices are subject to availability and subject to change due to factors such as currency fluctuations, taxes or seasonal surcharges. It is our policy to try and present the true cost of our holidays inclusive of all airport and government charges. Please accept however that these charges are not within our control, therefore we reserve the right to pass on any increase in cost. Accommodation 'From' prices are per person per night twin share using the lead-in room type in low season based on the length of stay indicated on the individual property listing. A minimum stay is generally required. Where a price for more than a one night stay is featured, the nights must be taken consecutively. Prices are land only, airfares additional. Bonuses are as specified and are subject to availability. Valid for services used 1 April 2018 – 31 March 2019 unless otherwise advised. Capacity limitations apply and may not be available on all services. Prices are in New Zealand dollars. Travel Agent professional service fees and airline GDS fees may apply. For full terms and conditions and cancellation fees please see your helloworld travel agent.
HLO Ref# 9877