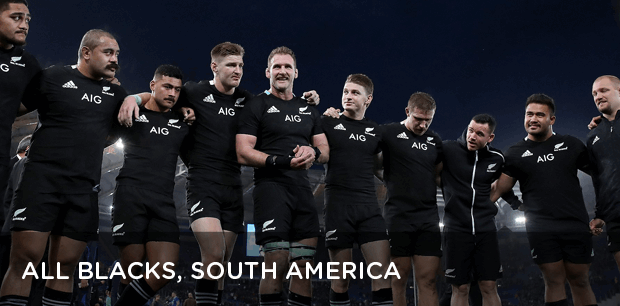 Experience the All Blacks vs Argentina & discover the wonderful culture of the modern day and historic South America.
Will the All Blacks destroy Argentina sending them whimpering with their tails between their legs. Or, will Argentina surprise the All Blacks by delivering an attack akin to David and Goliaths standoff. An epic battle will play itself out under the sound of roaring Argentinians and Kiwis. Who will emerge to be victorious?
These All Blacks Tours are a great opportunity to discover more of Argentina or travel further afield to enjoy highlights such as the incredible Iguazu Falls, beautiful Rio de Janeiro, mystical Machu Picchu, or the pristine Galapagos Islands. Where ever you want to travel in Latin America we can help you get there.
We will manage all the All Black tour essentials including official match tickets, accommodation and even flights, leaving you the opportunity to enjoy all the action without any worries.
Send an enquiry to register your interest in 2020 matches.
Please note: Viva Expeditions is an authorised reseller of All Blacks Tours. Viva is not able to sell match tickets by themselves. All tickets must be packaged with accommodation and services.
4 nights fr $1,350* pp

Viva Expeditions | All Blacks Basics Tour

5 day tour from Buenos Aires to Buenos Aires

Witness an epic battle between the All Blacks and the Argentina and discover the wonderful culture of Buenos Aires. Known as the Paris of the South, experience a wonderful city tour delving into glamourous avenues lined with fashionable shops, lively restaurants and tucked away coffee shops. A perfect whistle-stop tour through the city's highlights including the colourful neighbourhood of La Boca and a passionate night of salsa.

5 nights fr $2,015* pp

Viva Expeditions | All Blacks, Beer & Beef

6 day tour from Buenos Aires to Buenos Aires

A tour designed around the perfect rugby condiment, beer and beef! This tour will whisk you around the highlights of Buenos Aires. Sample the best craft beer the city has to offer on a speakeasy tour visiting hidden bars and breweries. Join a true Argentinian feast, with tables of 13 coming together for a special dining experience. A unique 24-hour preparation process has led people to make the bold claim that this is where one of the best steaks in Argentina is served.

8 nights fr $3,920* pp

Viva Expeditions | All Blacks, Argentina & Brazil

9 day tour from Buenos Aires to Rio de Janeiro

Enjoy famous Argentinean beefsteaks, red wine and the All Blacks vs Argentina rugby game live in Buenos Aires. Settle into the Argentinian lifestyle with a city tour of Buenos Aires visiting Parisian-style restaurants and cafes. You'll likely feel the heat of an intimate & passionate tango show and a tense rugby match, but nothing will prepare you for the mighty Iguazu Falls. Lining a 2.7km wide horseshoe-shaped gorge, you can walk across suspended walkways as water cascades underneath and over an 82-meter shire drop.

21 nights fr $10,350* pp

Viva Expeditions | All Blacks and South America

22 day tour from Buenos Aires to Santiago