In March 2017 I set off to Adelaide to experience some of South Australia's finest cuisine and friendly hospitality on Melanie's Fabulous Foodie Tour. Melanie Simpson, business owner of the Fat Pigeon Café in Piopio, hosted our group. Her passion for great food began at a young age, nurtured by her mother and grandmother, who taught her the art of making great-tasting dishes. Melanie grew up knowing that making delicious, eye-appealing food was important as it meant sharing "the love" with all who ate at their table.
The early arrival of our Air New Zealand flight into Adelaide allowed us plenty of time to explore the beautiful seaside suburb of Glenelg and the finest of local delights at the Adelaide Central Markets. A special highlight of our tour was an interactive cooking class and healthy dinner experience at Sprout, an innovative cooking school in the West Adelaide suburb of Hilton. Read more about Sprout and one of its delicious recipes on the next page.
The tour continued with visits to restaurants in the Adelaide CBD that deliciously tantalised our taste buds. La Boca Bar and Grill in North Terrace specialises in Argentine cuisine complete with a wood-fire grill, a great atmosphere and plenty of tapas and mojitos. Jamie Oliver's Italian Restaurant, in a refurbished former bank in King William Street, was simply heaven! Highly recommended is the divine Epic Chocolate Brownie with Caramel Amaretti Popcorn, Chocolate Sauce and Ice Cream.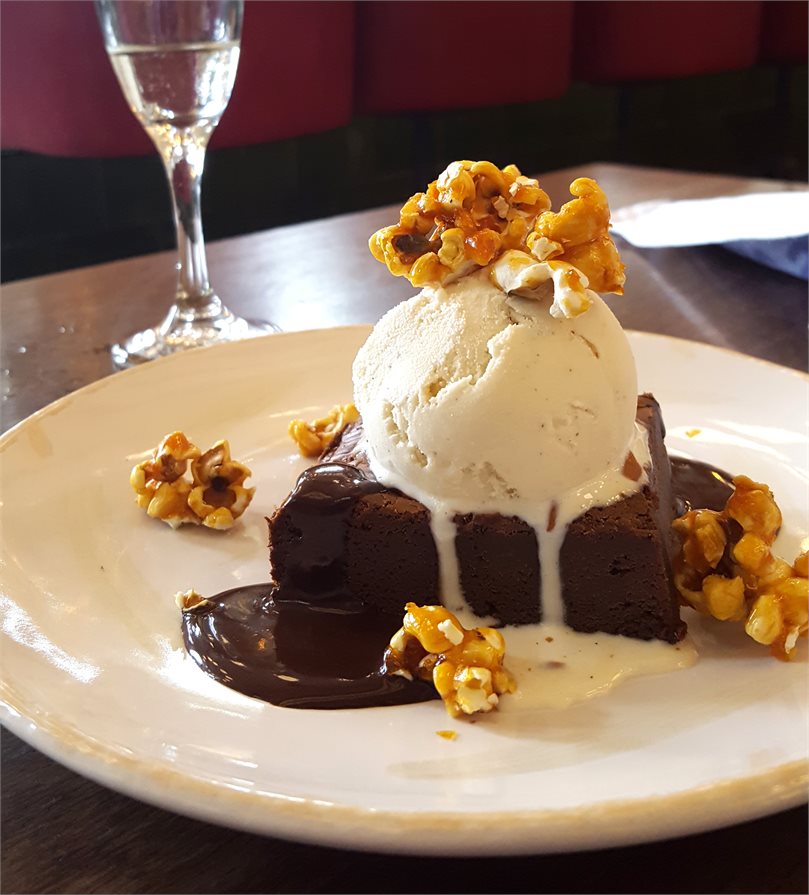 The tour then ventured north to the famous Barossa Valley where Graham at Wolf Blass Winery enhanced our appreciation of fine wines and Jo at Jacob's Creek Visitor Centre expanded our viticultural knowledge with a walk through the model vineyard. We enjoyed the peaceful and relaxing atmosphere at Maggie Beer's Farm Shop with its large selection of beautiful preserves and cooking accoutrements and our group tasted and purchased eagerly.
Historic Hahndorf in the Adelaide Hills is the oldest Germanic village in Australasia and a pure delight. Simply strolling down the tree-lined streets with quaint buildings selling German foods, handmade candles and other memorabilia added to the holiday atmosphere. Our group thoroughly enjoyed trying new gourmet experiences such as the sausage platter with sauerkraut and pretzels at the Hahndorf Inn. Lovely surprises and experiences.
The natural wonders of Kangaroo Island with its beautiful beaches, dramatic landscapes and rocky cliffs were next on our itinerary along with some of the island's famous wines and artisan foods. A spectacular lunch at Andermal Marron Café and later unique shopping at the Emu Ridge Eucalyptus Oil Distillery and at Clifford's Honey Farm embellished a wonderful trip full of new discoveries.
This taste of Adelaide and South Australia was a huge success and left all of our group wanting more. I specialise in crafting tours to match my clients' needs, desires and travel outcomes and I will definitely return to this spectacular food and cultural region of Australia.