In May 2016, I won a place on an expedition trek to Everest Base Camp. This was not on my bucket list at all but as I was given this opportunity and people who had completed the trip told me what an amazing, life-changing experience it was, I gladly went.
The adventure began on 24 October and after a couple of long-haul flights with Air New Zealand and SilkAir I arrived in Kathmandu, the capital of Nepal. Here I met the rest of my 20-strong trekking group hosted by Air New Zealand pilot Mike Allsop, one of a small group of New Zealand adventurers who has successfully reached the summit of Mt Everest. We spent the next couple of days exploring Kathmandu, which is a crazy but special city.
Next we flew to Lukla in eastern Nepal and landed at Tenzing-Hillary Airport which is known as the most dangerous airport in the world. It was really exciting actually and the pilots' landing on the short uphill runway at the altitude of 2,743 metres was amazing. Here we met our Sherpa guides and started our trek to our first overnight stop in the village of Monjo. The six-hour trek to Monjo was the hardest thing I have ever done. I was not prepared for just how long and strenuous the day would be and getting used to walking at altitude and tackling the hills and terrain was overwhelming. I was so exhausted that I can't remember much of that first night.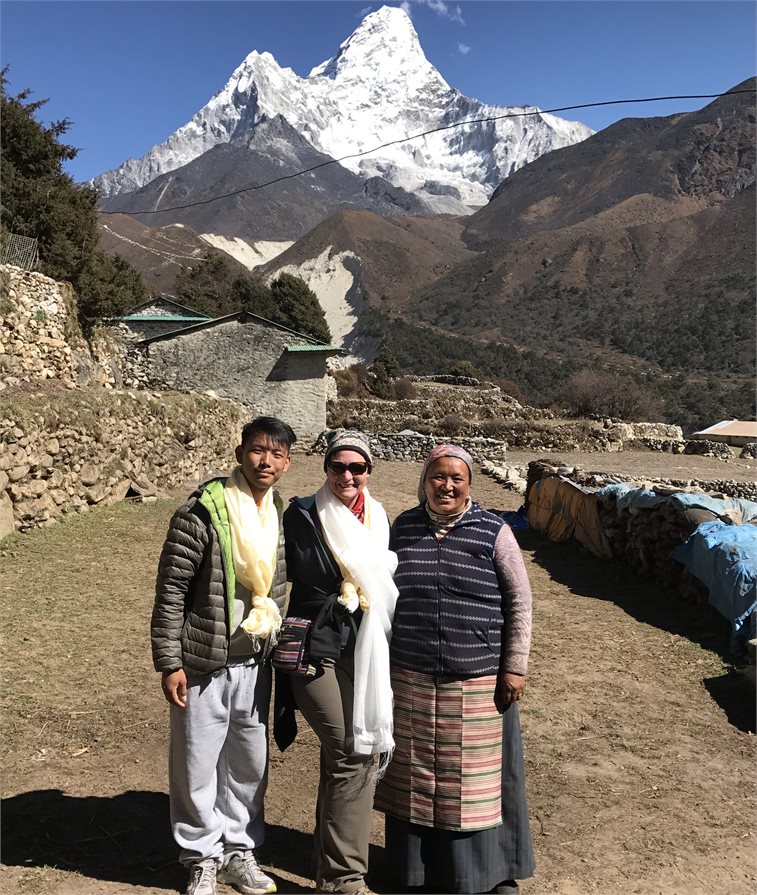 I was up for breakfast the next morning though and felt good. No sore muscles or stiff joints were a big bonus! On this day we started our trek to the village of Namche Bazaar, the largest Sherpa village in the Kumbu Valley. We crossed into Sagarmatha (Everest) National Park and trekked alongside the Dudh Kosi River to Namche Hill, climbing nearly 610 metres on a winding steep track for four and a half hours. I walked with another lady and we set our own pace. Breathing was hard and I could definitely feel the altitude but the views were amazing! We stayed two nights in Namche to rest and adjust to the altitude of 3,444 metres and it was a great place for picking up supplies for the rest of the trek and buying gifts to take home. It was now starting to get quite cold at night and we slept with hot water bottles to keep warm.
We were up early for our next trek to Pangboche and my walking buddy Yvonne and I were given a head start as we were the slowest in the group. We started at 6.30am from Namche, travelled 6km to Tengboche village where we visited the monastery and reached Pangboche 3km away at 5.30pm. At an altitude of 3,985 metres it was very cold (-4 C.) and breathing was difficult. It was a very long day but the scenery was again amazing.
And that's where I had my life-changing experience: I saw how far I had come, what I had achieved and what I was capable of doing.
The next morning it was up early again and we went to visit a local lama, Lama Gershi, for a special blessing. This day I found particularly difficult because when I started out I was struggling to breathe after just a couple of steps. I was drinking lots of water but had lost my appetite. The next part of our trek took us to Pheriche (altitude 4,270 metres) – three hours and 12km of hard slog but we made it. The temperature was -14 C. that night so I was wrapped up snugly in my sleeping bag.
Speaking of living at high altitude, it is best to be prepared at night because the Diamox medication that you take to reduce altitude sickness is a diuretic, and with all the water you drink you have to get up during the night. The teahouses (small hotels) that travellers stay in have shared bathroom facilities down the hall so I had my slipper shoes, torch and jacket waiting beside my bed.
A sleep-in! At 9am the next day we set off on an acclimatisation trek uphill to a ridge above Pheriche village. It was so hard and coming down was even worse: my trekking poles got a good workout and saved me from slipping several times. Once back at the teahouse I was not feeling good and was advised not to go the next day to Everest Base Camp. My body was experiencing mild altitude sickness and after waving goodbye to the group my young Sherpa guide Mingma and I headed back to Pangboche and waited for three nights for the group to return. I stayed in a teahouse called Sonam Lodge where I was well looked after by Mingma and the family who own the teahouse. They and the village hold a special place in my heart forever.
The next day our group made the eight-hour trek back to Namche where we stayed for a night. On our last day in Nepal we took a scenic helicopter flight up to Mt Everest and then back to Lukla. We flew over the route we had just trekked and I saw where the rest of the group had walked on to Everest Base Camp and the amazing mountain itself, up close.
And that's where I had my life-changing experience: I saw how far I had come, what I had achieved and what I was capable of doing. All of this in a beautiful country with amazing people.