FRESH, LOCALLY GROWN SEASONAL PRODUCE KEY FOR NEW MUSKET COVE MENU
Fiji's Musket Cove – an all-time favourite with Kiwi holidaymakers – has just appointed a new Executive Chef who is focusing on fresh, locally grown, seasonal produce for the resort's restaurants menu.
Gareth Pugsley has worked with Australian chefs such as Matt Moran of Aria fame, Justin North of Bécasse and most recently has been honing his skills in some acclaimed Middle East restaurants.
Musket Cove's cuisine has always been a standout in Fiji and with Gareth on board it will lift the offering to the next level. Gareth is excited about incorporating local produce and Fijian cooking techniques into his menu, and is keen to share his knowledge and experience with local talent.
Gareth isn't the only new addition to Musket Cove, as the upgrading and enhancing of the resort continues. Following on from the huge successes of the island's new Trader complex and Beach Bures refurbishment, Musket Cove has just refurbished its two-bedroom Villas, all of which are on a private island with their own centrally located swimming pool and BBQ area for the exclusive use of Villa guests. The private island is linked by a bridge to the main part of Musket Cove and is a leisurely five-minute stroll to the main resort facilities and marina.
Located on the iconic island of Malolo Lailai in the Mamanuca Group, 50-room Musket Cove Island Resort and Marina is a 50-minute fast-catamaran journey from Port Denarau. It is a truly Fijian barefoot island experience.
PULLMAN AUCKLAND AIRPORT TO OPEN IN 2019
A 5-star Pullman hotel to be built adjacent to Auckland Airport's international terminal is scheduled to open in late 2019. The new 250-room Pullman Auckland Airport will be located next to Accor Hotels' Novotel hotel, and close to Accor Hotels' Ibis Budget hotel, providing travellers to Auckland with a complete range of high-quality accommodation choices from Premium to Economy.
The launch of this 5-star accommodation will complement a major upgrading programme at the airport, which will see the international terminal expanded to add a domestic wing to provide a totally streamlined service for travellers.
The development of the Pullman hotel comes at a time of unprecedented demand for hotel accommodation in Auckland, with the city being New Zealand's major gateway for international arrivals. The Pullman will build on Accor Hotels' position as New Zealand's leading hotel group, with its current network of 33 hotels set to grow substantially over the next three years, including the opening of a new Sofitel So in Auckland and a Novotel at Christchurch Airport.
DIGITAL BRACELETS EXPAND THE CLUB MED EXPERIENCE
Club Med has introduced new innovative digital bracelets that unlock your accommodation room, and more.
Replacing the current Club Med bracelet – which signifies to staff that you are a Club Med guest – the new digital bracelet is currently being trialled in resorts, with Club Med Kani and Finolhu Villas in the Maldives amongst the first. Evolving from an original Club Med barter system that involved strings of colorful beads being traded for goods and services, the Club Med bracelet is a part of the brand's DNA and is a symbol of GMs (Gentils Membres – customers of Club Med) in the resorts.
The new bracelet is embedded with an encoded chip and can also be used as a payment system with transactions captured via mobile readers at most points of sales within the resort. It also unlocks accommodation rooms so guests no longer have to worry about carrying around room keys.
The waterproof digital bracelet is designed to be worn at all times, even while guests are swimming or taking a shower. Designed and manufactured with toxicfree and recyclable materials, the digital bracelet is kids-friendly and will be distributed to guests upon arrival.
The new digital bracelet innovation joins the recently introduced Club Med Resorts App, as Club Med turns its sights to continuing to elevate the guest experience.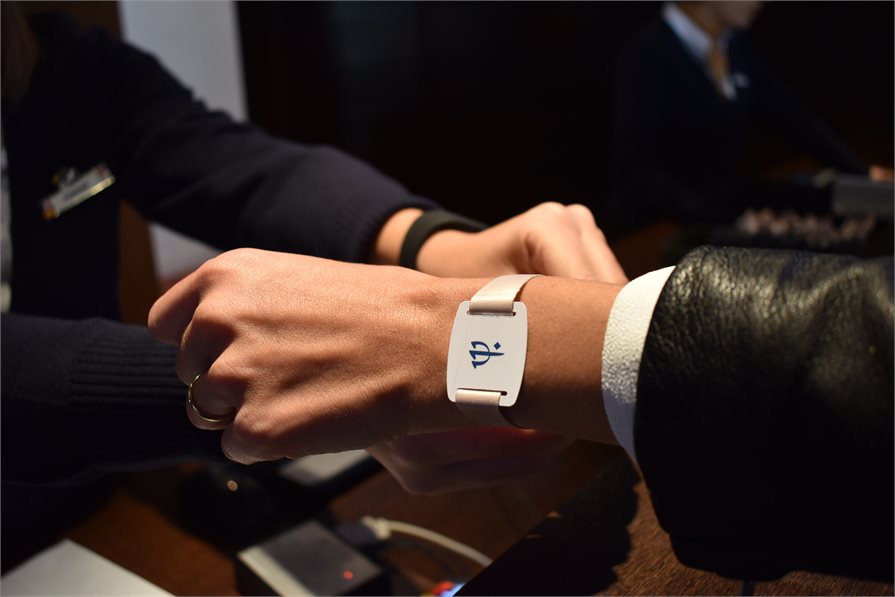 TAVEUNI PALMS RESORT FIJI WINS LUXURY TRAVEL GUIDE AWARD
The opulent Taveuni Palms Resort, Fiji on Taveuni Island has won best Private Luxury Hotel of the Year – Fiji at the recent 2017 Luxury Travel Guide (LTG) Asia & Australasia Awards.
The 5-star resort is the ultimate in boutique luxury. Set amongst swaying coconut palms on the edge of a golden sandy beach, the resort has just two luxury villas: the Beach Villa and Horizon Spa Villa.
Both villas are on their own private half-hectare of absolute beachfront with their own pool, beach, and personal staff of seven. The villas have two bedrooms and two bathrooms, with the Horizon Spa Villa featuring an additional one bedroom and bathroom in a separate air-conditioned bure with a luxurious spa pool.
Dining at the resort is an experience in itself, with each villa featuring five special private dining locations. Villas also come with a personal chef who designs breakfast, lunch and a four-course dinner expressly designed around guests' choices.
During the day there is plenty to do including hiking trips to waterfalls, coastal walks, horseback riding, pearl farm tours, snorkelling, deep-sea fishing, island beach picnics, dolphinwatching, paddleboarding, kayaking and diving trips to famous world-class sites.