Sprout is a hands-on, healthy cooking school and health studio established in 2011 in Adelaide. Sprout Catering, a branch of the cooking school, also offers fresh, seasonal food options.
Sprout's purpose-built kitchen is the largest in South Australia and its "hands-on" classes are exactly that. A Sprout class means cooking recipes from start to finish, in the process learning valuable skills, new techniques and delicious, healthy dishes to add to your repertoire.
The themes of the adults-only cooking classes, timed for daytime or dinner, include Coffee Beans & Brunch, Butchery & Braising, Simply Seafood and Homemade Takeaway.
Supervised by a trained dietitian and featuring matched wines, Sprout classes are an innovative, educational and entertaining experience.
The dessert below – Goat's Curd Mousse with Walnut Crumble & Fig – is reproduced courtesy of Sprout.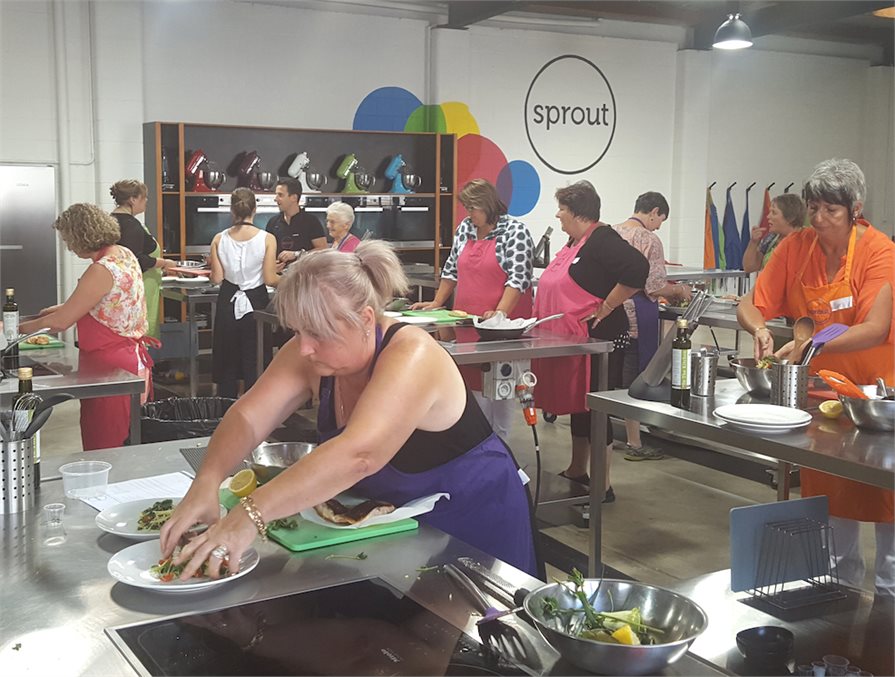 GOAT'S CURD MOUSSE WITH WALNUT CRUMBLE & FIG

Ingredients
6 figs, quartered
1 Tbsp brown sugar
150ml thickened cream
1 tsp vanilla bean paste or extract
125g goat's curd
Zest of 1 lemon
1 Tbsp honey
2 Tbsp gluten-free flour
10g butter
1 Tbsp caster sugar
¼ tsp ground cinnamon
1/3 cup walnuts, crumbled into small pieces by hand.

Method
Preheat the oven to 200 C. Line a tray with baking paper. Place the figs onto the tray (cut side up) and top each with a little brown sugar. Transfer to the oven and cook for 10-15 minutes or until tender but not completely falling apart.
Meanwhile, whip the cream and vanilla to firm peaks. In a second bowl, use a spatula to beat
together the goat's curd, lemon zest and honey. Fold the cream mixture and the goat's curd mixture together until well combined.

Rub together the flour, butter, sugar, cinnamon and walnuts in a small bowl. Tip the mixture into a dry frying pan and cook over medium-high heat, stirring, until it is a golden and fragrant crumble. Serve the figs with the goat's curd mousse and crumble.