Emirates expands free inflight Wi-Fi service
Emirates has expanded its popular free inflight Wi-Fi service – familiar to New Zealanders flying on the airline's daily A380 services from Auckland and Christchurch – with generous rates for all flyers.
Effective immediately, all Emirates Skywards Platinum and Gold members can enjoy free unlimited Wi-Fi during their Emirates flight, regardless of their class of travel.
In addition, Economy class customers and non-Skywards members can now enjoy 20MB of free data usage within the first two hours of log-in – double the current 10MB free being offered. Additional data can be purchased in 150MB or 500MB blocks at attractive rates, with tiered discounts for Skywards Silver and Blue members.
Wi-Fi services are available on more than 200 Emirates aircraft, and it is a service that Emirates continues to subsidise heavily. Demand for inflight Wi-Fi, already popular from the start, has grown tremendously.
The doubling to 20MB of free data will suit customers who are light Wi-Fi users looking to send short messages to their families and friends, or check their social media accounts while flying. Business travellers or more heavy users of inflight Wi-Fi will have the flexibility to purchase additional data packages as needed.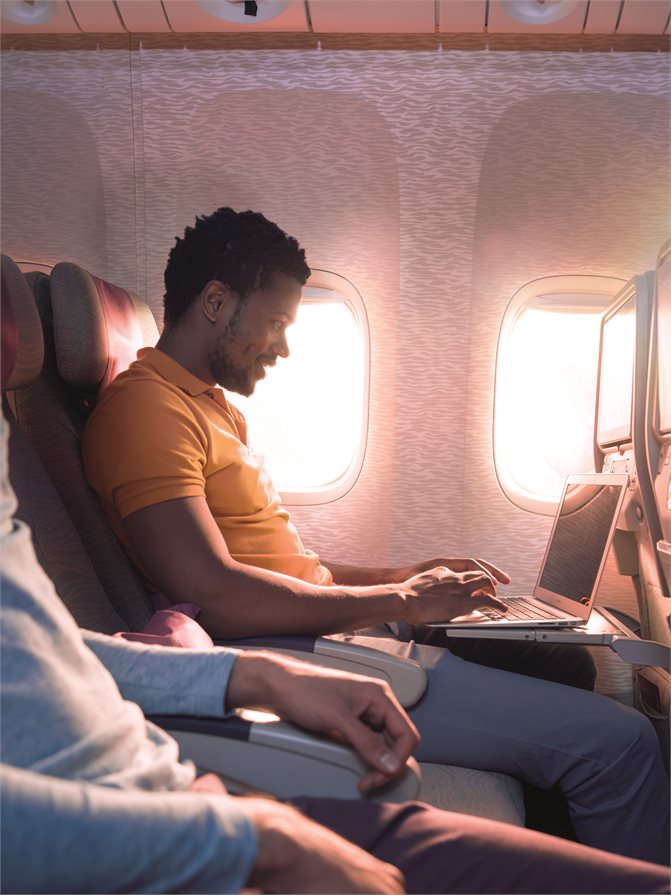 Auckland Airport launches new Strata Club
Auckland Airport has launched a new app-based loyalty programme called Strata Club, which is designed to recognise travellers' choices with personalised benefits and rewards.
Membership is open to all international and domestic travellers regardless of their airline and class of travel, as well as to everyone visiting Auckland Airport's international and domestic terminals. Benefits include access to upgraded Wi-Fi, with rewards offered in tiers based on a customer's purchases with Strata Club partners throughout the terminal and airport precinct. This includes online booking of airport facilities such as parking and the airport's own premium lounge.
Talking of which, the airport's erstwhile premium lounge, the Emperor Lounge, will soon be replaced by a bigger and more premium space. Complementing the new loyalty programme, it will be known as the Strata Lounge, and include a range of new features including bookable meeting rooms and relaxation pods. Booking a visit to the lounge online will be one way for Strata Club members to accrue more Strata points.
New Delta Airlines app doesn't rely on internet connection
Delta airlines has just released the latest iPhone version of its Fly Delta app, giving customers access to innovative airport wayfinding maps and the ability to keep up with boarding pass and flight details even when a reliable Wi-Fi or cellular connection isn't available.
The wayfinding tool on the Fly Delta app 4.2 version features interactive maps for 20 major airports – including the airline's hubs – and guides customers with turn-by-turn walking directions to their next gate, a restaurant or even baggage claim. Customers can search using generic terms like "coffee" or brand names like "Starbucks" and choose from a list of options to get directions.
Delta is the only airline to give customers the ability to access airport maps, boarding pass and flight detail information this way by iPhone. Passengers interact with the app by touching the departure city code, arrival city code or gate numbers, and through the My Trips, Flight Status and More sections.
The latest Fly Delta app version also includes tap actions on the app's home screen icon to reveal shortcuts to book a flight, checkin or view flight status. Offline mode is another new feature which increases the reliability of the app by making customer travel itinerary information – including boarding passes – available even when the device isn't connected to the Internet. Fly Delta for Android will be released in spring 2017.