Air New Zealand app now sends passport renewal reminders
Air New Zealand's mobile app can now scan and save passport information, sending a timely reminder when it's time to renew.
Every month around 550 would-be travellers turn up at the airport with expired passports, triggering a stressful situation.
Air New Zealand customers can use their smartphone camera to capture and save their passport details. Not only will this streamline their check-in experience but it also triggers expiry reminders including providing handy click-through links to renew New Zealand, Australian, British and American passports. An estimated 10 percent of Air New Zealand customers type their passport details incorrectly when they check-in online, and by saving their passport numbers to their profile, customers can enjoy a faster check-in experience.
Air New Zealand says customer feedback is driving the rollout of time-saving tools such as the passport renewal reminder and customers can look forward to an increasingly smarter digital travel experience – not only on the day of travel but also in the dreaming and planning phase. Customers consistently tell Air New Zealand that time is their biggest stress factor when travelling, so prioritising features that offer genuine benefits and convenience on the go is key.
Integrating smartphone camera technology to the app also paves the way for adding secure credit card scanning to the Air New Zealand booking system, as well as longerterm developments such as selfie-boarding, using biometrics and facial recognition to verify customers at the gate.
The Air New Zealand mobile app has been downloaded by 1.3 million people. Earlier this year the popular coffee-ordering function clocked up two million orders.
Apps make travelling with kids easy
Settling in for hours of air travel? Help mix things up for your kids by offering as many types of activities as cramped seating allows.
While on-board entertainment keeps the little ones busy and quiet when you're flying, waiting times for flights as well as car and bus trips can also be long, so before you head off on holiday load up your phone or tablet with a range of apps.
There's a wide choice of apps today covering all sorts of interests and catering for all ages so everyone is kept happy and occupied. You can play virtual board games together, create books or solve word puzzles. Or the kids can play their own games or puzzle apps to keep them interested – and thinking. Then there's always movies and music to top the entertainment selection off. The days of "I spy with my little eye" are long gone!
Stylish digital clutch bag
The Knomo Elektronista is a must-have clutch and cross-body bag for the digital age, with individual compartments for phones and iPads, including a padded inner section.
It also has a RFID protection-lined pocket that is essential for storing your phone, bank cards and passport to protect against identity theft.
Created in collaboration with Danish digital trends expert, Christiane Vejlø, the bag has a detachable strap that can be worn cross-body or carried as a clutch – and with a battery and cable included, phone and iPad charging on the go are easy.
The Elektronista comes in a range of colours, in nylon and in leather, and is ideal for those looking for an elegant yet extremely functional cross-body and clutch bag to take them seamlessly from day to night.
Register your bag with Knomo and if someone finds the bag it can be returned to the owner through the Knomo Web portal.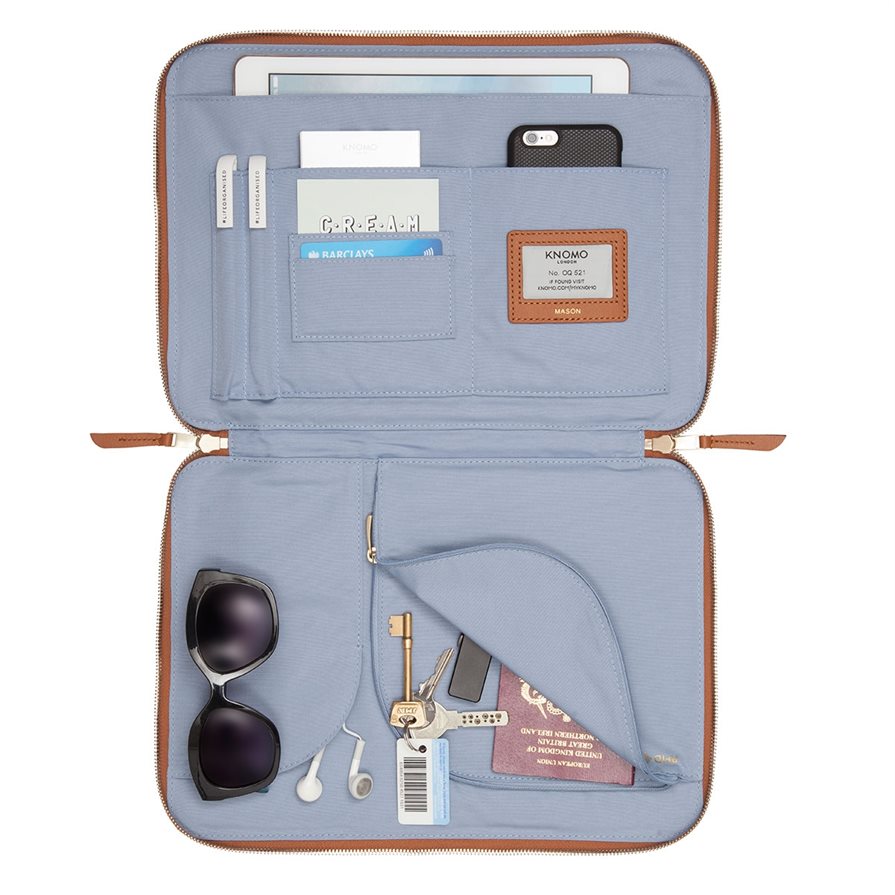 Laundry bags are a must for travelling
Koinobori travel laundry bags are a bright, fun way to keep dirty laundry separated from clean clothes while travelling. The handy-sized cotton bags are based on traditional Japanese "carp streamers" or wind socks, which are flown to celebrate Children's Day. Just feed dirty clothes into the fish's wide mouth and pull the drawstring closed until laundry time. The bag fits into both carryon and larger suitcases.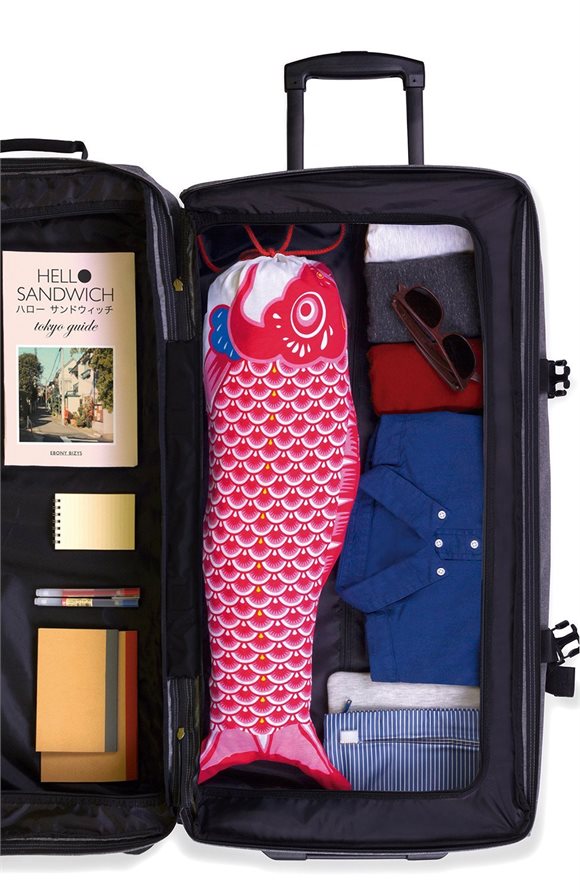 Diary your holiday with an online journal
Handwritten travel diaries have been overtaken by the digital age and Trip Journal is a great app option for storing holiday memoirs and sharing real-time holiday experiences with family and friends.
Trip Journal includes Google Earth integration so at the click of a button your viewers can see your travelling routes, visited destinations, photos, videos, comments and notes as your journey unfolds.
The number of media items and blog entries that can be included is not limited in any way, photos are shared in full size, and the recorded trip information can be instantly shared. Photos can also be shared from Trip Journal through Facebook, Flickr and Picasa, and videos can be directly uploaded to YouTube. Photo and video comments that are linked with media are uploaded to your favourite sharing portals as well. And you can also use GPS tweeting to let your friends know exactly where you are: it can be instantly viewed by everyone on Google Maps.