Michelle tells me she was as busy as I was in the weeks leading up to our Bali getaway. We both craved rest and poolside, books and the occasional cocktail would be all we needed. Or so we thought.
Bali restored us in ways we didn't expect. It awakened our senses, sparked our curiosity and reconnected us with life's true pleasures.


DAY ONE
We had flown in the day before on one of Air New Zealand's twice-weekly winter seasonal services, which rise to three per week during peak New Zealand holiday times. We were pleased to hear that Air New Zealand will nearly double its capacity on the Auckland to Denpasar route in 2018, with up to five flights a week using the airline's Boeing 787-9 Dreamliner. The current May to October season will also be extended next year by almost two months.
There is something exciting about opening the curtains to the first day of a beautiful holiday and any remnants of tiredness dissolved as the misty morning sun rose above the ocean and the sparkling blue water of our infinity pool stretched out to meet it. Bali was definitely beckoning.
An array of freshly pressed and squeezed juices were lined up for us as we reached the beachside of Alili resort for breakfast: earthy beetroot, healing turmeric, lush greens and sweet fruits followed by eggs and coffee (for me, anyway). I love rituals so this menu became one of mine every morning, and for breakfast adventurers the menu was also bursting with options.


Bali restored us in ways we didn't expect. It awakened our senses, sparked our curiosity and reconnected us with life's true pleasures.
It felt as though we could have been at any stunning resort in the world, only we could hear the early morning calls of roosters and see the rambling local dogs trotting along the beach. It gave us a sense that there was to be so much more to Bali than sun and cocktails.
We decided to explore real life in Bali by bike and it felt as though we were cycling through postcards: kites flying high in the blue skies, rice fields lined with fresh crops, strings of Balinese straw hats worn by the hard-working ladies who tend the fields, and my favourite of all, families of children playing and bathing in the babbling streams outside their homes – so much joy. Once again I had a sense that when we're tired it's not always rest we need, it's to be awakened. I was enthralled.


DAY TWO
Will Meyrick has set the standard for beautiful cuisine in Bali. A Scotsman who fell in love with the island 15 years ago, Will has not only created some the best dining experiences in Bali but also teaches his culinary passion in cooking schools. We weren't in Bali for the food but Will's stunning restaurants and the opportunity to learn to cook with the beautiful flavours of the Balinese culture inspired a new appreciation of its cuisine.
The evening before we had indulged at Will's Mama San restaurant and today his Hujan Cooking School was our adventure. It was like arriving at a gorgeous wedding: long tables, white linens and loads and loads of fresh flowers lured us toward our workstations. Teams of local chefs glided among us, teaching us how to chop, press, mix and season our way through three delicious courses. Icy-cold Bintang beer quenched our thirst as we cooked.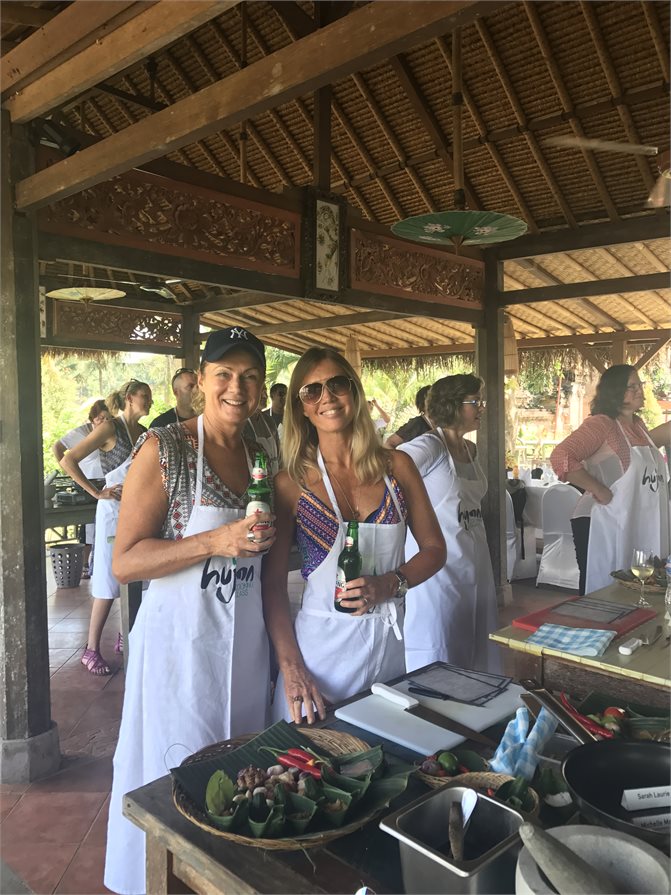 The opportunity to learn to cook with the beautiful flavours of the Balinese culture inspired a new appreciation of its cuisine.
When we finished it felt as though we were sitting down to a banquet and I pondered how much more we love something when we've carefully tended it ourselves. This very ethos is part of Balinese culture and people spend much of their day preparing and cooking meals together as a family.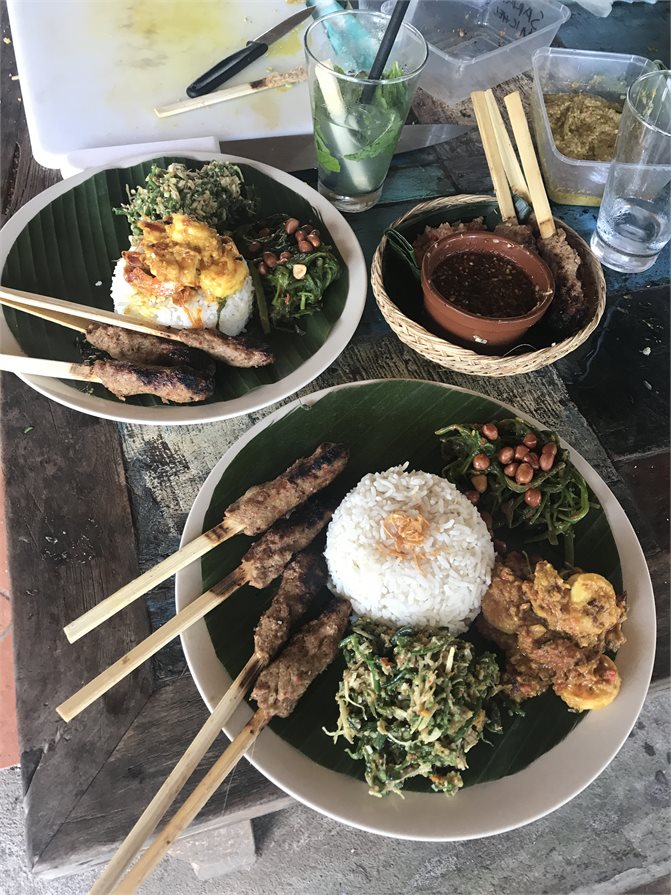 DAY THREE
The heavenly experiences we were enjoying – the rice fields, the roosters, the sunshine, the hattopped ladies, the playing children, the pounding ocean and the aromas of fresh cooking everywhere we went – made it feel as though we had been in Bali for a week. They added so many dimensions to our holiday that time seemed to expand, unlike the frenetic pace of life at home where the opposite seems to happen.
This morning was dedicated to the poolside and everything we needed was either right inside our pool bags or written on a poolside menu. Slowing down must be a state of mind because soon it felt like a day had passed and it was only lunchtime. Speaking of which, a lunchtime glass of punch and a salad prepared us perfectly for the shops.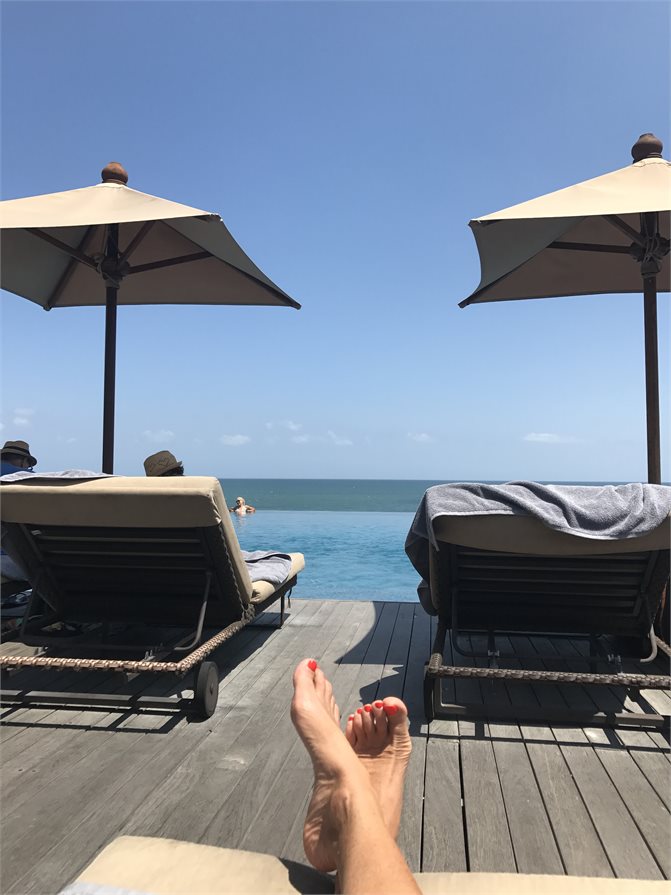 Bali is a wonderland of inspiration for your home. It doesn't have just stores or markets but entire streets dedicated to most things you can imagine. Streets lined with outdoor furniture. Streets lined with baths. Streets lined with light fittings or doorways or furnishings. Hire a driver and explore the streets – you'll wish you had a container to fill.
DAY FOUR
For three days we had listened to, lain next to and gazed upon the ocean. Today we decided to sail on it. We set out on a catamaran and if all we had done was go sailing it would have been awesome, but we had the added excitement of an exhilarating two-hour voyage southeast to Lembongan Island, a sleepy little fishing haven filled with character vessels and private homes and resorts nestled up in the hills.
Sun, sea spray, lazing and of course more eating – this time a traditional Balinese BBQ. One of the aspects I had come to love about Bali was that by day you could be immersing yourself in its culture and by night there could be cocktails, music and dancing, as was our night tonight.
Sometimes as I pack to go home, it feels as though I'm closing the door on a lovely room, or saying goodbye to some amazing experiences. Packing to leave Bali was like leaving a beautiful way of life. When I think of Bali I think of delicious tastes, warm smiles, a feeling of connectedness and sounds that seemingly don't go together – like rooster calls and crashing waves. When I think of Bali I am reminded of the richness of life.