IKURANGI – RAROTONGA'S ECO RETREAT
As the Cook Islands' first purpose-built eco accommodation, Ikurangi Eco Retreat offers travellers luxury mixed with sustainability – and the chance to enjoy a slice of paradise with the knowledge that their impact on the island and the greater environment is minimal.
The resort, which offers traditional Polynesian Are rooms as well as glamping-style safari tents, doesn't scrimp on luxuries with soft bed linens and waffle robes, but adds in sustainable extras such as reusable tote bags for shopping, reusable coffee cups (to be filled with fresh, fairtrade coffee roasted on the island) and refillable flagons to use at the local craft brewery (partowned by Auckland's Hallertau Brewery).
Ikurangi, which was a winner in the Air New Zealand Cook Islands Tourism Awards 2016/2017, is small, with just four safari tents and two Are, all carefully placed to ensure guests can enjoy not only privacy but the stunning views of the garden setting under the Takitimu mountains. Each tent has an outdoor shower and booking the Ariki Safari Tent for two includes a private claw-foot bath under the South Pacific stars and complimentary bubbles on arrival.
The resort is set back slightly from the ocean to reduce its impact on the marine environment but the water is just a short walk away – and Rarotonga's best swimming beach is easily reached on one of the resort's complimentary bicycles.
Owners Matt and Luana Scowcroft say sustainability is at the heart of everything they do at Ikurangi. It was behind the decision to use safari tents, shallow foundations for decking, composting toilets, sustainably sourced materials, and natural, biodegradable toiletries and cleaning products. They were also adamant that the comfort and luxury expected by guests would not be compromised along the way.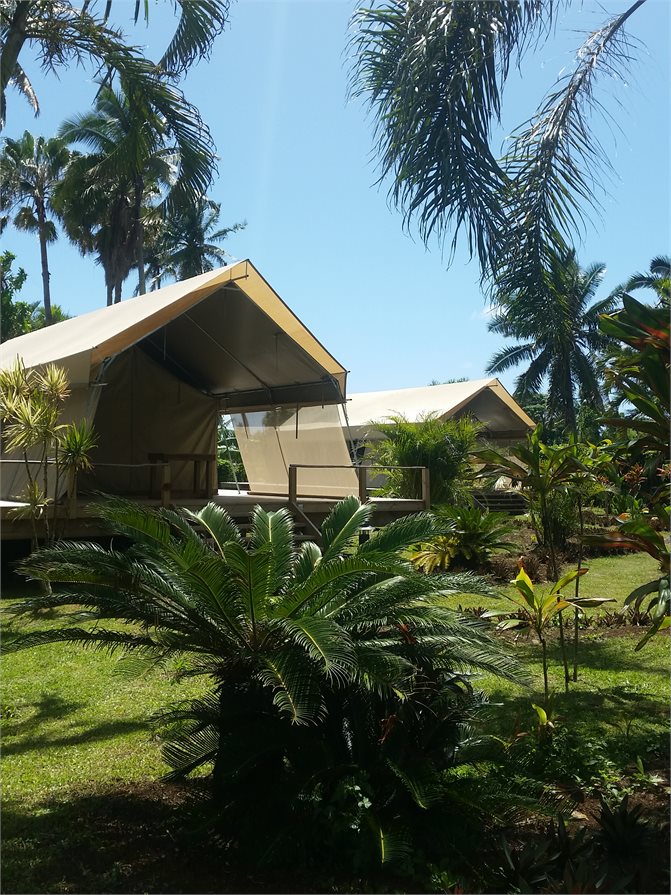 CLUB MED OPENS LUXURY RESORT IN ITALY
Located on the northern coast of Sicily in a quaint traditional fishing village with breathtaking panoramic views, Club Med Cefalu will be the first 5-Trident resort in the Mediterranean when it opens mid-next year.
The picturesque old town, positioned away from crowded hot spots and with a backdrop of rugged cliffs, features charming winding alleys, a dramatic cathedral, beautiful sandy beaches and stunning 180-degree views over the bay.
Club Med Cefalu will open its doors to guests from June 2018 and will be a flagship for Club Med's innovation, premium guest benefits and personalised services. It will offer Kiwis the chance to experience all the best Italy has to offer, such as sophisticated Italian design and the charm of Italian life mixed with the warm, inviting Club Med touch.
As part of Club Med's premium 5-Trident tailored experience, guests at Cefalu will experience exquisite service from arrival to departure. This includes a personalised welcome at the airport with a private transfer to the resort. For foodies, the resort's specialty restaurant, the Palazzo Gourmet Lounge, will serve an à la carte dinner menu designed by renowned Michelin 4-star chef, Andrea Berton. A wine bar will offer cigars while an in-resort delicatessen in partnership with food retailer Eataly will be open throughout the day.
The resort will also feature a Zen Bar and Zen Pool, situated in secluded surroundings away from the main area of the resort for guests wanting peace and tranquillity. Cefalu will also be the first resort to offer a stand-up paddleboard academy.
LEARN ALL ABOUT SHARKS AT SHARK FEST FIJI 2018
Shark lovers will be entranced with Beqa Lagoon Resort Fiji's Shark Fest event next year. It's billed as an adrenalin-filled week of shark encounters and interactive seminars with internationally renowned shark expert, Dr Erich K. Ritter. Starting on 7 July 2018, the event includes daily seminars covering all there is to know about sharks, along with practical skills and tips for when you are diving with these amazing creatures.
Dr Erich is the pioneer in shark-human interaction. Erich's main focus during Shark Fest is to bring humans closer to sharks, focusing on how to interact with them and to emphasise their crucial importance in the marine realm. By sharing his passion for sharks, Erich hopes to raise public awareness about how important sharks are for the oceans and for life on this planet.
Beqa Lagoon Resort's Shark Encounter dive offers the opportunity to encounter more than 11 species of sharks. Shark Fest attendees will also emerge from the course as proud ambassadors and advocates for promoting the protection and preservation of every shark species.
Beqa Lagoon Resort is one of Fiji's leading dive resorts and is a 45-minute boat transfer from Pacific Harbour.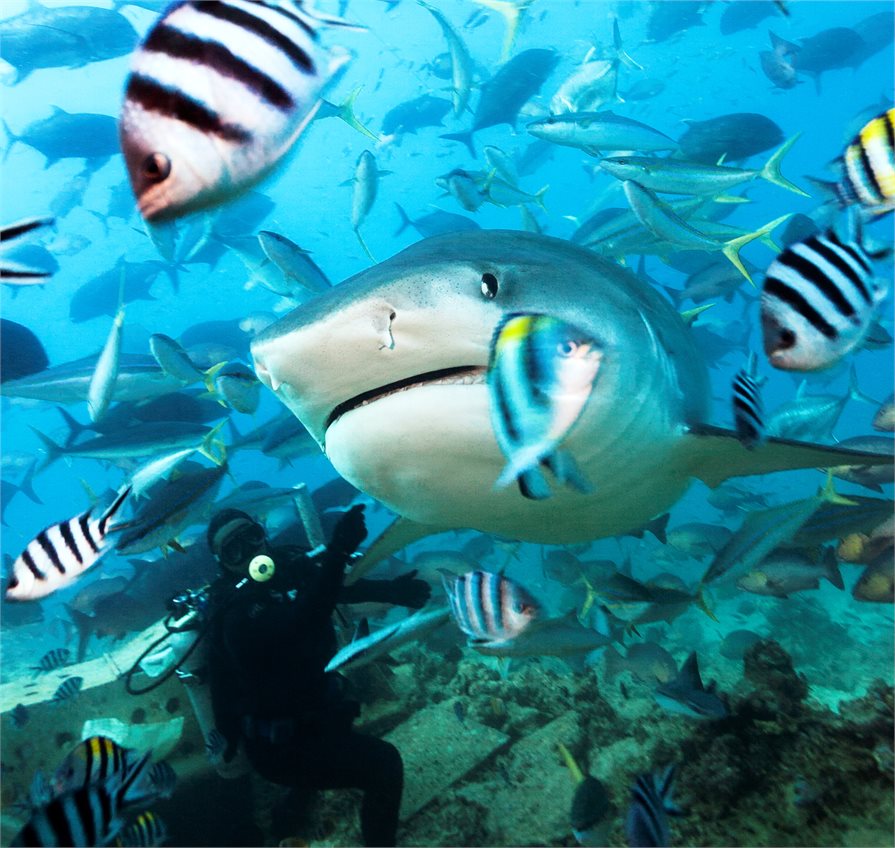 WELLINGTON WELCOMES BACK SOFITEL
Sofitel Wellington is once again open for business in New Zealand's capital city after a temporary hiatus. Located on Bolton Street between Wellington's iconic Beehive and Botanic Gardens, the beautiful 129-room, 14-storey Sofitel is perfectly located.
The hotel's features include the beautiful Green Room lounge and bar, named for the verdant gardens on view through its floor-to-ceiling glass walls, and the highly regarded Jardin Grill restaurant. With a wine list curated by leading New Zealand wine authority, John Saker, and an imaginative menu based around the grill, the restaurant is sure to quickly become a Wellington "must-do" experience.
Guests can also enjoy beautifully appointed rooms and suites in vintage gold and bronze tones with indulgent rain showers, complimentary Wi-Fi for multiple devices, Smart TVs with Bluetooth, and a So Fit gymnasium.
Sofitel Wellington is the third Sofitel in New Zealand, joining its awardwinning sister properties Sofitel Auckland Viaduct Harbour and Sofitel Queenstown Hotel & Spa.