Bali was not on my bucket list, but I had heard so much about it that I decided it was time I went, explored it and ticked it off. Since going, I can see why people return not only once but several times. Indonesia sure is a special place, the Balinese people are extremely friendly and the food is just delicious. I would love to go back and explore more of the islands as there are over 17,000 of them!
Being an adventurous traveller I arrived in Bali on a Virgin Australia flight at 2.45pm and went straight to the island's cultural heart in Ubud, an hour's drive north. By the time I got there I was shattered. I had dinner at the resort's restaurant and went to bed in anticipation of an early morning start the next day.
At 2am on my first full day in Bali I woke to be picked up for the Mount Batur sunrise trek. It began with a two-hour car trip north and once we arrived we set off in the dark, torch in hand, ascending the Mount Batur lava trail. (Mount Batur is an active volcano). The trek up is steep in parts with a lot of loose gravel so sturdy footwear is required. Looking back down the track you can see the lights of all the other trekkers.
We made it to the top where it was quite chilly, and sat down with a hot drink and waited for the sunrise. The clouds rolled in and covered the view but they came and went, making for interesting photos. This was definitely a trip highlight. Walking back down was an adventure in itself to see the terrain we had just hiked up. Mount Batur consists of two concentric calderas and from the open plateau they have created you can see the steam coming out of several craters.
Later on the same day trip we visited the Monkey Forest near Ubud and wow, what an experience that was. More than 700 monkeys live in the forest and there are three temples. It's very lush and green, and a very spiritual place.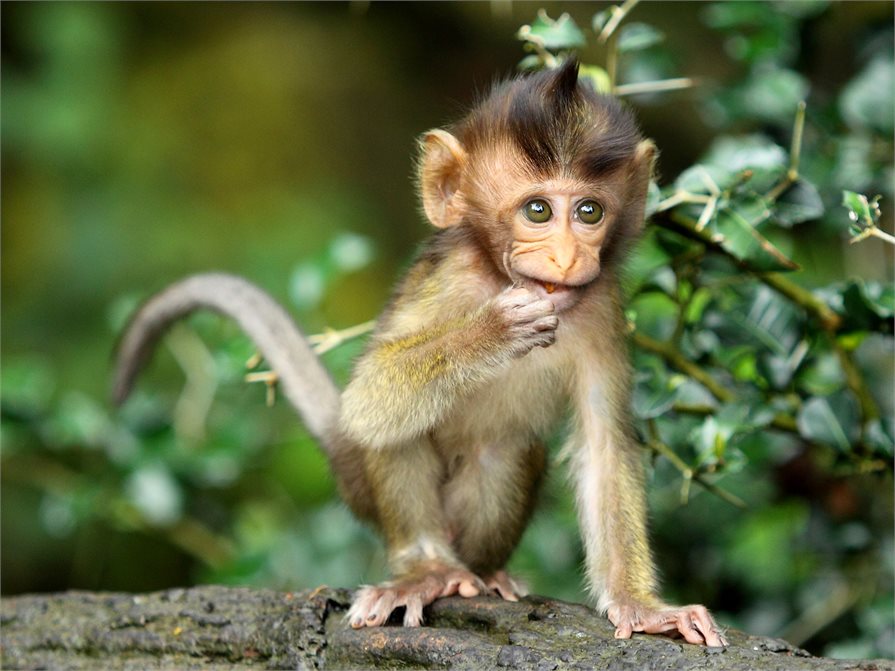 The monkeys are the main attraction and they are cheeky and cute at the same time. You can buy bananas to feed them but I just watched everyone else as they fed them and had them climbing all over them as the thought of a monkey clambering all over me was gross. The monkeys are very quick to react as soon as they see a banana: it's gone from your hand before you even hold it in the air.
The Tegallalang rice terraces near Ubud were also a magical sight, and we hiked amongst them seeing how the locals farm the land. You pay a small entrance fee but it's well worth it to explore and be right in the fields rather than just looking down from the top.
Chasing waterfalls is another thing you can do in Bali. I was lucky enough to have time to visit Blangsinga Waterfall on the southeastern side of the island while on my way to stay in Jimbaran Bay (south of the airport) for a couple of nights. It was great to chill out and hang out at the beach and also to visit the Tanah Lot Temple further up the west coast at sunset. There is an extremely popular waterfall nearby where many people visit and go swimming. When I go back I think I will check out others and also head over to a few in Lombok.
Jimbaran Bay is a fishermen's village with loads of places to eat seafood or try the local cuisine. The beach is lined with fishing boats and fishermen offloading their catch of the day which was yellowfin tuna. You can tell this is a fishing village by the smells and by walking through the fish markets. One restaurant we found while exploring the streets of Jimbaran Bay was Bloem's Waroeng whose authentic Balinese dishes were delicious.
From Jimbaran bay I travelled back to the east coast again to Pandang Bai Port to catch the ferry to the Gili Islands off the northwest coast of Lombok. I especially loved the island of Gili Trawangan and spent most of my time there. Gili Trawangan is a paradise away from the hustle and bustle of Bali. There is no motorised transport so it's either horse and cart or hire a bike. I hired a bike for the five days I was there and rode around the island enjoying the beaches and the sunset looking back toward Mounts Agung and Batur in Bali.
The food in Gili Trawangan is so delicious and the night markets are a great place to get a cheap meal. You can choose chicken, beef, fish or vegetarian skewers and then three sides, which are all local dishes. My favourite restaurant for Fish and Chips was Ikan, so if you are ever on Gili Trawangan try it out!
While on the island I went scuba diving five times. It has become one of my favourite places to dive as I got up and close to my favourite marine animal, the turtle, and not just one of them but lots. The best dive site for seeing them was Turtle Heaven and I also enjoyed diving around the bounty wreck of Gili Meno. The Gili islands are all very close together with loads of dive sites for people with all abilities. I can't wait to go back and explore more of the underwater world here. I would love to see the manta rays one day: I just missed seeing them this time.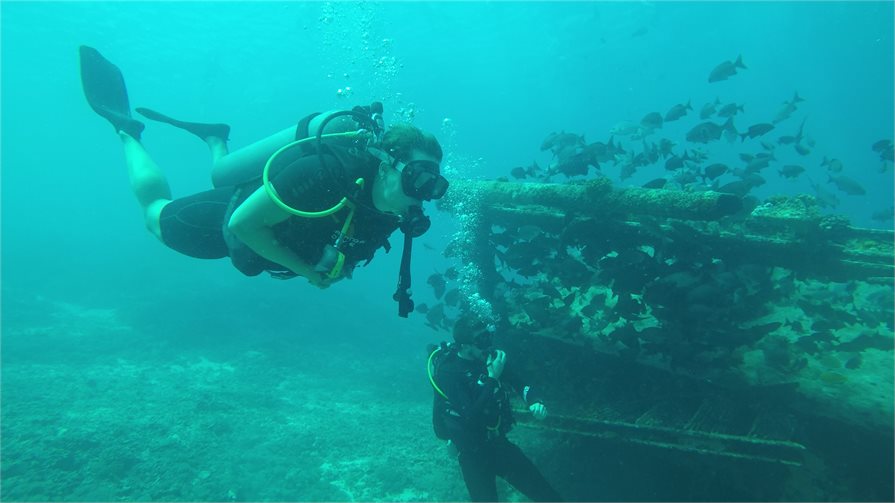 Holidays must come to an end, so it was sad to leave island life on the Gilis. The fast ferry ride from Gili Trawangan back to Padang Bai Port is a bumpy one followed by a long drive back through the busy traffic of Bali to the airport to return home. What an adventure it was!