I didn't quite know what to expect, but I had my fingers crossed for whale and bear sightings, glacier experiences and exploring old gold rush towns.
Island Princess departed Vancouver late afternoon and the sail away party on the top deck was all go including live music, dancing, seaplanes taking off every 15 minutes and blasting horns as other ships set sail. Cruising out of Vancouver is very scenic, and the port is conveniently located in downtown. I highly recommend visiting the top deck for the sail away party – cocktail optional.
We had the evening and next full day to explore the ship, partake in daily activities and most excitingly I got to tick the first thing off my list…. whale watching in the warm Alaskan sun.
Juneau
Friday noon, we put on our layers getting ready to explore our first port of call, Juneau. It was a grizzly day and I was more than happy to wander the main town area. This is flat, 15 minute walk from the ship and I quickly learnt the theme of shops in Alaska – diamonds, gems and all the jewellery your heart desires.
The must do of today – visit Tracey's King Crab Shack for the biggest crab leg of your life! It was worth the hype.
The rain started to clear up as the afternoon went on. We opted to take a shuttle out to Mendenhall Glacier. This was impressive as we stood on a small stony beach, admiring the blues of the glacier as lumps of ice floated past.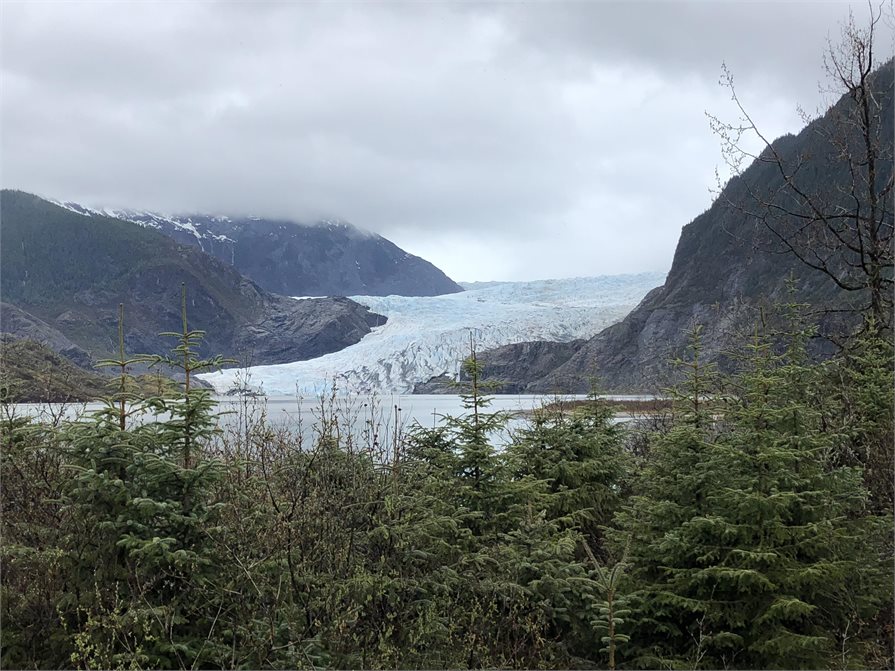 Skagway
Once again the town is an easy 15 minute walk from the ship and lucky for us the weather was better than the previous day. The town centre offers cobble stone roads and gorgeous, quaint buildings surrounded by snow-capped mountain tops. The highlights of Skagway include taking a scenic ride on the White Pass train, visiting Husky camps and scenic flights by helicopter or plane.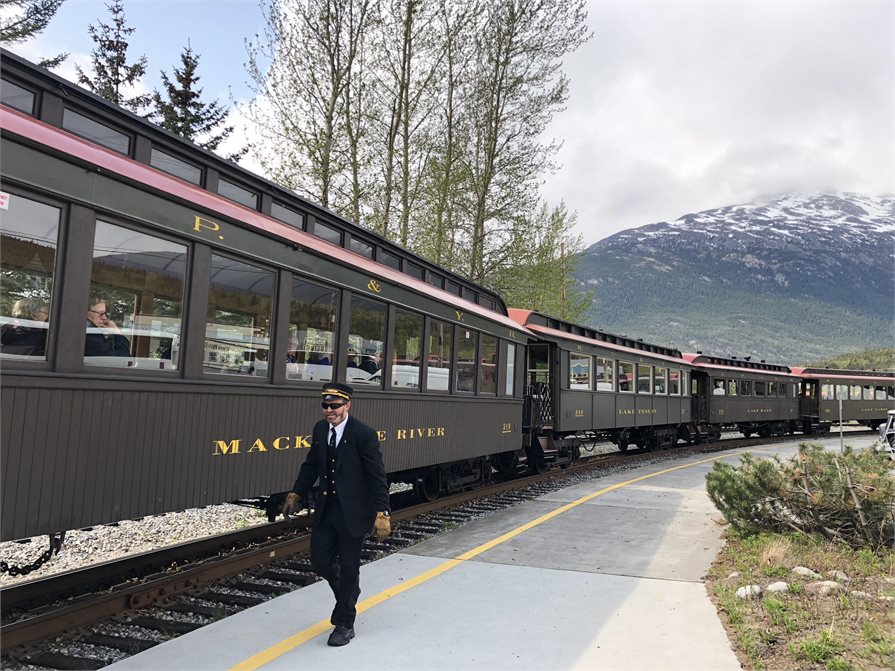 I easily spent two hours pottering around town soaking in the sights. I had booked a glacier flight by helicopter with a visit to a Husky camp on the snow, but unfortunately due to weather at the dog camp it was not safe for the helicopter to land. I was lucky enough to book on another helicopter flight which including a glacier landing. Going up by air offered bird's eye view of the ship, valleys and lush mountain ranges with new waterfalls created by the melting snow.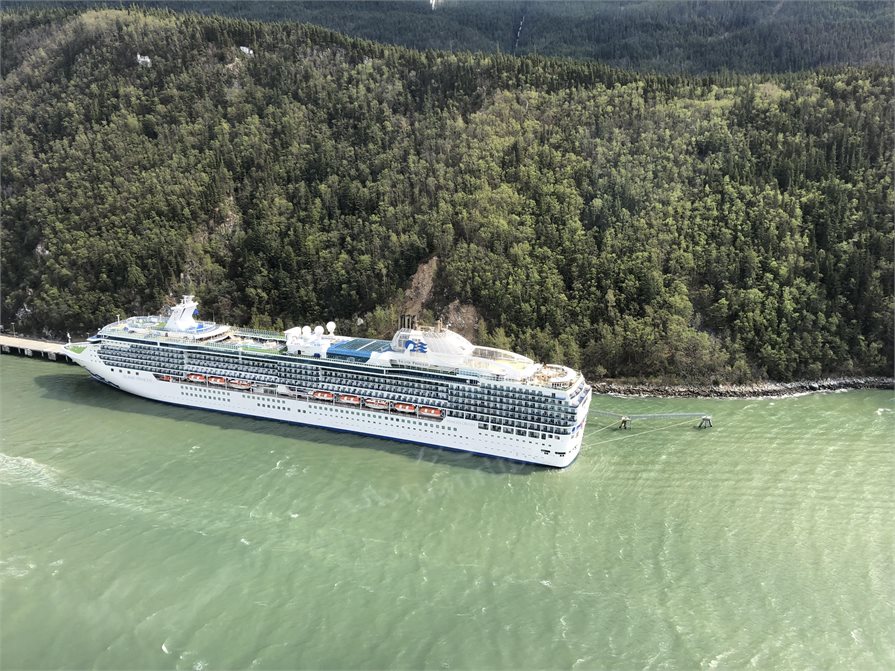 Next we literally landed on the ice. All geared up with spiked shoes and walking poles we were ready to explore. Looking to the right of me are endless views of ice, and around me are newly formed crevasse's offering the most brilliant blues. We had 20 minutes to explore and learn about the glacier with our pilot turned guide – and most importantly our personal photographer taking photos for everyone. Had to do it for the 'gram right?
I also had a lovely surprise when back on the ship– they bought six husky puppies onboard so I managed to have a quick cuddle with a puppy after all.
Glacier Bay

Cruising through Glacier Bay was another huge highlight. We were very lucky to be travelling in Balcony staterooms – the perfect excuse to order room service for breakfast, don a robe and admire Margerie Glacier from our private balcony. What amazed us most was the continuous groaning and moving of the glacier. We were even treated to a thunderous cracking noise when a huge mass chunk of ice dropped off the glacier. The captain said that the ice carving we experienced was the best he has seen while at sea.
Ketchikan
This was our last port of call, and town is literally a 5 minute walk away. There are tour desks offering whale watching tours, bear sightings and visits to totem parks (these are also available to book onboard). As we were very early in the season we were told there is only a 15% chance of seeing bears in the wild. I was more than happy to walk around town and explore on my own, soaking in the scenic sights. Another popular attraction here is the lumber jack show, with multiple shows throughout the day. This is approximately 10-15 min walk from the ship.
Our last day on board was lovely and very scenic. Sailing through the Inside Passage is simply stunning, as there is always something to see.
Life onboard was a lot of fun –no chance of boredom in sight (or time to nap). We enjoyed theatre shows, fantastic meals (with dinners that often ranged from 3 to 5 courses), onboard activities and our favourite spot – the live piano bar. Of course I cannot forget to mention how truly fabulous the staff were. Our stateroom steward surprised us with daily towel animals (it was almost like Noah's ark with a pig, a mouse, snake, monkey and more). We were also very spoilt in the main dining room, where you would order one scoop of ice cream and end up with one scoop of every flavour. We were assured this was calorie free.
Tips and recommendations:

Book a stateroom with a balcony

Even in the cooler weather we still utilised this. Throughout the day when I would pop back to the room I was treated to sightings of whales, dolphins and seals – all which I would have missed if I did not have a balcony.
It was amazing to have our own balcony when cruising through Glacier Bay as well, you can turn your TV on any listen to commentary from the park ranger. Plus during summer the weather will be much warmer to sit out and enjoy the Alaskan sun.

Alaska season - Pick the right time of year to travel
The Alaska cruise season runs from May – September, and each month offers something different. This is why it is so important to pick the right month for your interests. This could range from bird watching, salmon season, bears or wildflowers.

Budget for shore excursions / land activities
An Alaska cruise is not like cruising the Pacific where you wake to a new tropical island and can simply spend each day beachcombing. There is so much to see and do in Alaska – and a lot of these experiences are out of town whether it be a scenic train ride, helicopter, whale watching by zodiac or guided hikes. These activities can add up, but luckily an Alaska cruise is very affordable.
Whitney had the pleasure of travelling with Princess Cruises.
This 7 night cruise departed early May 2018 (start of the Alaska cruise season).