WINDSTAR CRUISES: MORE OVERNIGHT AND LATE-NIGHT PORT CALLS
In the casually elegant, luxury small-ship world of Windstar Cruises, leave the crowds behind: there are no lines, no waiting, just a warm and intimate ambience not found on larger cruise ships. Every itinerary is expertly crafted and artfully planned, visiting both boutique ports and bucket-list capitals.
Currently offering sailings to a total of 299 ports in 79 countries, more than 45 percent of Windstar cruises now offer a late-night departure (10pm or later) or overnight in port, allowing guests more time to explore.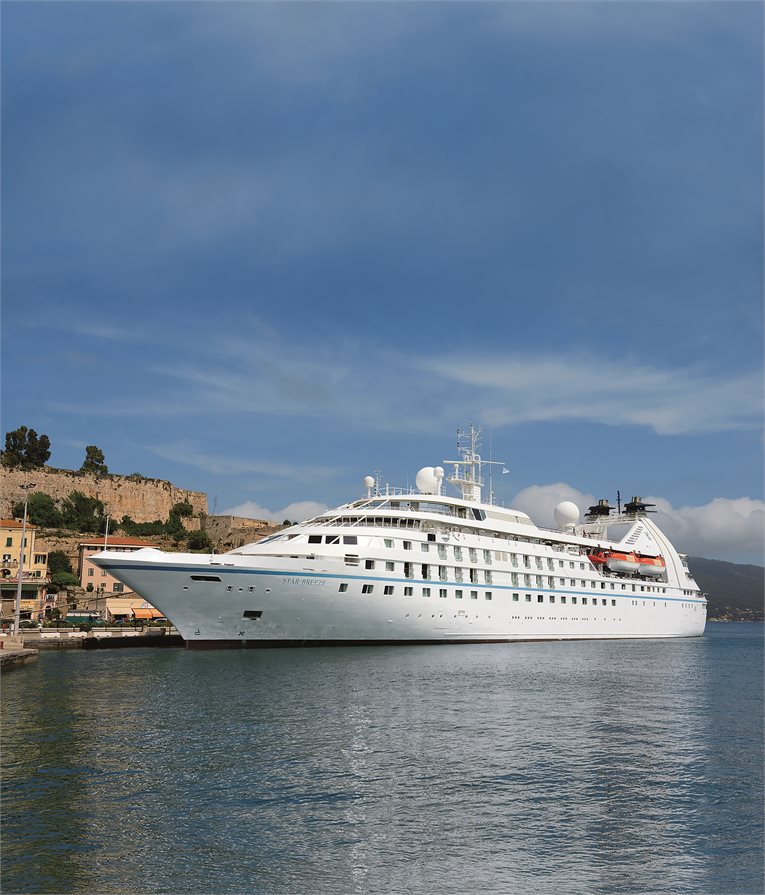 Because Windstar ships carry only 148-310 guests, they can navigate waterways the average cruise ship can't, often docking at more historic ports near the heart of cities. No place is exactly the same in both daylight and dark, and the soul of some cities only comes to life after the sun disappears, which is why overnight stay or late departures are perfect.
To make the most of stunning Tahiti, Windstar now spends two days in Bora Bora on every Tahiti cruise. There are also many overnight and multi-night stays at some of the world's most fascinating places including St. Petersburg, Quebec, Seville and Hong Kong. Windstar ships also put guests in the heart of Venice, Bordeaux and Ho Chi Minh City.
TREAT FOR SOLO TRAVELLERS ON BOARD MURRAY PRINCESS WINDSTAR CRUISES: MORE OVERNIGHT AND LATE-NIGHT PORT CALLS
Cruising has never been cheaper for solo travellers, with Captain Cook Cruises offering a single surcharge of only 25-30% on normal twin-share prices for all Murray Princess three, four and seven-night cruises. Traditionally, singles travelling alone pay the same cost for their accommodation as a couple, which is effectively a 100% increase on twin-share per-person prices.
Murray Princess is ideal for solo travellers. Being a small ship, she accommodates only 120 passengers so cruises are very intimate and solo travellers can easily meet other solo travellers or groups of people. The ship is still big enough for those who just want to find the perfect nook on the open-top deck or in the cosy paddle-wheel lounges, or to simply enjoy the ever-changing Murray River scenery. On-board and onshore activities range from playing bingo to bocce, to visiting riverside towns, cellar doors, a sheep-shearing shed show and an Aboriginal conservation park, so there's plenty to see and do.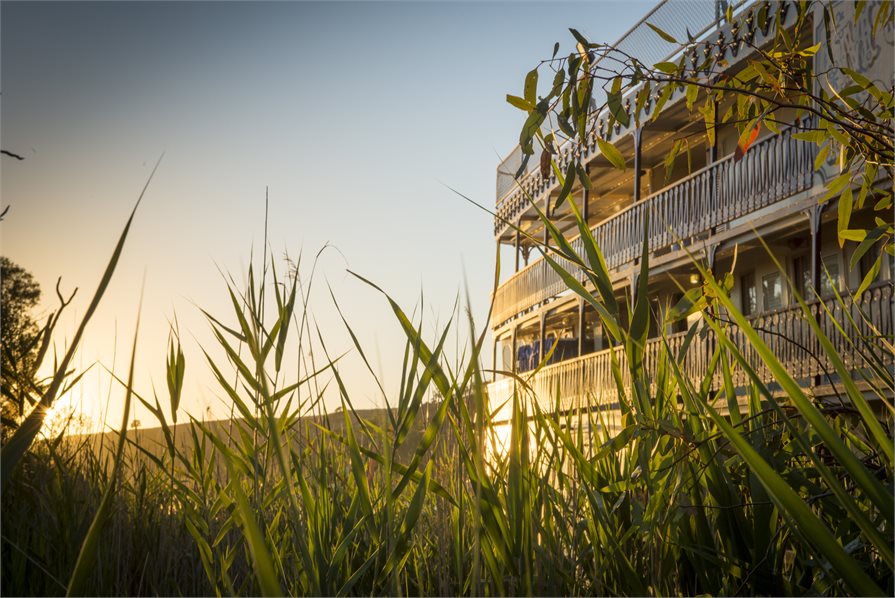 Food is another highlight of the cruise. Indulge in a hearty hot buffet breakfast each morning, a two-course or buffet lunch each day and a three-course or buffet dinner each evening. There is a spectacular Captain's Dinner and Dance to enjoy and an Aussie-style barbecue dinner and bush dance on the riverbank. Murray Princess tariffs include accommodation, all meals, guided nature walks, ecoexcursions, onboard presentations, on-board Wi-Fi, the Captain's Dinner and Cocktail Party, live entertainment and use of the ship's facilities including a sun deck, bar, two lounges, restaurant and a mini gymnasium.
NEW SPECTRUM OF THE SEAS TO DEBUT IN 2019
A private enclave for suite guests, new stateroom categories, innovative dining concepts and stunning features and experiences are some of the headline features of Royal Caribbean International's new Spectrum of the Seas cruise ship.
Due to debut in April next year, Spectrum of the Seas will feature bold and unexpected experiences including the iconic Sky Pad, a virtualreality bungee-trampoline experience located on the aft of the ship. Additional on-board innovations include the North Star, a glass capsule that takes guests more than 300 feet above the ocean for incomparable panoramic views; RipCord by iFly, a heart-pounding skydiving simulator experience, and the FlowRider surfing simulator. Travellers also will be dazzled by Spectrum's cutting-edge venues, such as Two70 with its expansive floor-to-ceiling windows offering breathtaking 270-degree views of the ocean.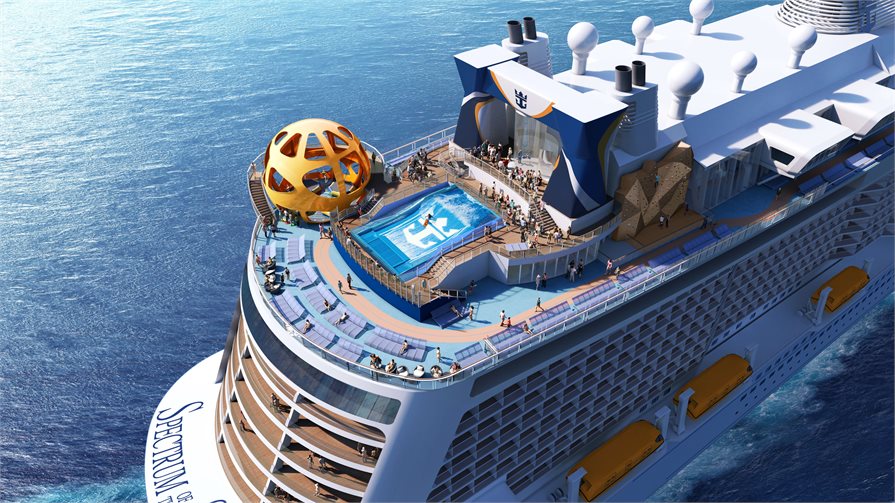 The suites-only area will feature the exquisite Golden and Silver Suite accommodations in a private enclave at the forward end of the ship on decks 13 to 16. Guests booked in these luxury suites will have special key card access, a private elevator and a dedicated restaurant and lounge. In addition to a range of exclusive amenities, guests will have access to The Balcony – a private outdoor space for sunbathing and relaxing.
For families that want to experience more quality time together, the ship has a two-level, Ultimate Family Suite accommodating up to 11 guests. The three-bedroom suite has a spectacular master bedroom with a bathroom that extends over the side of the ship to provide unparalleled ocean views, along with two additional suites for grandparents and other family members.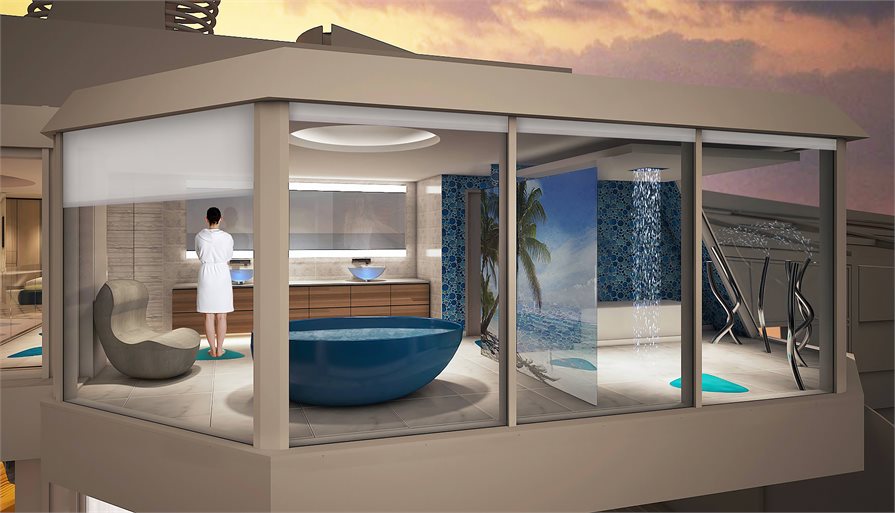 Kids have their own kid-friendly space on the upper level, complete with a slide that will whiz them to the living area below. Everyone in the family can enjoy time together in the recreation room featuring surround-sound equipment for a night of karaoke, movies or video games.
When Spectrum of the Seas debuts in April 2019, she will sail on a 51-night global odyssey from Barcelona to Shanghai, taking guests to 13 countries. Guests with limited time also can choose to sail on one or more of five segments of the global odyssey voyage.
PONANT ANNOUNCES ITS LATEST INNOVATION: PONANT ICEBREAKER
Renowned expedition company Ponant is expanding its leading role in clean, environmentally-friendly polar ship expeditions by announcing the addition, from 2021, of the first hybrid-powered icebreaker cruise ship to its fleet.

Propelled by electricity and liquid natural gas, the luxurious worldclass cruise ship is specially designed to explore the polar regions. Fitted with the latest environmental protection technology and clean-ship certification, the 135-stateroom vessel offers panoramic suites, spa services, gastronomic cuisine, a helicopter and Zodiac dinghies that let passengers experience the best of the ice.
Wild Earth Travel, which represents over 120 small-ship cruises worldwide, is a proud partner of Ponant small-cruise expeditions. With the order for the first Ponant Icebreaker finalised, passengers can look forward to packing their bags and experiencing a worldfirst in cruise ship history in 2021.