NEW BAROSSA WINE AND HERITAGE TOUR FOR MURRAY PRINCESS GUESTS
Murray Princess guests can experience an exciting new Barossa Wine and Heritage Tour in South Australia's famous wine region. The tour will be available to guests holidaying aboard the PS Murray Princess and is complimentary for all passengers on the seven-night Murraylands and Wildlife Cruise and will be offered as an optional extra on the three-night Discovery and four-night Outback Heritage Cruises.
Departing from Mannum, the tour stops at the Jacob's Creek Visitor Centre for morning tea and a wine tasting before visiting Maggie Beer's Farm Shop. Here, guests can learn about Maggie and her story as well as the history behind the farm. Enjoy a short cooking demonstration and taste a range of her produce. Lunch is a two-course gourmet feast at Lambert Estate. Take in the magnificent views from the deck of the vineyard while feasting on a shared platter incorporating fresh seasonal regional produce.
The tour's final stop is the stunningly beautiful Barossa Chateau, which houses one of Australia's most significant collections of 19th-century porcelain. Explore the gallery or rose garden or engage in some more wine tasting before heading back to Mannum through the scenic towns of Williamstown and Mt Pleasant. On arrival at Mannum, seven-night cruise guests will reboard Murray Princess and three or fournight cruise guests will transfer to a luxury coach for their journey back to Adelaide.
SKY SUITES STEAL THE SHOW ON THE NEW SKY PRINCESS
Princess Cruises' new Sky Princess, which will debut in the Mediterranean in October 2019, features the cruise line's first-ever Sky Suites which are centrally located on the top decks of the ship and include the largest private balconies ever offered by the line.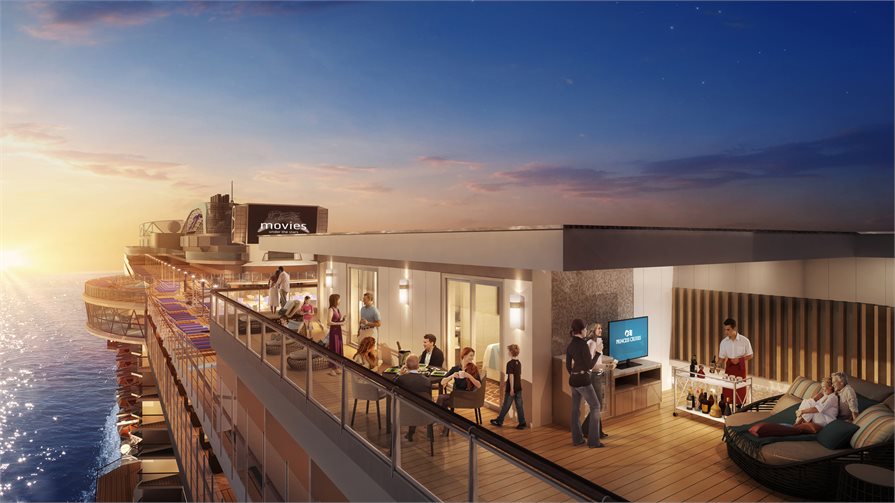 The spacious balconies will provide a private vantage point for the ship's Movies Under the Stars screen and create the ultimate space for entertaining. The two suites will also offer a 270-degree panorama and have sleeping capacity for five guests and entertaining space, making them ideal for families. Sky Princess will also incorporate the best of the stunning features found on its three sister ships – Royal Princess, Regal Princess and Majestic Princess – as well as new offerings that represent an evolution of the current ships' designs.
New for Sky Princess will be the addition of a Wakeview pool on its aft decks. In addition to the Wakeview pool, Sky Princess guests will enjoy two new deep-tank top deck pools, a restorative Retreat Pool, and more jacuzzis than previous Royal-Class ships including two jacuzzis cantilevered over the deep-tank pools.
Meanwhile, Sky Princess will introduce more ways for guests to unwind, with its relaxing Sanctuary area offering a new contemporary design and twice as many private cabanas as its sister ships.
Guests will also be able to enjoy the new look of the ship's Vista Lounge complete with a full bar offering, an evolution of the popular lounge on other Princess ships. Guests can take advantage of a new café in the Princess Live venue, serving barista-made coffee, tea and quick bites.
JAPAN A NEW HIGHLIGHT OF PRINCESS CRUISES ITINERARIES FOR 2020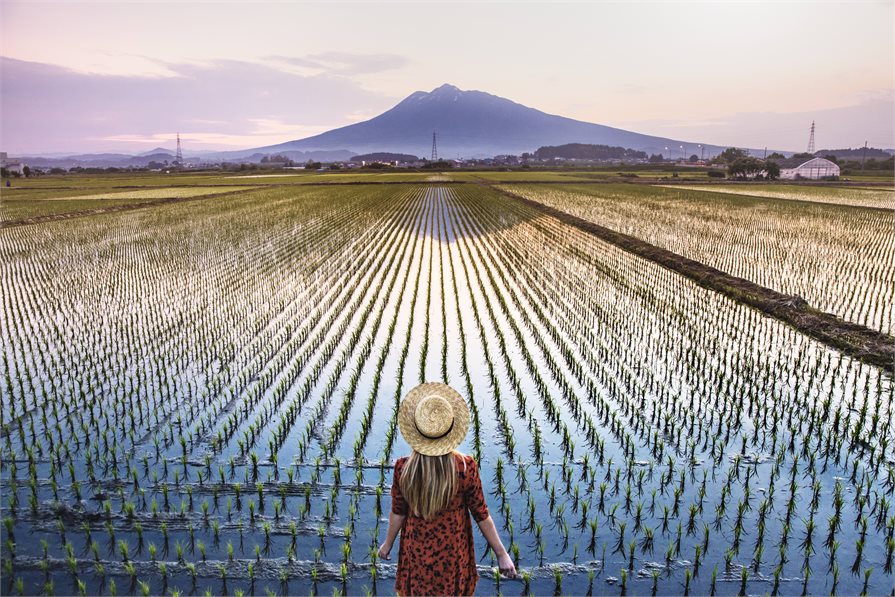 Princess Cruises' 2020 winter cruise itineraries will feature more calls than ever before to Japan. The winter programme will see both Sun Princess and Sea Princess sail on 36 itineraries to 90 destinations across 38 countries with round-trip options from Sydney, Brisbane, Auckland, Perth and Yokohama.
Highlights include the return of Princess Cruises' 77-night Circle Pacific itinerary –back by popular demand; a 106-night World Cruise that touches every continent on the globe with the exception of Antarctica, and a variety of destination-rich itineraries ranging from 2-35 nights.
Sun Princess's 77-night Circle Pacific cruise now features more calls to Japan with sailings to Osaka (for Kyoto), Toba, Tokyo (Yokohama), and maiden calls to Hakodate and Kushiro. The itinerary also showcases seven UNESCO World Heritage sites including Mt Fuji, and the iconic temples and shrines of Kyoto and Nara. Sailing roundtrip from Sydney on April 15 2020, travellers will travel through Asia and then north to Alaska on an itinerary featuring a range of new ports including Alotau in Papua New Guinea, Kodiak and College Fjord in Alaska, and Monterey, and Santa Barbara in the U.S. There is also an additional maiden call to Prince Rupert in Canada and 11 late-night calls and overnight stays in Vancouver and San Francisco.
Guests can also choose from two Asia voyages on board Sun Princess between Auckland and Japan in July and August 2020, including a 26-night Asia and Australia voyage from Auckland to Tokyo. These cruises visit a range of destinations across Papua New Guinea, Hong Kong, China and Korea.
POP THE QUESTION ON FIJI'S ROMANTIC TIVUA ISLAND
If proposing to the one you love on a tiny, remote island surrounded by a circle of white sandy beach, in the middle of the picturesque Mamanuca Islands in Fiji has always been a dream, then book it!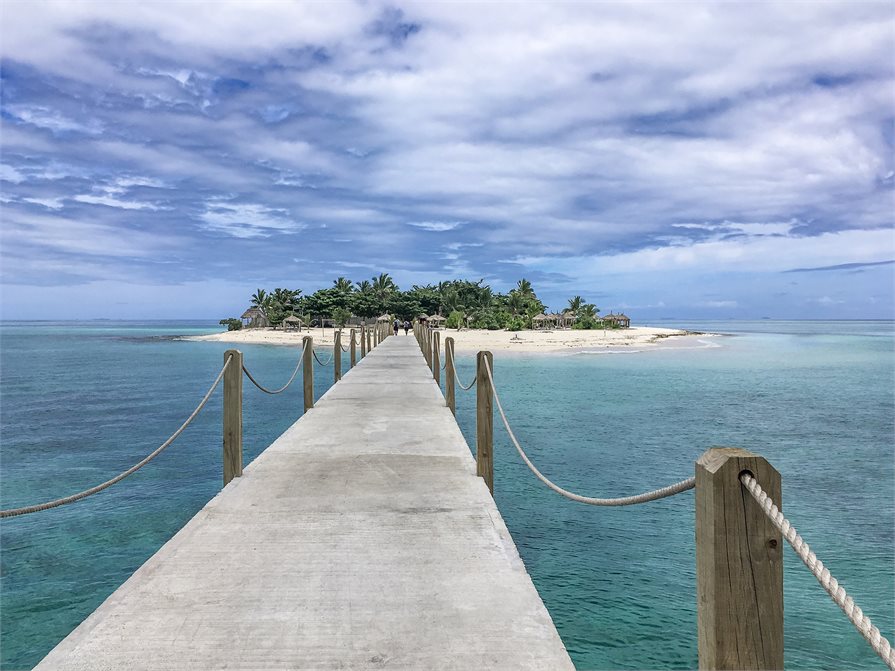 Captain Cook Cruises Fiji has a romantic Tivua Island Proposal Package that begins on board the magnificent tall ship Ra Marama or the luxurious sailing catamaran Fiji One, on a 90-minute cruise to the tranquil island of Tivua.
On arrival, experience a traditional welcoming Kava ceremony before being whisked away to a deserted part of the beach. Here your loved one will discover a "message in a bottle" lying at the water's edge containing a personalised proposal message, or written in shells or flowers in the sand.
Then celebrate your engagement over a delicious tropical buffet lunch and a bottle of sparkling wine in a private romantic bure on the beach.
Spend the rest of the day relaxing on the island: take a leisurely swim, feed the fish, snooze on a hammock, or go on a guided herbal medicine nature walk. There are also the options of snorkelling or glass-bottom boating over the magnificent reefs and clam gardens escorted by a marine biologist, or romantic kayak or paddle boarding around the island. For true indulgence, enjoy a spa treatment from Senikai Spa.
For dive-loving couples, a "first" dive as an engaged couple with five-star PADI diving is a must. From beautiful coral gardens to bommies (coral outcrops) to discovering Raiyawa, a new dive wreck, Tivua has enough dive spots to captivate beginners, reinvigorate occasional divers and fascinate the advanced.
The Tivua Island Proposal Package concludes back in Denarau with a coconut demonstration, basket weaving, afternoon tea and more music and entertainment.