THE ULTIMATE TRAVELLING CAMP
Fancy travelling off the beaten track? World Journeys offers "glamping" in parts of India that are less visited, but equally spectacular, with The Ultimate Travelling Camp. This boutique collection of luxury camps offers immersive cultural experiences in jawdropping landscapes.

In the mountainous north is the magical Buddhist ex-Kingdom of Ladakh. At the luxury camp here you can watch a game of polo – a sport of the royal family of Ladakh – raft down the Indus or explore the serene monastery. The panoramic earthy-to-sky views are as aweinspiring as the air is pure.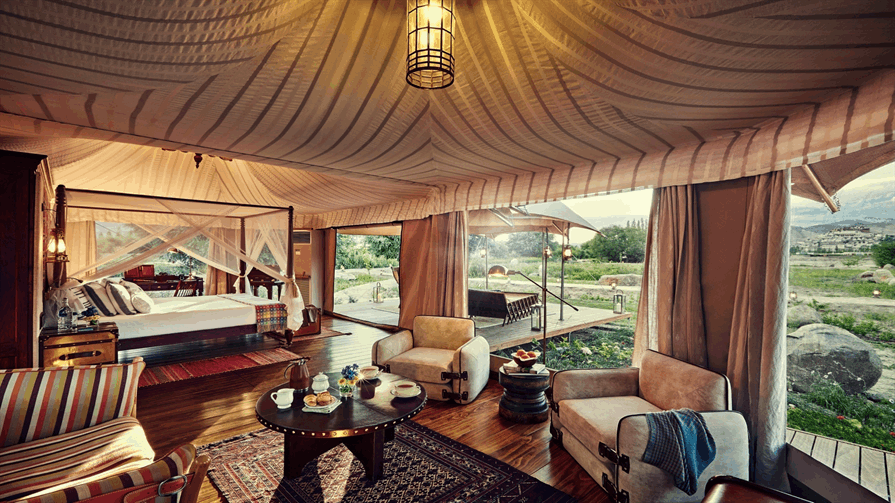 For just a few weeks a year, the pop-up Kohima Camp is set up in remote Nagaland in the north-east, offering unique access to the fascinating Hornbill Festival of the local Naga tribes. Proudly clinging to ancient traditions, their elaborate costumes and headdresses are quite something, featuring animal tusks, skins and feathers. Enjoy colourful performances of dance and song, traditional archery and more.

For wildlife enthusiasts, Jaagir Lodge near the border of Nepal offers thrilling safaris and guided nature walks. The surrounding forests are home to rich birdlife, while the Pilibhit Tiger Reserve is famous for its big cats. Nearby villages are home to the fascinating Tharu Tribe.

Other glamping locations include Allahabad with the world's largest gathering of seers, fortune tellers, sadhus, and salvation seekers. Wherever you stay with The Ultimate Travel Camp, you'll enjoy that winning combination of luxury, exclusivity and full cultural immersion.
LAKE EYRE IN FLOOD – A ONCE-IN-A-LIFETIME EXPERIENCE
Over recent months, rainfall in the Northern Territory, Queensland and South Australia has led to an influx of water into the usually dry and barren inland sea, transforming Lake Eyre into a desert oasis, flourishing with life. Due to its remote location and unpredictable nature, this truly is a once-in-a-lifetime experience.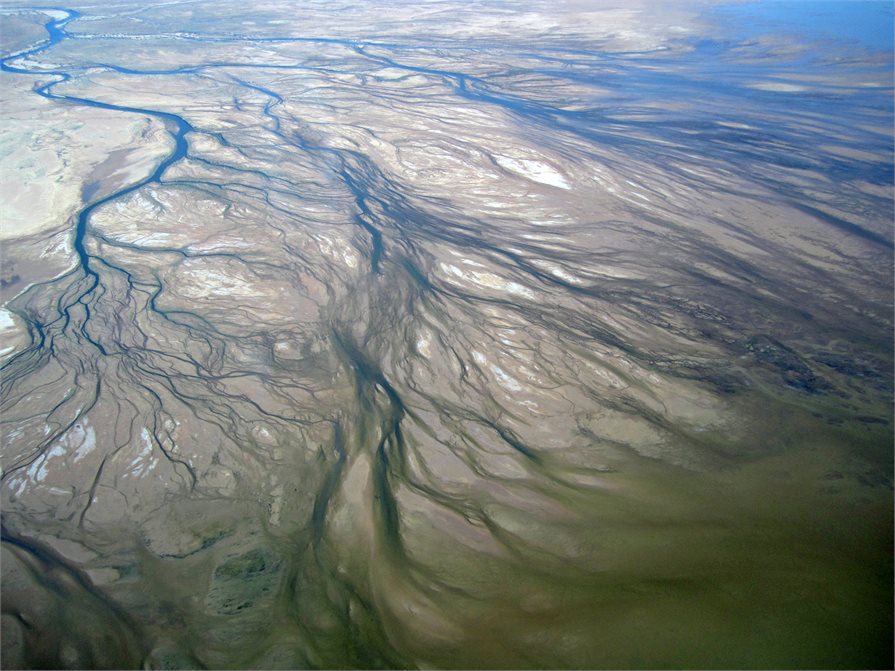 To take in the beauty of this natural phenomena, APT has released a new seven-day Lake Eyre and Flinders Ranges journey. Travel in complete comfort aboard a custom-built 4WD vehicle and stay in a range of hand-picked accommodation, including two nights in luxury safari-style tents at the Wilpena Pound Resort.

Covering thousands of hectares, Lake Eyre takes on a pink hue as it floods, thanks to the developing presence of algae, while freshwater fish and a vast array of bird life, including white pelicans, begin to thrive. See this natural masterpiece also spring to life with Poachedegg Daisies and Sturt Desert Peas in full bloom.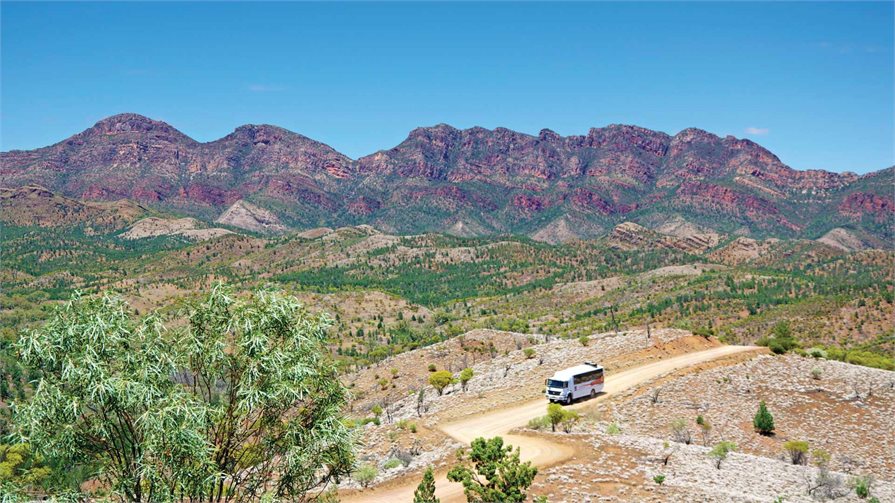 APT's seven-day Lake Eyre and Flinders Ranges trip includes all meals, the services of an expert driver-guide, and a range of APT Signature Experiences, including a scenic flight over Kati Thanda-Lake Eyre. Walk on the dazzling salt flats of Lake Eyre South, traverse the iconic Oodnadatta Track and become immersed in the incredible scenery of the Flinders Ranges.
AUSTRALIA'S GREAT OCEAN WILDLIFE TOUR
Koalas, kangaroos, echnidas and birds in their natural habitat are all on the sightseeing itinerary of Echidna Walkabout's Great Ocean wildlife tour.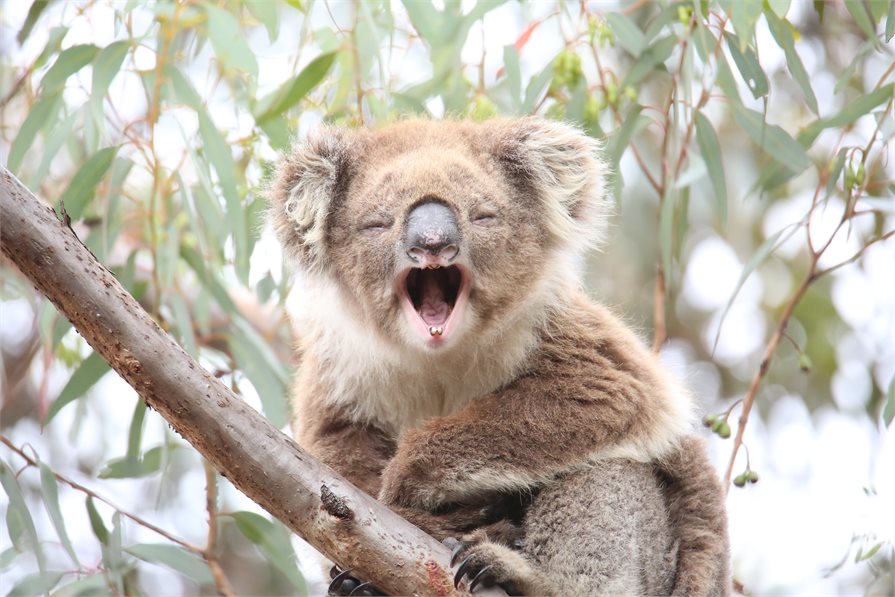 This boutique three-day tour starts and finishes in Melbourne and travels the Australian National Heritage-listed 243km stretch of road along the south-eastern coast of Australia between the Victorian cities of Torquay and Allansford.
Walk the beaches and the magnificent rainforests of the Otway National Park. Photograph wallabies and wildflowers. Explore a hidden river as it opens up into lakes and wetlands, home to egrets and eagles, lizards and lorikeets. Get up close to koalas and kangaroos in the wild.
Return to Melbourne across the vast grasslands of the Western Plains. Created by intense volcanic activity over the past six million years, the 7,000 volcanoes of the Western Plains are now extinct but the resultant savannah now provides pastures for a rich wool-growing area – a wonderful example of Australia's great range lands.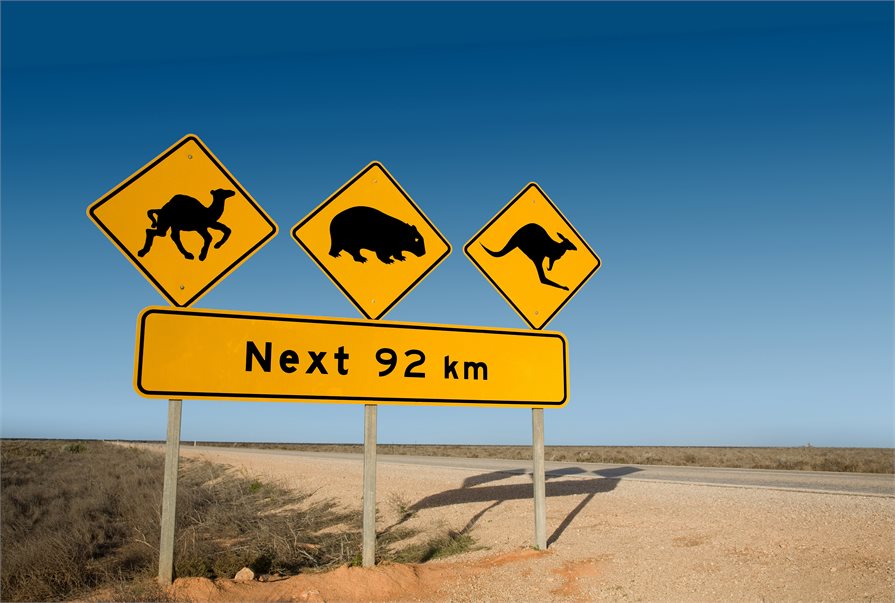 Stop en route to drive to the top of an extinct volcano with spectacular views across the plains and the hundreds of volcanic lakes scattered across the plains. This is a great place to view raptors – birds of prey – including Wedge-tailed Eagles, Nankeen Kestrels and Brown Falcons. The final leg of the journey passes Lake Corangamite, the largest permanent lake in Australia, often covered with prolific birdlife.
AMAZON AND INCA ADVENTURE
Peru has astounded the world with its huge desert glyphs, ancient empires and a centuries-old surviving culture. On this Peregrine Adventures Amazon and Inca Adventure, delve into Peru's Incan history and discover the natural treasures of the Amazon rainforest on a journey by boat and on foot.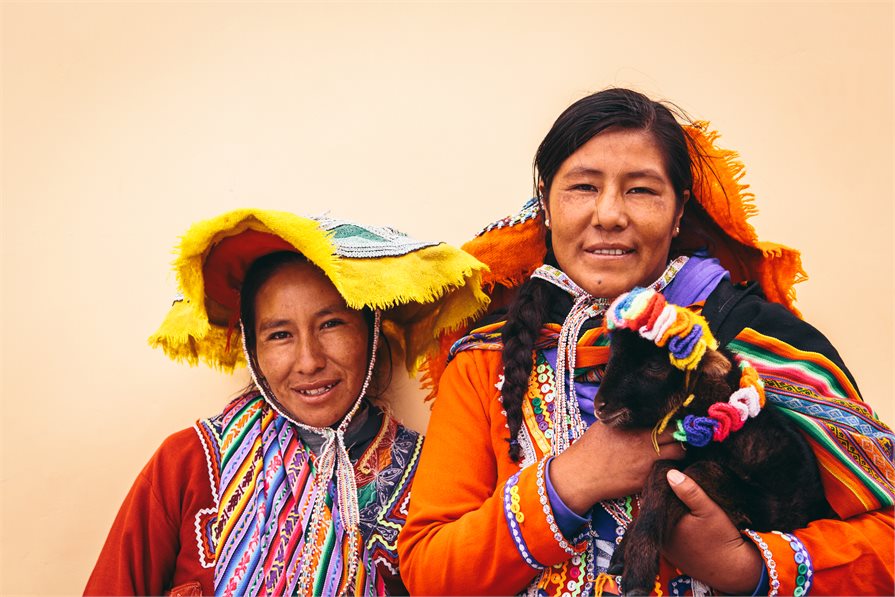 The tour starts in Lima, a grand capital city shrouded in history with glorious Spanish colonial buildings and grand museums dotted throughout. The Amazon Basin contains the world's biggest river by volume and the largest tropical rainforest in the world.
Tour highlights include:
A 2-night 'feature stay' in an Amazon lodge. Stroll along jungle trails on the lookout for monkeys, parrots, otters and caymans, and sleep in a nature lodge lit by candles and kerosene lamps.
Descend into the vast catacombs beneath Lima on an underground tour. This is a side of Peru's capital not many people have seen.
Peru is a world-class culinary destination. Visit an area unknown to tourists and try a variety of street food and authentic Peruvian desserts.
Enjoy a two-night feature stay at the private island of Suasi on Lake Titicaca. Watch the sun go down at the highest point of the island while enjoying a truly memorable picnic and drinks.
Marvel at ancient Incan architecture throughout the fertile Sacred Valley, before discovering the mother of all Incan cities, magical Machu Picchu.
Enjoy two included visits to Machu Picchu: one guided tour of the ruins and a second visit with free time to explore on your own.
Join a specialist historian guide on one of your inclusive visits to an archaeological site around Cusco for interesting insights and knowledge about Peru's history and culture.