Seoul is Calling with Air New Zealand
Fly with Air New Zealand on the non-stop service operated by the 787-9 Dreamliner between Auckland and Seoul from 23 November. Connections are available from Air New Zealandserviced domestic airports in New Zealand. Air New Zealand offers options for everyone from Economy Class, Economy Skycouch™, Premium Economy and Business Premier™.
Seoul, the capital of South Korea, with a population of over ten million people, is considered a megacity. It's a huge metropolis where modern skyscrapers, high-tech subways and Korean pop culture meet Buddhist temples, palaces and street markets. Key sightseeing attractions include the neofuturistic Dongdaemun Design Plaza, a convention hall with curving architecture and a rooftop park; Gyeongbokgung Palace, which once had more than 7,000 rooms, and Jogyesa Temple, the site of ancient locust and pine trees.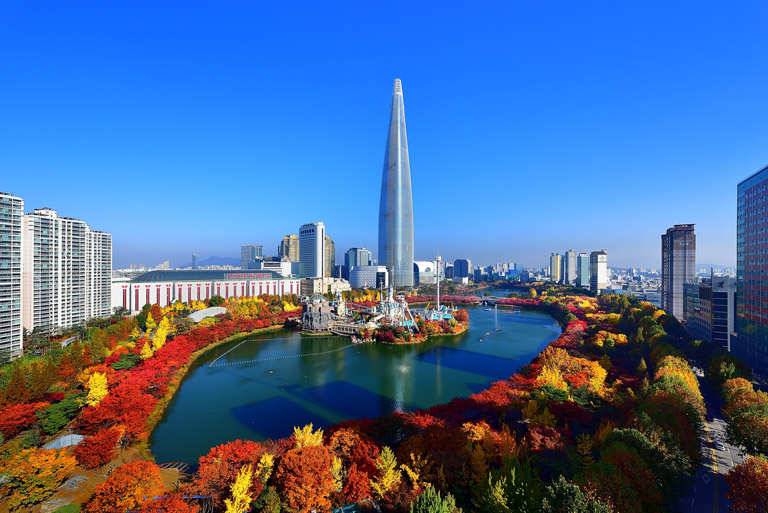 Seoul is Air New Zealand's 32nd international destination and the airline says the new route will be an important link for connecting the 40,000 Koreans living in New Zealand with friends and family back home as well as a convenient option for Korean visitors wanting to come and explore New Zealand. The new route flown by the airline's Boeing 787-9 Dreamliner fleet has a flight time of around 12 hours northbound and just over 11 hours southbound.
New Paper Straws just one part of Emirates' Initiatives to reduce Single-Use Plastic
In a bid to do its bit for the environment and reduce singleuse plastic on board Emirates flights, eco-friendly paper straws now replace plastic ones. The airline has been working on various long-term sustainability initiatives and in addition to plastic straws, plastic swizzle sticks and stirrers will be replaced with eco-friendly alternatives by the end of the year. From August, plastic bags used for in-flight retail purchases will be replaced with paper bags. These initiatives will remove an estimated 81.7 million single-use plastic items from landfill each year.
Trials have been conducted on Emirates flights to explore various recycling initiatives and Emirates staff and cabin crew constantly give feedback and suggestions on other environmentally friendly ideas. As part of its long-term vision and fuelled by a cabin crew member's suggestion, the airline has been segregating large plastic bottles on board to be recycled in Dubai and the rest of the world. This diverts an estimated three tonnes or about 150,000 plastic bottles from landfill in Dubai each month.
A full review of the plastics used on board has been conducted and over the next few months, the airline will gradually implement other initiatives to tackle plastic waste. These initiatives are just part of the airline's ongoing sustainability efforts. In 2017, Emirates introduced ecoTHREAD™ blankets made from recycled plastic bottles for its Economy Class cabins. Each blanket is made from 28 recycled plastic bottles and by the end of this year, Emirates will have saved 88 million plastic bottles from landfill through this initiative alone.