I was laughing my way between a boot-scootin' boogie heel brush and an uncharacteristically sexy toe-tap when I realised, they had me. This career wallflower was having a seriously great time learning a corny dance with a group of complete strangers. For the record: no one was more surprised than me.
The mid-sized Explorer Dream had been surpassing my expectations since I stepped on board. The wooden promenade deck complete with stereotypical shuffleboard lines, is instantly recognisable as a passenger ship but inside, the wide corridors, pristinely plush carpets and luxuriously dripping chandeliers could be in a high-end hotel anywhere in the world. The impeccable attention to detail is thanks to its recent USD 56 million-dollar refurbishment.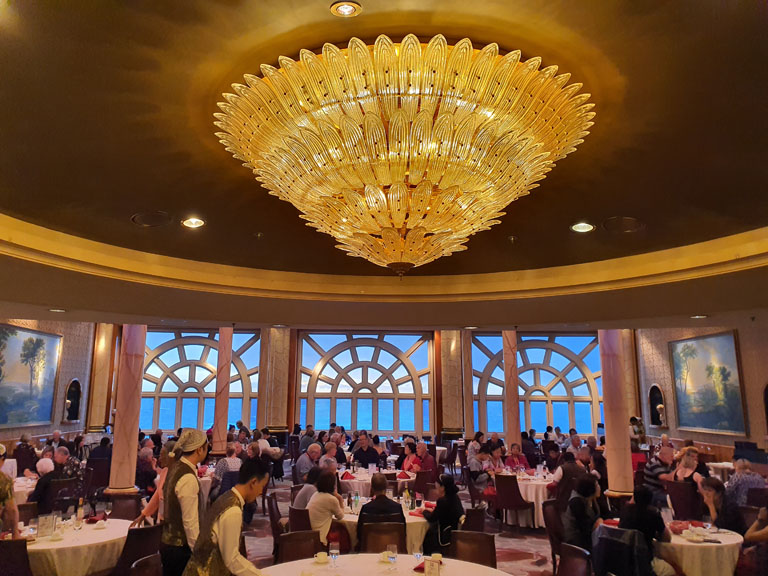 Dream Cruises President, Michael Goh, tells me proudly that it was judged best refurbishment at the 2019 Cruise Critic Australia Editors' Picks Awards.
"We are really excited because this is the first year we are here (in New Zealand and Australia) and this is really great for the Dream brands."
We're drinking coffee in the stunning high-end restaurant in the exclusive accommodation, The Palace, that was added in the ship's radical overhaul. This "ship within a ship" is a first for the industry and one that has become a Dream Cruises trademark.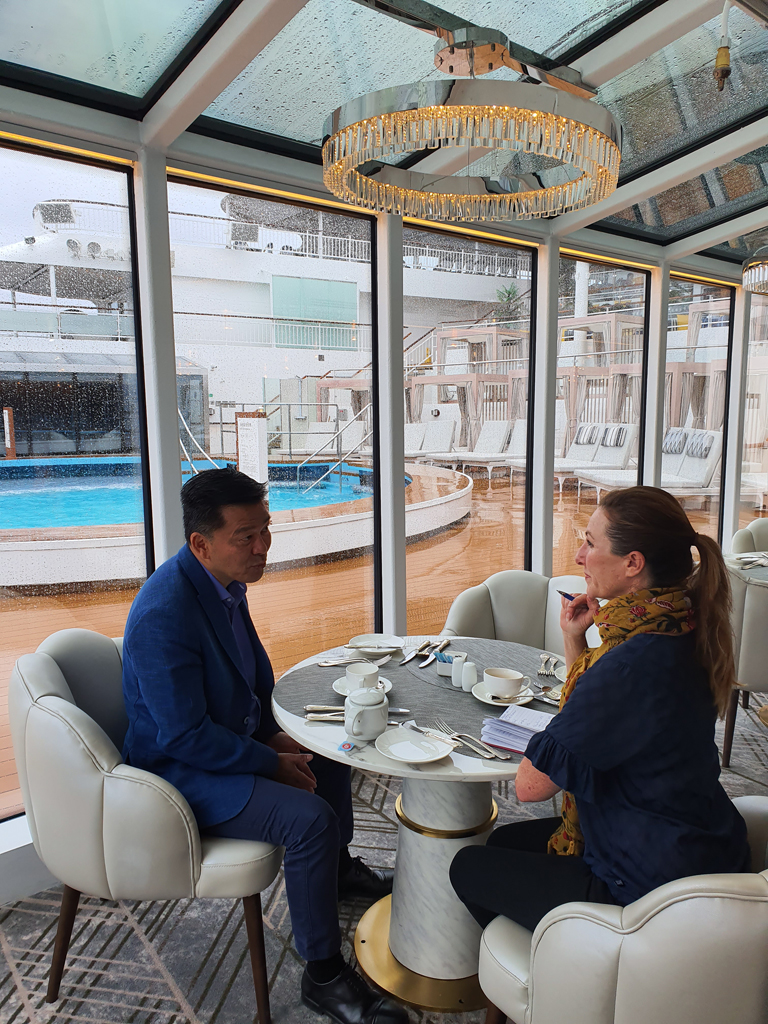 "We felt that in Asia and the Pacific regions there were no cruise lines catering to the luxury market," says Mr Goh. "We knew that there were a lot of guests looking for something really comfortable and a luxurious experience. It's hard to define luxury. To some it's the furnishings but to us, it's the experience in terms of food, the service and simply sleeping in a really comfortable bed with Italian Frette linen."
The Palace boasts more than 40 impressive suites that include showers with floor to ceiling windows, huge bathtubs, cabanas looking out to the rear of the ship, a fine dining restaurant, exclusive on-shore excursions and on-call butlers.
But with all the staff smiling and ready to help, missing out on butler service isn't really a hardship and Michael smiles broadly when I compliment his crew.
"They are just so caring. Whatever you ask for, they will never say no unless it compromises safety. I am really so proud of them."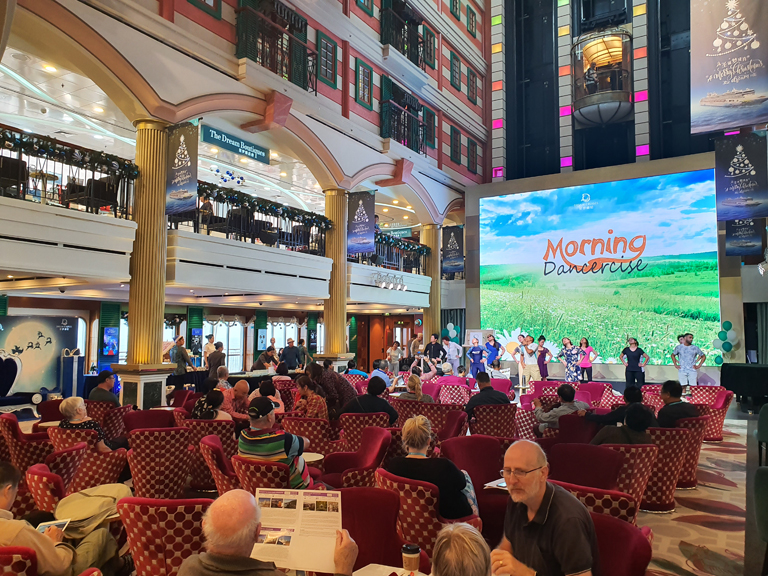 Public areas of the Explorer Dream have been upgraded, including the lobby area on Deck 7. It quickly becomes my favourite place to get a morning almond croissant and latte.
"The Grand Piazza is completely new. We have brought in a lot of concepts like the mocha, the pastries, the pasta, the pizzeria – it's a total change."
The inclusion of more western-style eateries specifically targeted the new clientele in New Zealand and Australia ahead of the ship's maiden voyage Down Under.
"It's about being Asian at heart and international in spirit," Michael explains, "We've got to make sure that we cater to international passengers as well as incorporating the Asian elements. For example, I really love the pizzeria area and the pastry. It smells amazing when you walk past… but I also really must recommend a matcha green tea ice cream. It's the best."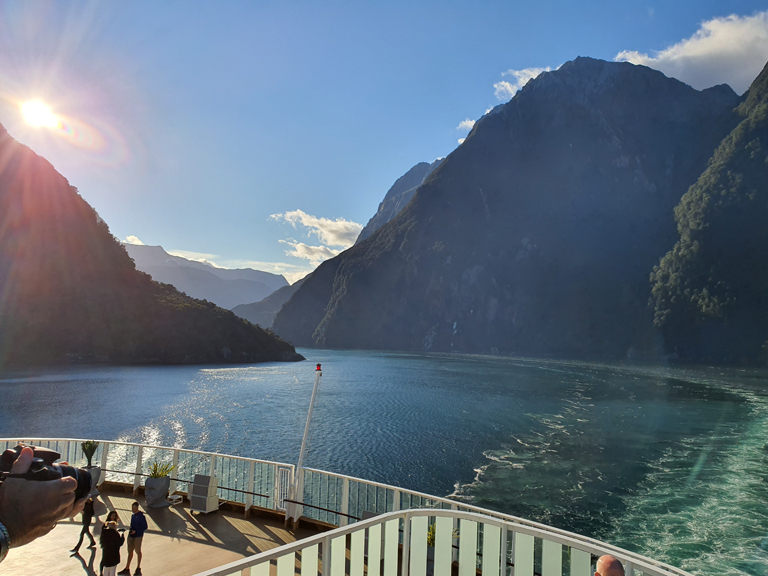 The array of gastronomic options rivals the staggering range of activities. I spend time poring over the daily options before deciding on my itinerary for each day … and see plenty of choices for newbies like myself as well as multi-generational groups.
"We cater to all ages," explains Mr Goh. "For those who want something slow, for families, for people who are active. I feel that the beauty of cruising is that it suits so many lifestyles. You can have a good cup of coffee while watching the ocean or you can get involved in any of the activities – most of them are included."
After my toe-tapping boot-scooting, I relax with a cocktail in front of the vast window overlooking the ocean and realise the strangers I started chatting with have become my fun cruise buddies in the space of mere moments.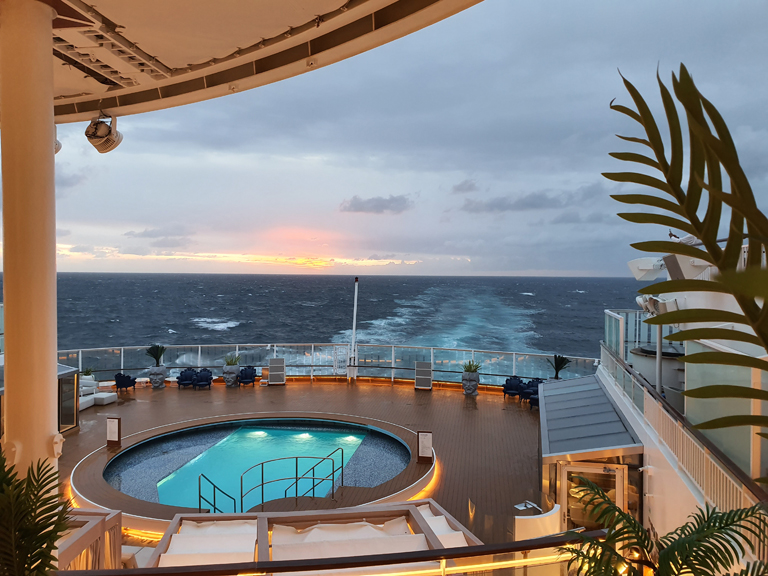 Debbie's first-timer tips:
Try something new. Hot pot dining is very common and popular throughout Asia and the cruise is the ideal place to try it. A pot of boiling water is placed on the table and each guest places their own ingredients in to cook and eat at their own pace. The very friendly restaurant staff are all too eager to give passengers a few tips on this dining experience. There's plenty of western food on the Explorer Dream, but the authentic hawker-style Thai, Malay and Chinese menus are phenomenal and a great tip: after 9pm ask about the $3 supper menu at Blue Lagoon!
Get involved. A cruise is the perfect place to leave your inhibitions at home and learn a new dance style or activity. Line dancing, cha cha, salsa and ballroom and even laughter yoga were among the options on my cruise. Everyone around you is just as un-co as you are but the fun and camaraderie make it very worth it. For the kids, there were opportunities to learn origami, balloon twisting, cupcake decorating and how to make pot pourri. Teens could learn hip hop dance, magic, juggling and even take part in a talent show.
Go Behind the Scenes. Explorer Dream offers a bridge tour hosted by the captain who generously spends time explaining his job and how the ship is sailed. It was a fascinating insight into the running of a massive commercial ship – especially his explanation of how he balances the expectations of passengers with safety at sea.
Research the ports and the choices of shore excursions offered so you can book in early for them the night prior to arrival. The brevity of time in port was mentioned by a couple of passengers, so the more organised you are, the more time you'll have on shore.
Don't be late. I'm not kidding: the ship will leave without you. I was relaxed with the knowledge that the President of the company was in my excursion group in Dunedin but was told that he would be just as easily left behind as any of the passengers. The charges for a late departure at the ports make it far too expensive an option to delay past their allotted time.
Make new friends. Around half the passengers were New Zealanders and it was really nice chatting to people from around the country. Many were regular cruisers who were enjoying seeing their own country from a different perspective. Some were travelling as groups of friends who would gather for meals or to play card games in the Mah Jong Hall. There were families who found plenty to do for all three generations along for the perfect family holiday – kids playing on the water slide while mums, dads and grandparents lazed on deckchairs nearby.
Get your glam on. Seriously, date night has never been this easy! Put on your glad-rags, squeeze into those heels and slap some lippy on for an elegant night out where no one has to worry about being the sober driver. Start with cocktails seated on comfy emerald-green couches in the Palm Court bar at the bow of the ship. Watch for whales, dolphins and albatross with your 180-degree view of the ocean. Then head to an early show in the Zodiac Theatre. The entertainers rival those in Las Vegas and the productions are included in your cruise ticket. Then head to Silk Road for Chinese fine dining or Seafood Grill by Aussie celebrity chef, Mark Best. Afterwards, either stroll the deck with your glass of wine in hand or head back to Palm Court for the late evening entertainment.
Sleep well. The first night of my very first cruise, I apprehensively went to bed, expecting to be thrown about and woken by every wave. I woke nine hours later feeling fantastic! The beds on the Explorer Dream are specially designed. They're not letting any secrets away but have revealed that plenty of guests either want to drag the bed home with them or get their own from the factory that makes them. Simply dreamy.
Dream Cruises has released details of the Explorer Dream's return deployment in Australia and New Zealand from October 2020 to February 2021.
Explorer Dream will offer new itineraries such as Singapore to Fremantle via Broome and Exmouth, with the option to cruise on to Sydney via Adelaide and Melbourne. The ship will then head over to Auckland where she will be homeported during November and December for a series of 7-night itineraries around New Zealand plus a South Pacific cruise visiting New Caledonia.
New season fares start from A$611 per person for a seven-night cruise from Sydney to Auckland.
Follow Debbie Griffiths on Instragram @travelpresenterdeb