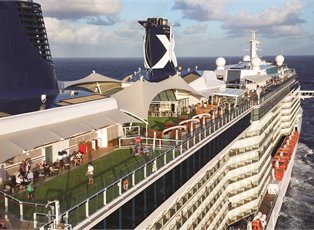 Journey
12 Night Cruise sailing from Amsterdam roundtrip onboard Celebrity Reflection.
Ship
Celebrity Reflection (More about the ship)
Departure Date
3 Sep 2020
Itinerary

Cruise Itinerary

Day
Date
Port
Arrive
Depart

Day:

Day 1

Date:

3 Sep 20

Arrive:

Depart:

04:00 PM

Day:

Day 6

Date:

8 Sep 20

Arrive:

07:00 AM

Depart:

overnight

Day:

Day 7

Date:

9 Sep 20

Arrive:

Depart:

06:00 PM

Day:

Day 13

Date:

15 Sep 20

Arrive:

06:00 AM

Depart:

** Itinerary may vary by sailing date

Your cruise in detail

12 Night Cruise sailing from Amsterdam roundtrip onboard Celebrity Reflection.

Celebrity Reflection® recently received a few new enhancements during her recent dry dock. Now, you can experience a cinematic night under the stars with A Taste of Film at the Rooftop Terrace. It's an exciting way to enjoy the great outdoors, satisfy your love of movies, and dazzle your taste buds all at once. Treat yourself to spa innovations at the luxurious Canyon Ranch SpaClub® or visit our just-added shops for Tiffany and Swiss Watch on board. Celebrate the flavorful joys of outdoor grilling at the Lawn Club Grill. Enjoy more than 20 delicious dining options in the Main Restaurant. Unwind in your own cabana-style haven at The Alcoves. Your vacation time is precious. Time aboard Celebrity Reflection will make the most of it.

Highlights of this cruise:

Amsterdam, Netherlands
Amsterdam, the beautiful capital of the Netherlands, has the wonderful atmosphere of a 17th-century city combined with the contemporary character of a modern metropolis. It is a treasure chest of superb architecture and is famous for its canals and extraordinary museums. Highlights include the towers and steeples, considered to be some of the city's loveliest features.

Berlin (Warnemunde), Germany
Berlin (Warnemunde), Germany: The district of Warnemunde in Rostock sits at the mouth of Warnow River which flows into the Baltic Sea. This charming seaside town is just about three hours north of Berlin and serves as the perfect access point to the capital city. Berlin shines with a free spirit, mystique and a penchant for good times. Once a city divided, Berlin is now united, bringing together cultures and languages from throughout the world. There's so much to discover on a Berlin cruise. Berlin literally rose from the ashes to become one of the most alluring cities in the world. Visit the UNESCO world heritage site, Museumsinsel (or Museum Island) in the city center. This wonderful group of museum buildings together hold around 6000 years of art and cultural history. Stand at the famous Checkpoint Charlie and walk along the remnants of the Berlin Wall. Enjoy the rollicking beer gardens, fabulous restaurants, incredible music and fascinating arts scene all wrapped in a laid-back sensibility.

Helsinki, Finland
Occupying a peninsula and several islands, this capital city's stunning structures surround some of the most spectacular bays you could ever hope to find. Stroll down broad, tree-lined streets, or take in the amazing neo-classically designed architecture in Senate Square.

St. Petersburg, Russia
Although reportedly built to resemble such Western cities as London, Paris, and Vienna, one look at St. Petersburg's regal palaces and vast public squares is enough to tell you that it is truly in a class of its own. If you're fortunate enough to be in St. Petersburg in June, revel in the city's famous "white nights," when the boundless night sky is never completely dark.

Tallinn (Muuga), Estonia
Tallinn has remained remarkably unchanged since its founding in 1154 A.D. The preservation of this city's Old World charm enables visitors to enjoy architectural marvels of centuries past, such as the soaring towers of Toompea Castle and the exquisite Russian Orthodox Cathedral. The exception is the delightfully modern pink Parliament building, visible from Palace Square.

Stockholm, Sweden
No fewer than 50 bridges connect this Swedish capital's 14 islands to its mainland. Visit the many parks, museums, and palaces or make your way through Gamla Stan, or Old Town, packed with historic buildings, shops, and cafés.

Copenhagen, Denmark
Whether strolling through blooming flowers in Tivoli Gardens, witnessing the changing of the guard at Amalienborg Palace or touring Kronborg Castle—the setting of Shakespeare's Hamlet— it's easy to see why this once-humble fishing village grew to become the capital of Denmark.

Travel dates
*Terms and Conditions
Information on this website has been obtained from the various Cruise Companies represented, however as the cruise industry is constantly changing and this information should be used as a guide only. We are unable to take responsibility for incorrect information and you must confirm all details the time of booking. Offer subject to availability at time of booking. Prices are per person share twin based on best available cruise fare, inclusive of all discounts unless otherwise stated. Where suite pricing is indicated this will be for lead in suite accommodation only and may in some cases be for a mini suite, which is the lead in suite category. Please ask for clarification at time of enquiry. Prices are subject to currency fluctuations and are based on cash or cheque. Cruise deposit, amendment and cancellation conditions apply. Travel agent service fees may apply. Special conditions apply - please ask for full details at time of enquiry.