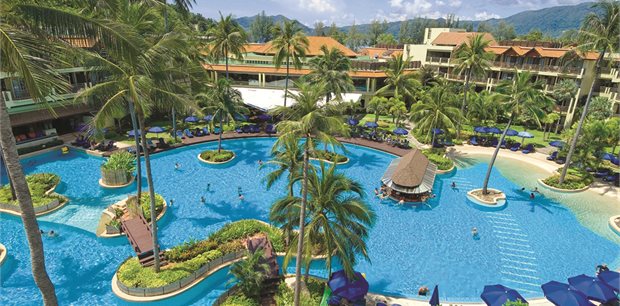 Your Phuket Holiday Includes:
Return Economy Class flights from Auckland to Phuket via Bangkok flying Thai Airways
8 nights accommodation
Bonus offers as specified
Phuket Marriott Resort & Spa, Merlin Beach
Set on private Tri Trang beach amongst 12 acres of lush gardens, swaying plam trees and surrounded by a fantastic pool, which offers a great place to relax and unwind. Located just 3km from Patong.
Superior Lagoon Pool View Room (8 Nights)
Travel Dates: 21 Oct - 31 Oct 19

Twin

per person

fr

$1,722

Extra Nights

fr

$168

per person

Extra Nights

fr

$24

per person

Travel Dates: 1 Nov - 30 Nov 19

Twin

per person

fr

$2,045

Extra Nights

fr

$143

per person

Extra Nights

fr

$24

per person

Travel Dates: 1 Feb - 31 Mar 20

Twin

per person

fr

$2,605

Extra Nights

fr

$213

per person

Extra Nights

fr

$24

per person

Travel Dates: 1 May - 31 May 20

Twin

per person

fr

$1,650

Extra Nights

fr

$150

per person

Extra Nights

fr

$24

per person
Note:
Free nights are already included in the advertised price and no further discount applies.
Breakfast daily. 4 FREE nights (Valid for travel Oct 19 & 1-31 May 20)
*Terms and Conditions
It is our policy to present the cost of our holidays inclusive of all airport and government charges. Please accept however that these charges are not within our control, therefore we reserve the right to pass on any increase.. Travel agent professional service fees where charged, will be additional to the advertised prices. Closeout and blackout periods apply over school holidays and peak holiday periods & availability of seats & rooms is likely to be very limited over this time . Please note that any Airline generated ticketing time limit which is earlier will over-ride this. *Child prices are based on one or two children of 2-11 years sharing a twin room with 2 adults (varies by property and room type). Valid for sales to 31 Oct 2019. Valid for travel commenced and completed within the period 10 Oct 2019 to 31 May 2020 (unless otherwise specified). Min stay: 4 nights Max stay: 1 month.Prices are ex Auckland. Valid for travel: 1 OCT-30 NOV 19, 1 FEB-31MAR & 1-31MAY 20.. Book: Thai Airways TG 'W' class international Travel must be on TG operated flights only. Routing: AKL-BKK (TG) - HKT (TG) and v.v One stopover permitted in BKK in each direction STPC in BKK only permitted for booking class K and above - applicable in one direction for all points beyond Thailand if there is no connecting flight within 6 hours. Except MOW, STPC in both directions. For travel from Wellington or Christchurch please enquire for best available add on fares to Auckland. Ticketing: As per airline auto Time ticketing limit. Important: Due to automated ticketing deadline control difference could exist between the fare rule last ticketing date and the system generated ticketing deadline message. The more restrictive ticketing deadline applies. Ticket numbers must be entered into the PNR to avoid automatic cancellation. Please do NOT ignore TTL sent by TG in the PNR. The airline will auto cancel the seats which may be impossible to reinstate. Ticket numbers MUST be entered into the PNR to avoid cancellation. Please adhere to any airline generated ticketing time limits which are earlier and respond to any airline messages as once cancelled the PNR may be impossible to re-instate. The most restrictive ticketing deadline applies. Valid for NEW bookings only. i.e. new PNR must be created on/after 23 SEP 19. Sales and ticketing from 23 Sep - 31 Oct 19 only. Final day of ticketing is final day of sales 31 OCT 19 - NO exceptions. Pricing correct as at 27 SEP 19. Pricing and availability are subject to change at anytime without notice. Fare basis: TGP03 AFC: '5X' - W Class, '5Y' - K Class, '5Z' J Class Prices shown are based on per person costs in New Zealand Dollars, for payment by cash, cheque or eftpos only. Credit card sales not permitted unless Travel Agent acts as a merchant. Capacity limitations apply and may not be available on all services. Travel requiring an overnight stay in New Zealand will be at passengers own expense. Events beyond our control such as currency fluctuations and changes to the price of aviation fuel may result in prices variations . Strict cancellation fees apply. Packages are based on consecutive nights. For split stays please contact your travel consultant. For full terms and conditions and cancellation fees please contact your local travel agent for more information. Trade enquiries via GO Holidays. ISSUE DATE: 27 SEP 19.
HLO Ref# 10385
GO Ref# TG24SEPTHLGO