PRE-REGISTRATION IS CLOSING
Elite* Now On Sale

From $28,369*pp Twin Share, Inside Stateroom
114 Days Auckland Roundtrip
ON SALE
29 November 11am NZT – Elite*on sale
30 November 11am NZT – General on sale

BONUS: Captain's Circle savings $1,100*pp, AU$2,185 onboard credit per stateroom & 50% reduced deposit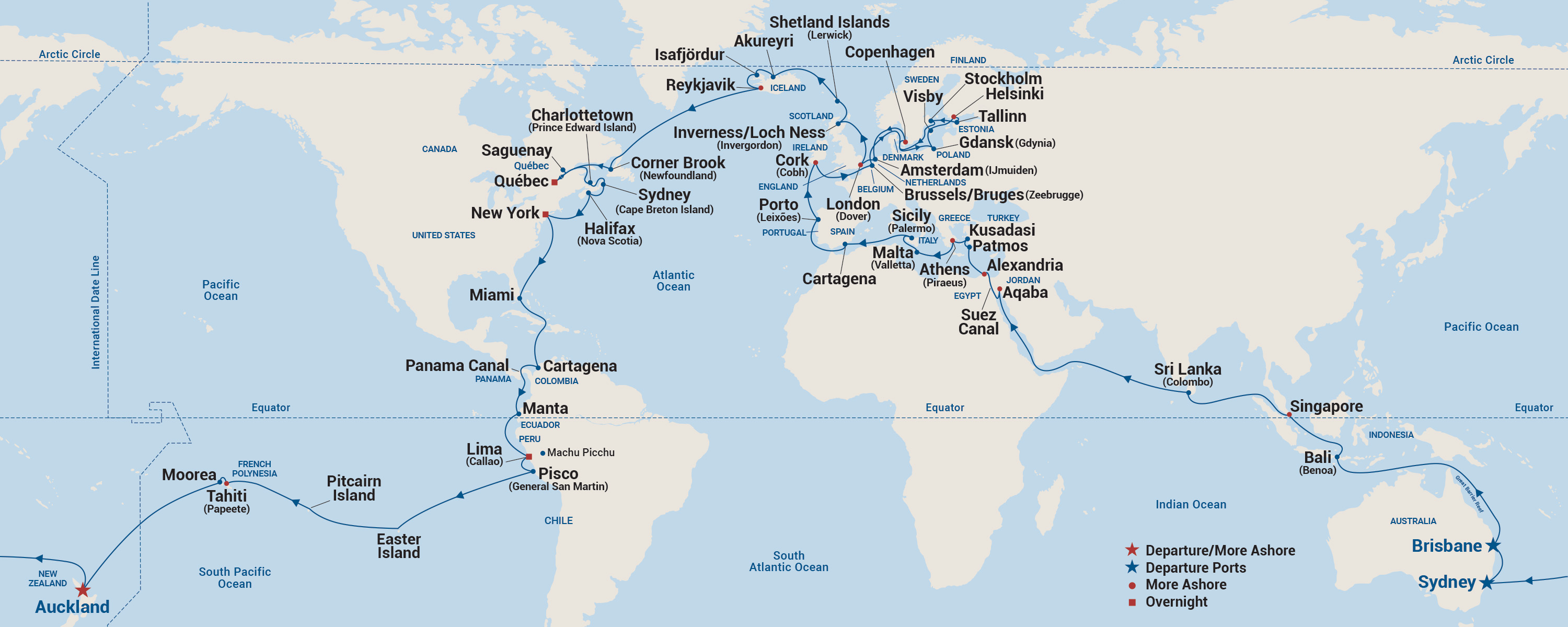 Crown Princess sails our popular Australasian World Cruise in 2026 with departures roundtrip from Sydney, Brisbane, and Auckland. This 114-day spectacular adventure will venture across 6 continents to 48 destinations in 31 countries.
This global voyage departs in May 2026 and will sail to Southeast Asia, across the Indian Ocean, through the Suez Canal to the Mediterranean and Northern Europe. There she will explore the Baltic Sea and then journey by Iceland as she makes her way across the Atlantic to the St. Lawrence River on her way to an overnight in Quebec, Canada. She then transits the Panama Canal and crosses the South Pacific back to New Zealand, sailing by Pitcairn Island, known as the refuge of the HMS Bounty mutineers.
There are experiences for every bucket-list collector. Crown Princess will transit the newest Panama Canal locks where guests can revel in the engineering marvels of the Agua Clara and Cocoli Locks. The sailing will conclude as she navigates through the South Pacific, stopping briefly by Easter Island for a scenic cruise of Rapa Nui, home to the iconic monolithic statues, carved by the native inhabitants 500-800 years ago.
This journey will give access to over 50 UNESCO World Heritage Sites, including two newly inscribed sites in Europe. The Viking-Age Ring Fortresses in Treeleborg and Bogring were constructed in the 10th century and are accessible from Copenhagen, Denmark. From Zeebrugge, Belgium, guests can explore the Funeral and Memory sites of the First World War on the Western Front.
This voyage includes two maiden stops for the World Cruise. In Egypt, she will visit Alexandria (for Cairo & Giza) with a more ashore late-night stay; this city, founded by Alexander the Great, was once home to the Lighthouse of Alexandria, one of the Seven Wonders of the Ancient World. Crown Princess will also make a first-time stop in Patmos, Greece, home to the Monastery of St. John and the Cave of the Apocalypse, a UNESCO World Heritage Site.
*Terms and Conditions
Sales commence 30 November 2023, until sold out. Pre-registration is not a guarantee of confirmed booking prior to sale date. Princess Cruises Captain's Circle Launch Savings of up to $1,100 per person discount is applicable in all categories and combinable only with Launch Fares and Group Fares. Specific discount amounts vary by itinerary and cruise length. Regional and other past guest promotions or "new booking only" promotions are not combinable with the discount. *Elite past passengers (Captain's Circle members) have completed 15 cruises or 150 days onboard. Princess Cruises Captain's Circle Launch Savings is not applicable to third- and fourth-berth guests. Offer expires August 31, 2024.