After the whirlwind of our wedding on board the cruising ship Ipipiri in Auckland's Hauraki Gulf we thought we might have reached the peak of our most magical memories. That was until we stepped barefoot off a private speedboat and felt the embrace of the Maldive Islands.
After the long plane journey we had landed in Malé, the capital city of the Maldives. Our island paradise, Centara Ras Fushi Resort & Spa, was a 20-minute speedboat journey away although some of the more distant islands can only be reached by seaplane. When we arrived at the secluded island we were surrounded by infinite shades of turquoise blue, immaculate white beaches and the mesmerising scent of the ocean. Oh, and a delicious cocktail, of course!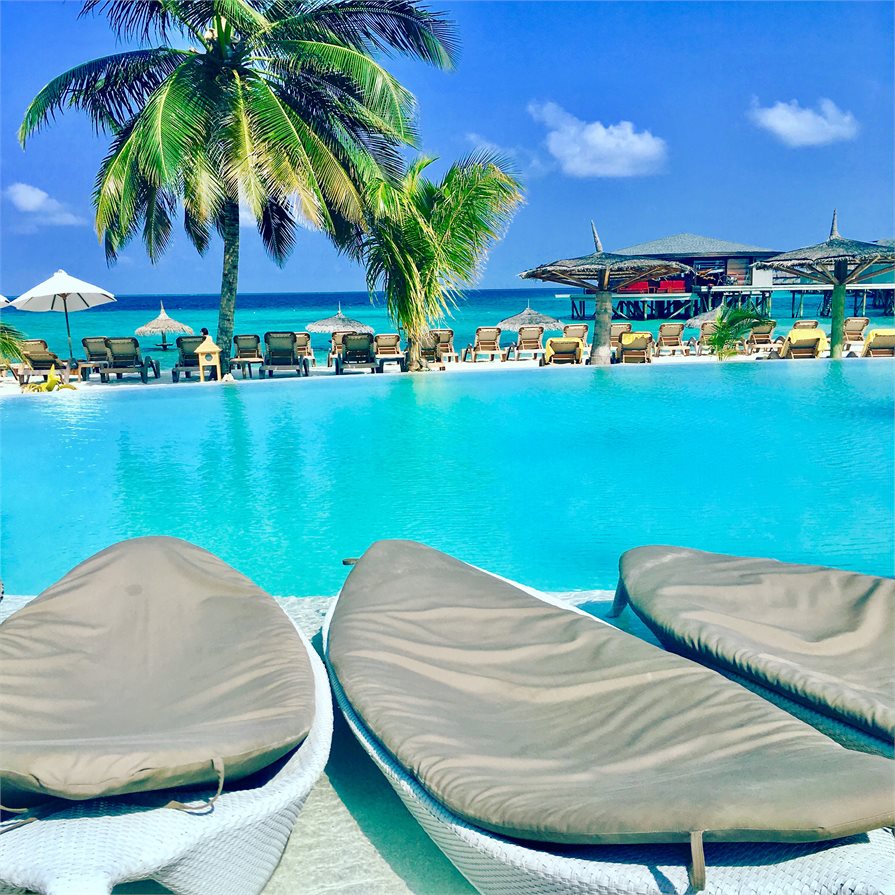 Golf buggies are the only mode of transport on the island and that's how we were taken to our stunning overwater villa. We were welcomed with a bottle of bubbles and breathtaking views of the ocean. The overwater villas come with steps down to the water for quick dips throughout the day and easy access for snorkelling enthusiasts.
Each day we could enjoy a buffet breakfast and lunches and dinners in the array of Thai, Arabian and Italian restaurants on offer. The resort offered daily excursions including paragliding, deep-sea fishing, wakeboarding, dolphin-spotting, swimming with turtles and cooking classes. There was also a gym, yoga classes, meditation, fitness classes, paddleboarding, snorkelling, paddleboating, cocktail classes and fish-feeding, most of them free or for a nominal charge of US$10. There were also plenty of hammocks, beds and loungers all over the island for snoozing at any time of day. A visit to the spa was a must-do and we enjoyed a relaxing couple's massage.
Our favourite spot on the island was the oceanview bar which offered net hammock loungers over the water where we were drawn each day for cocktails at sunset. Our second favourite place was the beach bar, surrounded by a large pool, which offered happy hour each day.
For one week, on repeat, we ate (the food was to-die-for), drank (delicious cocktails), and slept (overlooking the ocean). And it was well worth every penny!
At a glance
Best time to visit – The dry season is from December to March. We were there in late April and it rained only once.
Currency – US$. Make sure you take plenty for tipping your favourite staff. We prefer to tip this way instead of handing out a chunk of cash on departure.
Language – Dhivehi (Maldivian), but English will get you everywhere and everything.
How to get there – Via Dubai, Istanbul or Doha. We flew Qatar Airways and they were outstanding.
Dress code – Whatever you are most comfortable in. I lived in a bikini and carried a kaftan or sarong to throw on for lunches and dinner.
Top dinner experience – The food was divine at all of the resort's restaurants. We had a full inclusive package which showed on the scales when we returned home! We chose to have a couple of private dinners on the beach and in an overwater hut which were worth every penny for the romance and attentive private dining experience.
Unfriendly visitors – We carried insect repellent everywhere as we were worried about mosquitoes or other unfriendly insects. The resort sprays the island twice a day.
Top tip – Find out in advance about the excursions that are available so you can plan and budget ahead. Find out too about the free services as there is plenty to keep you busy.