A tropical oasis wedged between a stretch of 17,500 Indonesian islands, Bali has it all. Here you will find beautiful beaches, fascinating culture, emerald green rice terraces and endless oppourtunities for a decent pampering. I recently travelled to this diverse destination on a two-week adventure & although my experience wasn't exactly comparable to Elizabeth Gilbert's "Eat, Pray, Love", It was an experience I will treasure for a life time!
Now, I'm not the type of traveller who likes to stay in one place relaxing all day and for this reason I managed to see a whole range of what Bali has on offer. I travelled from Stylish Seminyak to the bustling Gili Islands, From the Gili Islands through to the spiritual centre of Ubud & from Ubud I hopped on a boat to experience a more, off the beaten track experience in Nusa Lembongan, Nusa Ceningan and the untouched Island of Nusa Penida. As if that wasn't enough, I also decided to cram in a 2 night stay down in Uluwatu, a surfer's paradise in Southern Bali.
The area of Seminyak is known as the quieter, sleeker & more sophisticated sister of Kuta and Legian. Here you will find swanky beach clubs, boutiques stashed with gorgeous designer clothes, upmarket resorts and a wide spread western influence. Seminyak is a fantastic destination for those looking to relax and unwind at one of the many beachfront resorts, and it's definitely somewhere that you could easily spend your entire trip! There are several chic beach clubs dotted around Seminyak – Two of the most popular are Potato Head Beach Club and Cocoon Beach Club. We decided to check out Potato Head and we were certainly not disappointed! Known as the 'Home of Tropical Modernism' Potato Head sure lived up to this description. Upon entering the amphitheatre-like structure you will instantly be greeted with a warm sea breeze and the sweet buzz of travellers enjoying funky music whilst sipping on cocktails. There's two restaurants, a large infinity pool looking out to the Indian Ocean and fabulous sunsets - Bliss! At night Potato Head transforms in to an upmarket outdoor club, with live music and the occasional international DJ.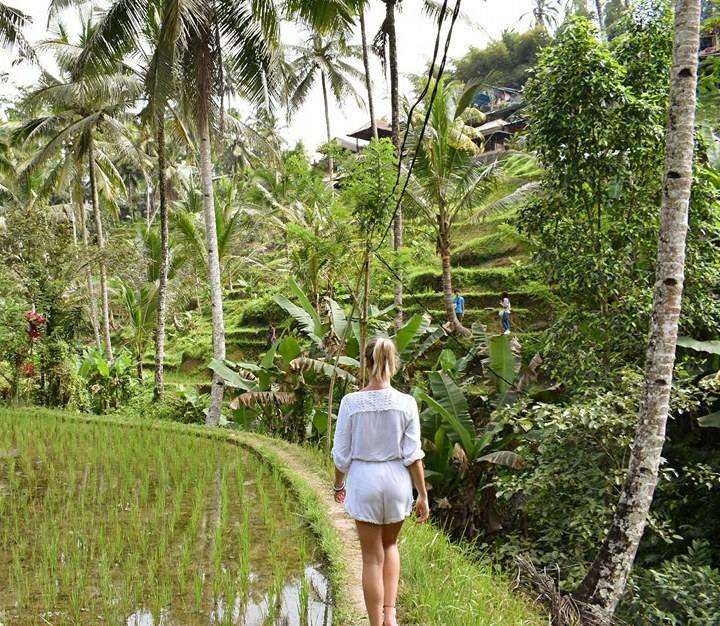 After our short but enjoyable time in Seminyak, we woke early to drive the 1.5 hours to Padang Bai ferry port. Pringles and Bintang in hand, we boarded the Eka Jaya Fast Boat and made the 2-hour journey to Gili Trawangan. Gili Trawangan, affectionately known as Gili T by those familiar with the destination, is one of 3 very small islands off the coast of Lombok. Trawangan's chaotic main strip bustling with bikes, horse carts and rickety food stalls comes as a surprise to those expecting a tranquil tropical retreat. This lively destination never tires of things to do and see. There are many places to eat with the Banyan Tree being our favourite offering fresh, healthy and organic food options. You can organise a snorkelling trip around all three islands with one of the locals, jump on a horse and ride through the water at sunset, and of course, consume copious amounts of cocktails while taking in the buzzing island atmosphere. If you like a bit of Reggae or enjoy listening to relaxing island tunes then be sure to check out Sama Sama Reggae bar – A sure favourite among the locals and travellers on the island!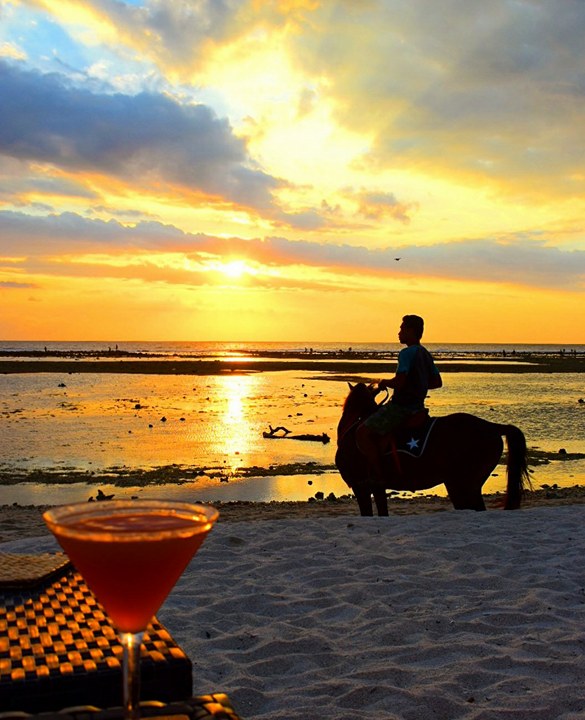 The Gili's were Glorious, but it was now time to make our way to the cultural heart of Bali. Ubud is renowned as a centre for traditional crafts and dance. Here you will also find a huge emphasis on holistic health approaches with countless yoga retreats and wellness resorts. The moment you arrive in Ubud you're instantly greeted with the smell of burning sandalwood incense and a deeper feeling of something spiritual. I would recommend staying a few kilometres out of the centre of Ubud as this is where you will find true peace and relaxation, along with stretches of fluorescent green rice terraces. There's plenty of fascinating temples hidden in and around the bustling centre of Ubud, my favourites being the Goa Gajah Elephant cave and Gunung Kawi. Almost every night there are traditional Balinese dance performances at the Ubud Palace – Although somewhat peculiar, these performances were incredibly fascinating, and I wouldn't recommend leaving Ubud without experiencing one!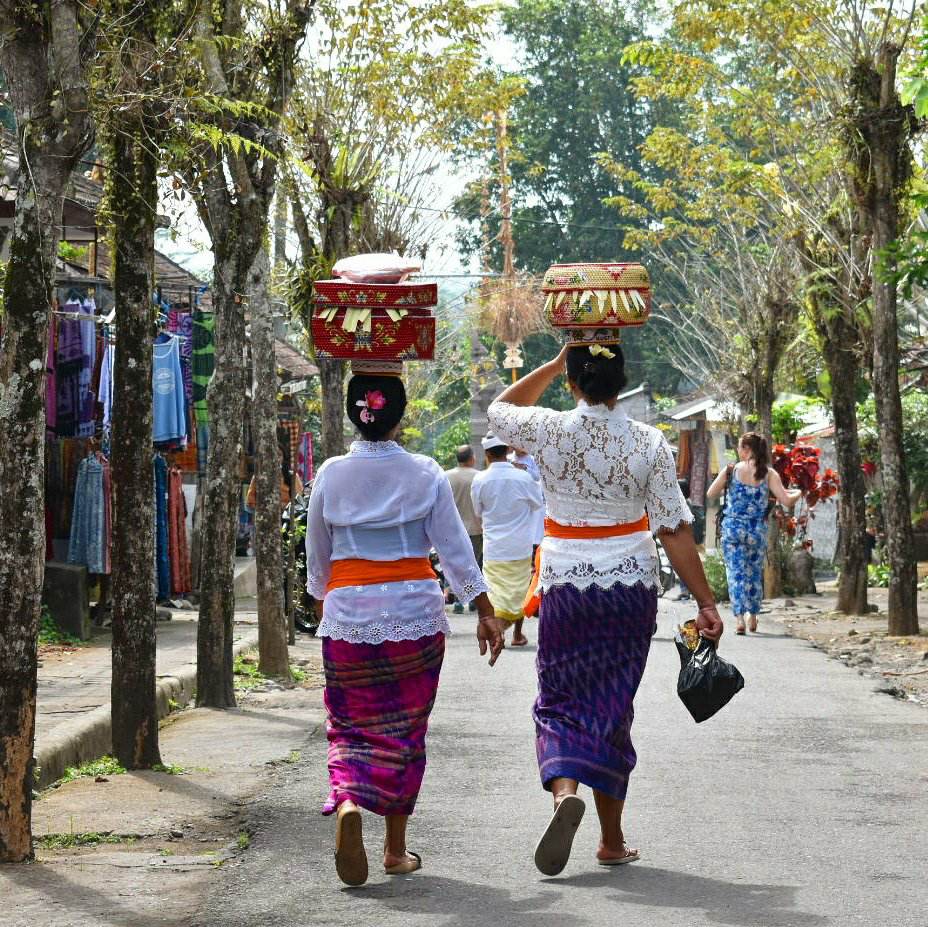 As someone who feels happiest when closer to the ocean, it was time to depart the mystical green centre of Bali and make our way out to a tropical trio of islands called the Nusa Islands. Now, if you're someone who is fascinated by "off the beaten track" destinations and experiences then I can tell you – these Islands certainly did not fail to deliver! Although less than 30 minutes from Bali, you will feel worlds away from the rapid pace and buzz of the mainland. The moment Nusa Lembongan comes in to view, you instantly realise you've hit an unspoilt paradise whilst casting your eyes over the glittering turquoise waters and uncrowded white sandy beaches. We stayed at Le Pirate Beach Club located on Nusa Ceningan, a tiny island linked to Lembongan by a rickety yellow suspension bridge. Nusa Ceningan is a quirky and colourful island with an unhurried pace and a genuine local feel. You can relax at one of the dinky little beach clubs while witnessing arguably some of the best sunsets in Bali. Be sure to hire a scooter to explore the island and zip between Nusa Ceningan and Nusa Lembongan –It's amazing scooting around with no final destination in mind – Spontaneous exploration! It's not possible to get lost on these islands as there's only one main road!
Now, if you want to dig a little deeper and head even further off that so called beaten track, you will need to make a day trip across to Nusa Penida – The biggest but most uninhabited island of the three. It takes a short boat ride to get across to Penida and upon arrival your guide will meet you on the shore. Highlights of Penida include Angels Billabong, Broken Beach, Crystal Bay and of course, the breath-taking KelingKing beach where you will find an abnormally large T-rex like rock formation. Once the tour was complete, we were treated to beautiful acoustic tunes of a local boy, while sipping on fresh chilled coconuts in the tropical breeze – Life surely doesn't get better than that!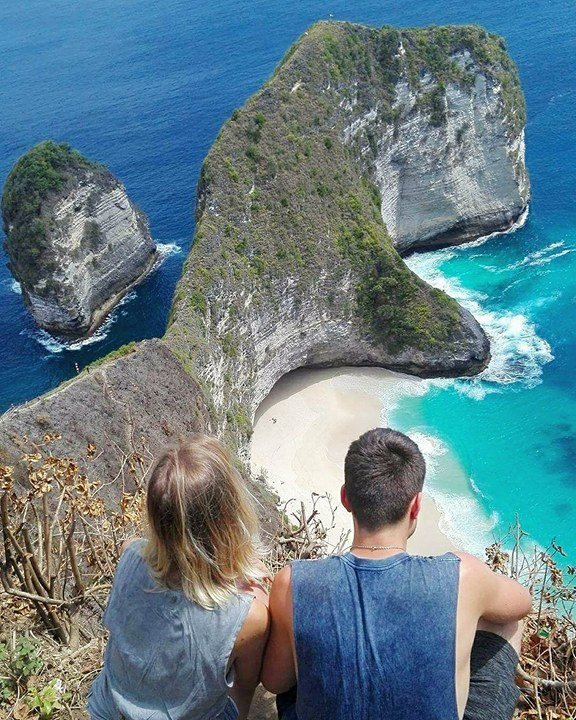 By this stage I had basically fallen in love with the Nusa's, so it was a little heart breaking to leave these beautifully quirky Islands on our journey to Uluwatu. The heart break was swiftly forgotten upon checking in to the most amazing tree house I have ever encountered at the Alchemist Eco Resort in the Uluwatu area. It was like something straight out of a Fairy-tale! Once settled in we decided to hire a scooter to explore the gorgeous south of Bali. We were not disappointed – Dramatic Limestone cliffs plunge in to the crystal waters below, while vacationers lounge on the pristine beaches. Luxury resorts are perched atop cliffs with spectacular views over the vast ocean and there are numerous bars and restaurants to choose from. Our favourite being Finn's beach club built directly in to the cliffside with sweeping views of the big blue below – The ultimate spot to sip a Bintang or two while watching the sunset! Surfers will not be left disappointed with 5 top breaks to choose from and massive rolling waves (not suitable for inexperienced surfers, the waves are massive!). You will also find a few high-end beach clubs in Uluwatu – We decided to spend a day at Sundays Beach Club where they like to live by the mantra that "Every day is Sunday" – We liked the sound of that! The food was delicious, the music was perfect, and the beach was possibly the best beach we found in Bali - I really couldn't recommend this Beach Club enough! Once the sun has disappeared for the day a beach bonfire is set up where you can relax on a beanbag while roasting marshmallows and chatting to fellow travellers. A perfect way to end a perfect day.
Bali blessed me with unforgettable experiences and memories that will most definitely last a lifetime. If you want to know more about this destination, please feel free to contact me – I would love to help you plan your very own magical Bali experience!