1. Cruising
A Kimberley cruise offers a unique way to see the very best of the rugged North West landscape. View spectacular gorges and caves, feel the force of a thundering waterfall and see the local wildlife.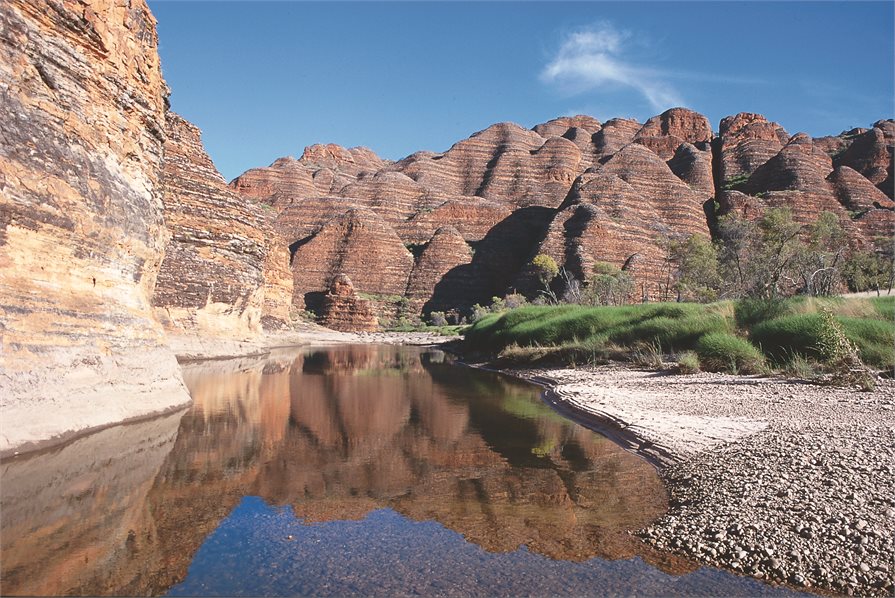 2. Purnululu National Park
The Kimberley has some of the largest and most remote national parks in Australia. The most well known is Purnululu National Park, home to the Bungle Bungle Range. Walk through the narrow Echidna Chasm and experience the acoustics of Cathedral Gorge. Enjoy a tour to the park or for a true outback experience stay overnight in the park.


3. Cape Leveque
Visit an Indigenous community at Cape Leveque on the Dampier Peninsula, where striking red cliffs meet white sand and turquoise water. Meet the locals, go mud crabbing with a guide, learn about bush tucker and be sure to see the beautiful pearl shell altar at Beagle Bay.
4. Kimberley Stations
Experience the true seclusion of the Kimberley at a remote station. From sensational fishing and remarkable wildlife, to breathtaking Emma Gorge and the stunning Cockburn Range, you're sure to get a true sense of the Australian outback.
5. Cable Beach
One of Australia's most famous beaches, Cable Beach in Broome consists of 22 kilometres of white sand lapped by turquoise waters. A visit to Cable Beach, whether riding a camel or watching the sunset, is a must-do experience on any trip to Broome.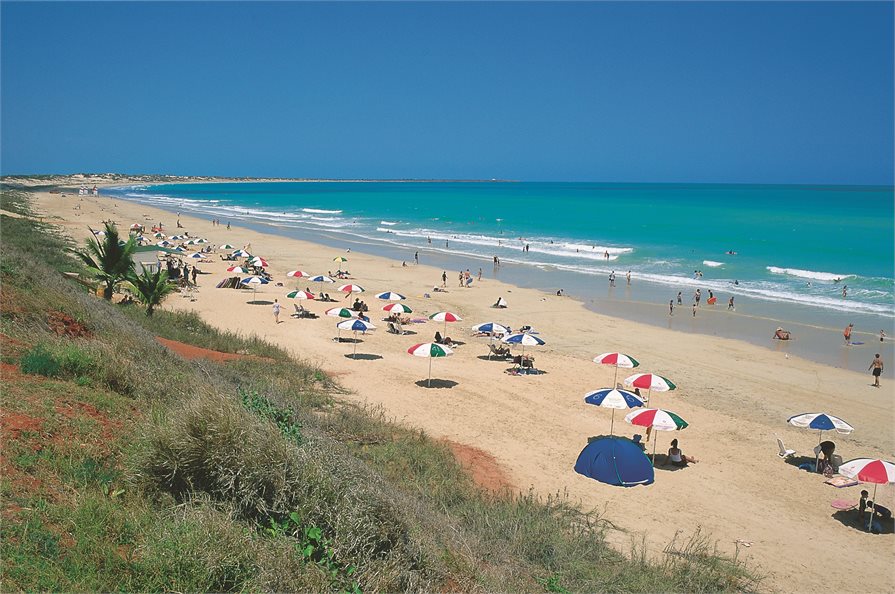 6. Aboriginal Art
Aboriginal Wandjina and Bradshaw rock art can be seen in selected national parks throughout the Kimberley. You can also view the diversity and richness of Aboriginal art in the many galleries in Kununurra.
7. Staircase to the Moon
Visit Broome between April and October to witness a breathtaking natural spectacle known as Staircase to the Moon. This natural phenomenon occurs when the full moon rises over the exposed mudflats of Roebuck Bay at extremely low tide creating the optical illusion of a staircase leading to the moon.


8. Gibb River Road
The Gibb River Road is one of the most famous four wheel drive experiences in Australia! Take in the magnificent scenery on this 660 kilometre stretch between Derby and Kununurra. Make time to stop at Mitchell Plateau, home to the beautiful Mitchell Falls.
9. Kimberley Aerial Highway
What better way to explore the untouched wilderness of the Kimberley region than with an aerial tour. Fly over the beehive domes of the Bungle Bungle Range and see the natural phenomenon of the Horizontal Falls.
10. Shop for Pearls and Diamonds
Learn about Broome's pearling history on a tour of a working pearl farm. Take a walk through Chinatown and browse the many fine pearl showrooms. Tour the Argyle Diamond Mine, the largest open cut diamond mine in the world and perhaps buy a pink diamond from a showroom in Kununurra.