Fiji is the most popular Pacific Island destination for Kiwis, and it's no surprise why. The locals are warmer than the weather in this tropical oasis and with over 300 islands to explore, you'll never run out of things to do. In November 2017, I was lucky enough to experience what this beautiful destination had on offer. I hadn't travelled to Fiji before, so I couldn't wait to see what all the fuss was about. And now I can't wait to go back sometime soon.
We flew into Nadi on one of Fiji Airways daily services out of Auckland. Usually I am quite a fussy flyer but Fiji Airways didn't disappoint. There was a great range of in-flight entertainment and the in-flight meal was delicious. The staff were smiling and friendly and made me very satisfied with their airline: I would fly again with Fiji Airways in a heartbeat.
I had a quick look around Denarau but the majority of my trip was spent on the stunning Coral Coast. Personally, I'm not the kind of traveller who can relax on the beach for five days trying every cocktail on offer (as tempting as it sounds) and because of this I was able to get out and see a lot more of what Fiji has to offer. From zip lining and cave tours to visiting the local villages, there's something to keep every type of traveller entertained.
The Coral Coast is famous for its 80 kilometres of picturesque beaches and secluded bays, and spectacular snorkelling. It is also well known for its family-friendly resorts, hotels and backpacker lodges. The Coast is also home to many local villages where you can get a glimpse of the real Fiji.
I was lucky enough to visit the following properties on my travels: Shangri-La's Fijian Resort & Spa, Outrigger Fiji Beach Resort, Warwick Fiji, Fiji Marriott Resort Momi Bay, The Naviti Resort, The Crow's Nest Resort, Intercontinental Fiji Golf Resort & Spa, Yatule Resort & Spa, and Fiji Hideaway Resort and Spa. All of these resorts are located in secluded bays and showcase stunning beaches and beautiful staff who always made you smile.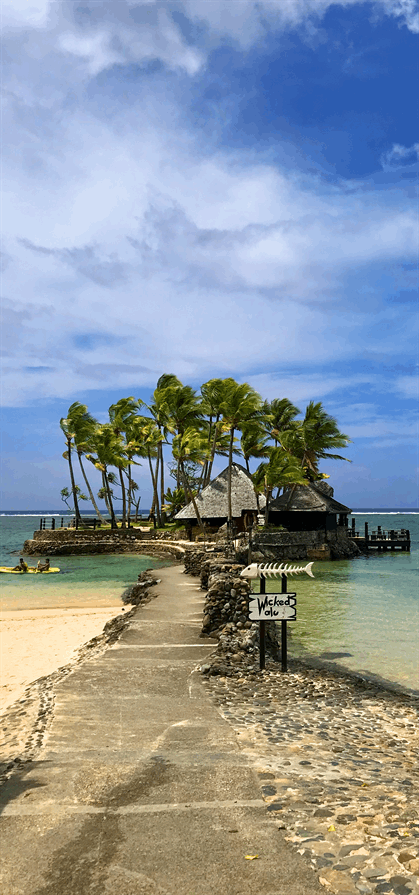 Every resort also stood out in its own way. Whether you're looking for Fiji's largest floating waterpark at the Shangri-La, what's got to be the best Chinese food I've ever had at the Naviti Resort, dinner with the reef sharks at the Warwick, stunning overwater bungalows at the Marriott Momi Bay or having an award-winning massage at the Bebe Spa at Outrigger Fiji Beach Resort (the view was also to die for), every resort will leave you wanting to stay longer or go back for more.
Discovering the range of activities available on the main island of Fiji was definitely a highlight of my travels. Sigatoka River Safari was without a doubt one of the most rewarding experiences I have had. Located close to the Outrigger Fiji Beach Resort, Sigatoka River Safari is Fiji's original, and the world's first Jetboat and Village Safari. This is a half-day adventure that introduces you to an authentic experience of Fiji. You learn the history of the surrounding villages and interact with the locals who greet you with a kava ceremony and welcome you into their homes.
After a traditional-style Fijian lunch you learn the local dances and have the opportunity to present gifts to the local school children. There are 52 villages along the length of the Sigatoka River, and with the help of Sigatoka River Safari, 42 of the villages now have electricity! Every six months, the River Safari visits a different group of villages, so everybody gets their fair share of local love. This is definitely an experience I would recommend to anyone.
On the last day of my visit I visited Port Denarau with time to wander around the local retailers and restaurants before catching the 25-minute ferry to Malamala Beach Club Wow! Malamala Beach Club is definitely a must-do in Fiji! Surrounded by the famous deep blue waters and untouched reefs of the Mamanuca Islands, the world's first island beach club has spectacular white-sand beaches. I can definitely recommend hiring a cabana as you are more secluded from the crowds and it gives you your own private area in which to relax.
The island also has a stunning infinity pool which looks over the crystal-clear blue ocean and an amazing outdoor sound system that is perfect for hosting events and birthdays. Malamala has recruited Aussie chef Lance Seeto, "the Gordon Ramsay of Fiji", as head chef, and I can honestly say the food is magnificent. The delicious Fish Tacos and Beef Sliders were a standout for me! Sliders and cocktails on the beach, nothing beats it.
Denarau is perfect for those who just love relaxing by the pool and the flexibility to wine and dine at a range of restaurants and bars. With Port Denarau just down the road, you have the added bonus of exploring the local shops and restaurants, as well as the option to get out and about on a day trip or two. If you are looking for perfect snorkelling, swimming and sandcastle conditions, I would recommend heading down the Coral Coast.
I arrived home in Queenstown glowing from the rays of Fijian heat and still hungry for more fish tacos from Malamala. And with Air New Zealand and Fiji Airways both offering direct flights from Auckland as well as Fiji Airways' direct flights from Christchurch, there really is no excuse now to not to visit Fiji for another relaxing tropical escape. I can't wait!