1. Trader Jacks
Located in Avarua Harbour, this resilient establishment that has been around for 30+ years and 'weathered the storm' having been almost wiped out 3 times over this period. The vibe is laid back, there are cold well priced drinks and the seafood is fresh and tasty. The namesake Jack is an absolute character if you're lucky enough to meet him and there is a touch of his humour throughout the bar and restaurant.
2. Tamarind House
Originally built in 1904, Tamarind House has an interesting history having being home to the Union Steamship Company and the British Consul. Pop along while it is early for drinks on the lawn and enjoy the gorgeous outlook amongst the garden looking out to the water. We can highly recommend the blackened Tuna served with local ingredients such as kuru and rukau and also the poached local catch.
3. Beluga
Based in the Arorangi District, Beluga has some of the best coffee on the island and also a great menu offering café type fare. There is also a fantastic selection of gifts and home wares.
4. Waterline
Sitting on stilts on the western side of the island, Waterline is a great place to catch a sunset. The curries here are some of the best on the island and there are also seafood and Italian dishes on offer.
5. The Moorings
A container, a boatload of fresh seafood and an outdoor dining area are just some of the charming aspects of The Moornings. The fish sandwiches and tacos are some of the best around and are laden with the freshest catch and served with a generous slice of lime. We were lucky enough to try the tuna sashimi special and if this dish is on offer, do not look past it.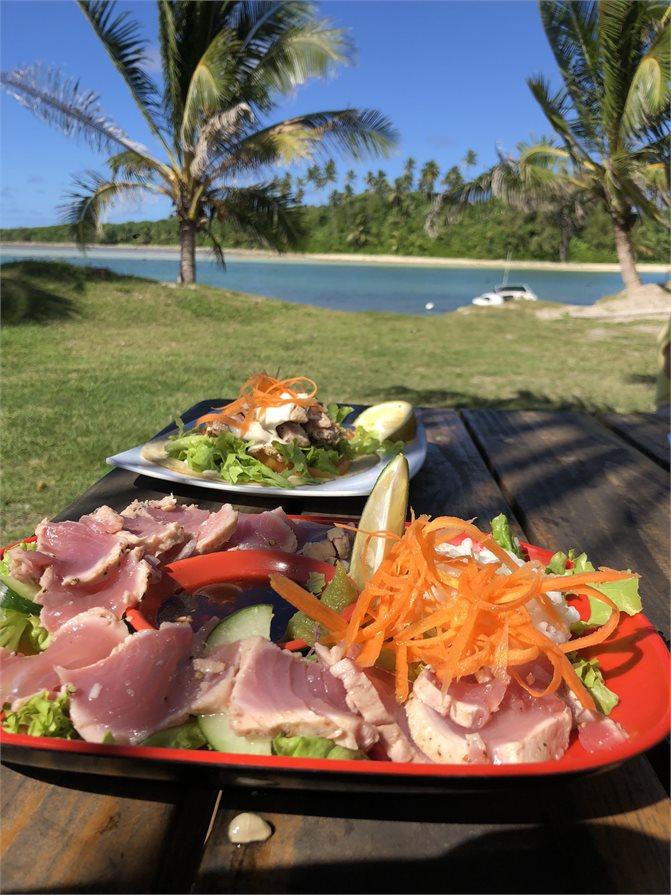 6. Markets
There is a plethora of tasty dishes to try at the markets so make sure you are hungry.
7. Sails
Perched on Muri beach and overlooking the lagoon, this is a lovely spot for lunch. The menu offers a great range of seafood and other dishes with an island twist. The 'island fries' are a must try.
8. Charlie's
Whoever Charlie is, is on to a good thing. This quaint beachside container started off renting water sports gear and has now branched out and opened a café. The prices are really reasonable and if you order the fish sandwich make sure you are hungry as it is huge! If you're after a lighter lunch, the fish salad is tasty, fresh and delicious.